Hello! We are down to two more episodes of the season, Grey's fans! Can you believe it?  Before I let you in on what went down this week, I want to say a HUGE thank you to manager/senior editor extraordinaire, Dani, for covering the recap last week while I was headed down to the horse races. Don't worry, I caught up on last week's OMG-worthy episodes and am ready for tonight.  Warning...this one was jam packed with details and adrenaline was high, so the recap is a bit longer this week...so, without further ado, this is what happened in "Time Stops:"
Meredith
Mer tells Amelia she may be selling the house, and Amelia is not pleased.
Richard
There is a new crop of residents starting out, and Richard gives them a tour while the rest of the docs look on. He brings Edwards with him to the resident locker room to get her team, and she asks him to essentially "get her a good one" to work with. She also tells the residents that Richard is getting married today.
Owen
Arizona approaches Owen and Amelia to find out when Owen is going to be Chief again because she wants some money to expand her department, and she doesn't want to ask Richard, the interim Chief. Owen, however, tells her that he is stepping down and a new Chief will be appointed. Amelia and Arizona are both shocked, and he kind of blows it off and says it's time for something else.
Jackson and Catherine
Catherine is getting her hair done for the wedding, and Jackson is there supporting her as her "maid of honor," but is really just eating and watching soccer. Catherine asks where April is and Jackson kind of ignores the question, but Catherine sees right through it. She says people who come back from a combat zone are changed, and it's understandable if they are having problems. Their conversation is interrupted, however, by a breaking news alert.
Catastrophe
Patients begin to arrive to the hospital, but all of them are DOA with crush injuries and blocked airways. Turns out a tunnel collapsed, trapping 20 vehicles underneath.  A live patient comes into the hospital and everyone springs into action, with more on the way. Richard and Bailey, who is also Richard's best man, are preparing to help treat patients when Catherine walks in. Richard believes she is going to be mad, but she is really here to help. They get all gross and love-y and Bailey is obviously uncomfortable (I love that woman's facial expressions!) As Catherine leaves, Richard tells Bailey he is recommending her for the Chief position. Edwards and her residents get a patient from the tunnel collapse named Joan who is in labor. She comes in with a doctor from the scene, but her fiancé is still there and unaccounted for. They get Joan into the hospital and Edwards kicks the residents out for asking too many questions while treating her. She is in active labor at this point, and Owen tells the doc who came in with her, Dr. Andrew DeLuca, that he can jump in and help. Turns out that Joan has a broken neck in addition to being in labor. Edwards sends two of her residents back to get Joan to take her to the OR, and all they talk about is the number of traumas they have seen today, and even talked about Keith. Joan whispers that she can't breathe, so one of the students loosens her stabilization collar, but ends up dislocating her spine in the process. Edwards and Dr. DeLuca come in to try to save her from paralysis and Dr. DeLuca admits that he is just an intern and doesn't know how to help. Joan cannot feel anything below her neck, including her contractions. Callie, Arizona and Edwards work on her, and the interns are asked to leave. As they take Joan up in the elevator, she begins to slowly get feeling back into her body, including her contractions. She ends up delivering in the elevator with Callie keeping her head stable, but she still keeps asking for Keith. Meanwhile, Richard gets a call that there is at least one live patient they can't get out, so they are asking the hospital to send a team there. Meredith, Maggie, Amelia and April are sent to the scene, and it is chaotic. The patient they are there for, Keith, is in a car that literally looks like a pancake, but he is still alive and talking. It turns out that he is Joan's fiancé and the doctors find that he is impaled by the car in the abdomen. He tells the doctors that he and Joan got pregnant the first night they met, and now, they want to start their family. He then starts vomiting blood. Maggie, Mer, Amelia and April discuss ways of getting Keith out of the car, but every suggestion seems impossible. April says there is nothing they can do for him, and if they try to cut him out with the jaws of life, it will kill him. A fire fighter, however, says this is his only chance, so maybe they will get lucky. April tells the rest of the doctors to go back to the hospital and save people they can actually save. She will stay behind and do what she can for him. Maggie, Mer and Amelia leave, still trying to think of a solution to getting Keith out of the car. Mer says he didn't really have a chance though, and it was the right call to leave and help others. Amelia, however, seems offended by this and says there may have been something they could do for him. Maggie semi-agrees and says maybe they should have stayed, but Mer says they were all there and realistically it was time to walk away. Amelia gets very angry at this comment and asks Mer when she feels comfortable making the call to just walk away. They are interrupted, however, by one of the interns needing Maggie and Amelia in surgery.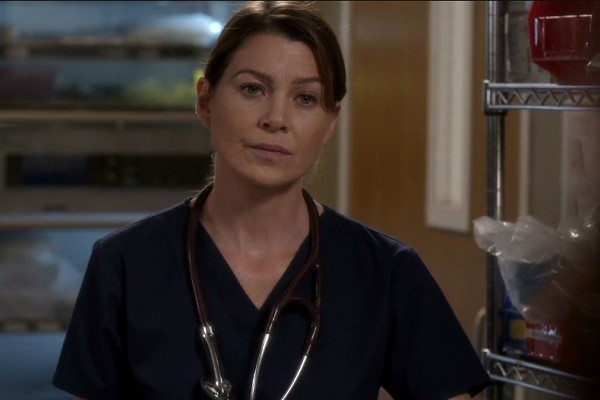 Courtesy of buddytv.com
Jo runs into (literally) two teens from the tunnel collapse who are looking for their friend, Scott. They said he was "messed up" and was sitting in the back of the car they were in when a piece of cement came through. They need to get him to the OR, but with so much going on, Owen suggests draining his blood and filling his body with cold saline, essentially "suspending" him. No one else thinks this is a good idea since he is A) a minor and B) this has never been done on a human before, and Jackson calls the concept of suspended animation "science fiction." Owen, however, says this has been going on for years in studies, and would be a good thing in a combat zone. Jackson and Catherine put their foot down and say no, but Owen says to perform a procedure, they only need two physicians to give consent, and both Alex and Richard say yes. The friends overhear the plan, and later question Jo about "killing" their friend. Catherine comes to Richard, essentially furious about him giving the OK to do the animated suspension procedure. Richard, however, says he stands by his decision as the boy had no chance, and now they are giving him one. While in surgery, Jo, who is enjoying this adrenaline rush, tries to get Alex to go to war, too, especially if all of the experiences are like this one. They complete the surgery and Maggie comes in, asking what they did. They briefly explain, but he still isn't coming around...until he does! Richard goes to tell Catherine that he is alive, but Catherine questions the effectiveness of the surgery, and she is sure he will have brain damage. Later, Owen tells Jackson that he was right, the procedure was very risky. Jackson, however, stars talking about April, and he tells Owen they are not on the same page anymore. Owen tells him this happens a lot, but he should give April time. Jo and Alex have an argument about going into the army, and Alex tells her he has put roots down here, and if she wants to go, go, but he isn't. Mer then comes to him and asks if she and the kids can come stay with them for awhile, because her house doesn't feel like home anymore. He, of course, agrees.
Mer and Amelia
After they are back to work at the hospital, Amelia confronts Mer in a supply closet, and Mer apologizes for leaving the scene and for not telling Amelia about thinking about selling the house. Amelia says that Mer doesn't tell her a lot of things. It turns out, Amelia believes that she could have saved Derek, but Mer didn't call her, so she never had the chance. Mer tells her that there was nothing she could have done, and it was too late. Amelia asks her why she could just let her brother go without telling her and without letting her say goodbye. Amelia then walks out and Mer begins to pace and cry.
Maggie
At the end of the episode, we see Maggie talking on her phone to her mom. She is having a heated conversation with words like "Mom, how can you say that?" Maggie hangs up and starts walking away, Mer, then Amelia, eventually catch up to her. Mer asks if Maggie is OK, and she says "yes," but doesn't explain more. They walk outside where they find April with car...and Keith still safely inside...on a tow truck. She tells them now that they are close to the hospital, he has a chance.
Keep Up With PopWrapped On The Web!