Sitting down with the cast of NBC's Grimm again this year was such a joy! Everyone is always so nice, and the details they give us about what to expect in the upcoming season never disappoint!
So what can we expect from this next season of Grimm? Nick and Monroe found the Knights Templars' stick in Germany (which we found out was all done in green screen – poor Silas was bummed!) and both Monroe and Eve's respective fatal injuries were healed with it – and Eve may have been turned back into Juliet!
"That was really fun," Silas Weir Mitchell said of Monroe and Nick's trip to Germany. "We read the script and said 'All right, we're going to – aw, green screen!' But it was really fun to shoot ... We had a really good time."
It was fun to watch, even if it wasn't shot on-site!
But first and foremost, everyone wants to know about the Adalind/ Nick/ Renard relationship. What is Adalind thinking, and how will this effect her relationship with Nick moving forward?
Adalind's Claire Coffee talked a little about her character's internal and external conflicts – and how she really just wants to get back to the loft and be with Nick!
Just as Adalind is determined to reunite the loving family she has most recently discovered, Rosalee is determined to have a life with Monroe and their yet-to-be-born baby. The last time we saw Rosalee, she had gone down into the tunnels with Monroe, nearly gotten lost down there, and revealed her pregnancy.
So what will this newest addition to the Grimm Squad mean for season six?
"We pretty much are dealing with the big wipeout of HW," Rosalee's Bree Turner confessed, "and Black Claw overtaking the world – what they're trying to do."
And then there's the baby! Silas Weir Mitchell (Monroe) wouldn't give too much away, but he did express some concerns.
"What's cooking" indeed! That is one big concern for our father-to-be! Unfortunately, we did not get much else beyond those vague yet ominous words.
Mitchell did express his gratitude to Grimm fans across the globe, and even revealed the parallels between the show and modern global politics.
"Without you we wouldn't be here," he said. "Every culture has this [binary] in it, so it makes sense we [Wesen] should be in the world."
"It must be addressed," Mitchell agreed when we asked him about the most recent attacks in Nice and Munich and whether or not this would be addressed at all on the show, considering their most recent adventure. "I think from the beginning the idea of Black Claw was kind of like the People-Who-Will-Not-Be-Named. People who have adapted to the world in a kind of mutated way, who have a bone to pick, and they want to be seen. I think that actually has a lot to do with what's going on over there, like, 'We exist!' I do think the idea of unhinged violent people was the idea of Black Claw to begin with – and part of the Wesen thing to begin with. People who might not have control over their darker selves. And it's everywhere – it's in our system right now. Darker selves are manifesting, because when they find something they can attach themselves to they will come out of the woodwork – come out of our woodwork, out of humanity's woodwork. We have to be vigilant."
Speaking of Black Claw, last we saw Renard (Sansha Roiz) he was battling Nick in the loft. As we all know, Renard has begun his political campaign with the blessing and backing of the extensive Black Claw network. This means he is actively working against the Grimm Squad.
Is there any possible hope of redemption?
With Renard's political campaign and Black Claw's desire for a complete world takeover, Nick certainly has his hands full. But what about Wu (Reggie Lee)? The poor guy just found out he's some shapeshifting Neanderthal, has just barely learned how to control his mood swings (which cause him to shift) and now everyone seems to have forgotten about him!
How did it feel to learn he would be joining the supernatural world?
Wu and Hank (Russell Hornsby) were the only non-supernatural members of the group, and now poor Hank is all alone! Are we going to see him feeling a little left out this next season?
"Unequivocally no," Hornsby said. "All that – it's bad for your neck, stretches your skin. I don't feel like he's missing out on anything. As it is I [Hank] can't keep a woman, so if I did all that I'd really be in trouble. But we'll see. It's fun to watch peers go through it and see everyone's approach to their alter beast, if you will."
Where does all this leave us?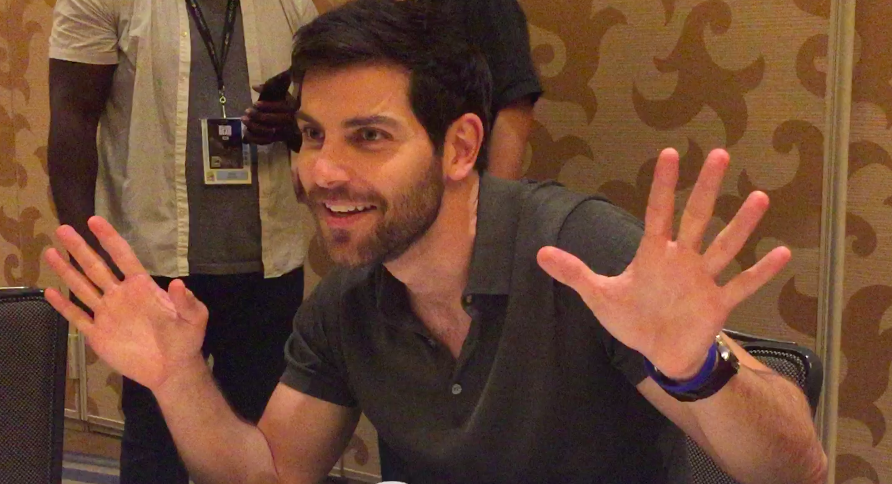 Photo Taken by Roxanne Powell
At the end of season five, things were crazy. Season six is going to pick up right where everything left off. The only difference is David Giuntoli (Nick Burkhardt) will be directing!
Well, at least one episode. But that's still a huge step forward in his career!
How does it feel to be a director and know everything that goes into making an episode, but then also being expected to play the lead role?
Britsie Tulloch said she was very happy for David's new role this next season, and even said he's been "shadowing other directors" whenever he hasn't been on camera. But what about Eve/Juliet? Is she back to her old self, or are the stick's powers only a temporary fix – and if so are Monroe's days numbered?
With all of that rattling around behind the scenes, this next season is bound to be amazing!
Be sure to check out the rest of our San Diego Comic-Con coverage as well as our Instagram photos, tweets, and Snapchat, #PWSDCC!