Like a lot of fans, I have been waiting YEARS to see a proper resolution to Gilmore Girls. Amy Sherman-Palladino teased us for a decade about those final four words, and, like the cast has described, we always felt like the show merely ended rather than concluded. She always said she'd like to come back to do it right.
Well, ASP got her wish, and we all get to see a six hour conclusion to the lives of our favourite television ladies thanks to Netflix.
This article is a gut reaction to the Gilmore Girls: A Year in the Life series as a whole. It contains spoilers. Starting tomorrow, I will delve more in depth into individual episodes and will post each piece over four days, touching on all of the topics listed below. Not everyone can binge, ya know? You can start with "Winter" here.
Things that worked:
- Luke and Lorelai's relationship
- Emily's grief
- Paris
- The "presence" of Richard we were promised following the death of Edward Herrmann
- Guest stars from Lauren Graham's OTHER family, Parenthood
- Gypsy Berta and her massive live-in family
- Michel, in general
- "Fall"
Things that didn't work:
- Emily's new relationship
- Shoehorned guest stars from the original series
- Christopher not mentioning GG at all while discussing raising daughters alone!
- Luke and Lorelai's decision-making process for kids
- Paul
- Rory, in general
- "Summer"
Things that I still have to process:
- That look Jess made before walking away
- Mr. Kim
- Dean's ever-growing family
- Those final four words!
- How much I actually liked it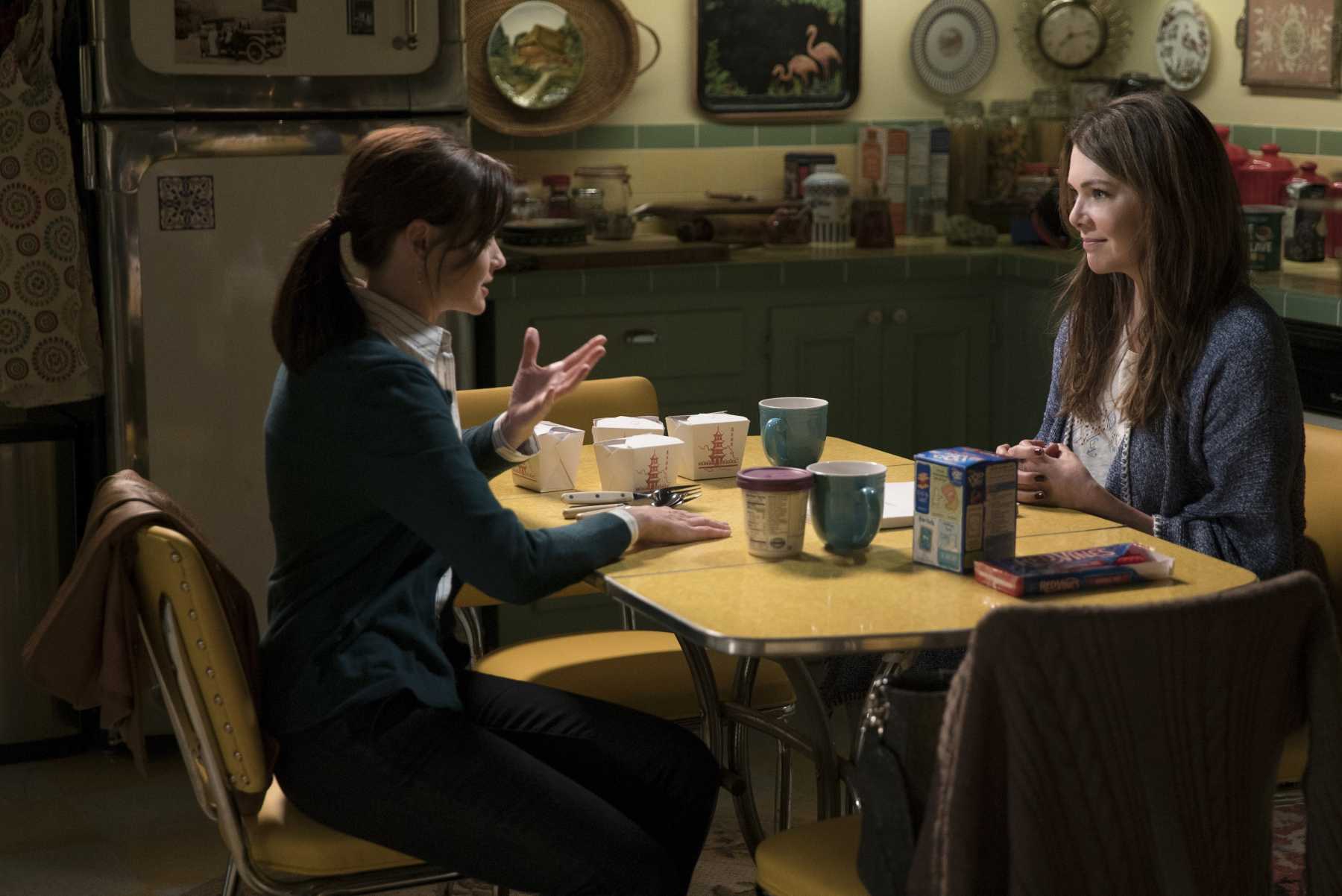 Saeed Adyani/Netflix
Don't let that last point on the list fool you; I thoroughly enjoyed getting to watch more Gilmore Girls. I will never look the gift horse in the mouth. I have been counting down since ... well, since the official date announcement for A Year in the Life was made. I've written about what the show means to me. I planned my day -- food most definitely included -- around the release. I forewent Black Friday shopping (online, naturally). My kid was dressed like a tiny Luke Danes. There is no such thing as playing it cool to a Gilmore fan.
And still...
"Winter" felt like coming home. If you've ever been away for a very long time, you'll know the feeling. You know every corner and every face, but things are still inextricably changed. People have gained weight, lost weight. Friends have gotten older, had kids, passed away. Shopfronts have changed, their ownerships sold on. You may have spent much of your life there, but you are the newcomer. It's no longer your home. As Rory insists later in "Summer", you're "not back"; you're visiting.
Meta doesn't really work for the Gilmore world. It's always been aware of the outside world, making its name on the back of rapid fire references to it, but it's never discussed it with irony. The winks and nudges to the fact that they haven't seen each other in years are cute but ultimately feel a little cheap. We know that Rory and Lorelai haven't been apart as long as it feels; we even know that Alexis Bledel and Lauren Graham haven't been apart for those years. One little reference would have sated the fangirl in me ("They're talking about US!") without going overboard.
There is a distinct difference in the way that the Palladinos split up writing and directing duties. Amy Sherman-Palladino penned "Winter" and "Fall", and these episodes were the most comfortable. Despite Daniel Palladino having been a part of Gilmore Girls from Day One, "Spring" and "Summer" felt more like someone trying to write about our favourite ladies from the outside than through intimate knowledge.
I'm really glad that "Fall" came last. It was the most Gilmore of all the A Year in the Life episodes. It finally found that groove that was missing throughout the earlier episodes. I think "Fall" also had the least amount of screen time for Rory. I know time has passed and people have changed -- real and fictional -- but that just didn't seem like Rory. Rory tore herself apart for getting between Dean and Lindsey, even if she felt he was "her Dean". Forgetting about Paul, no matter how forgettable he was, with her Vegas-style relationship just wasn't like her. Even if she did feel drawn to Logan after all these years, she would have shown some guilt in her treatment of Paul, not flippantly saying, "I really have to break up with this boy" when she finally remembers him. On a tangent, Alexis Bledel somehow doesn't even sound like Rory anymore; maybe she's just not used to having to talk that fast these days!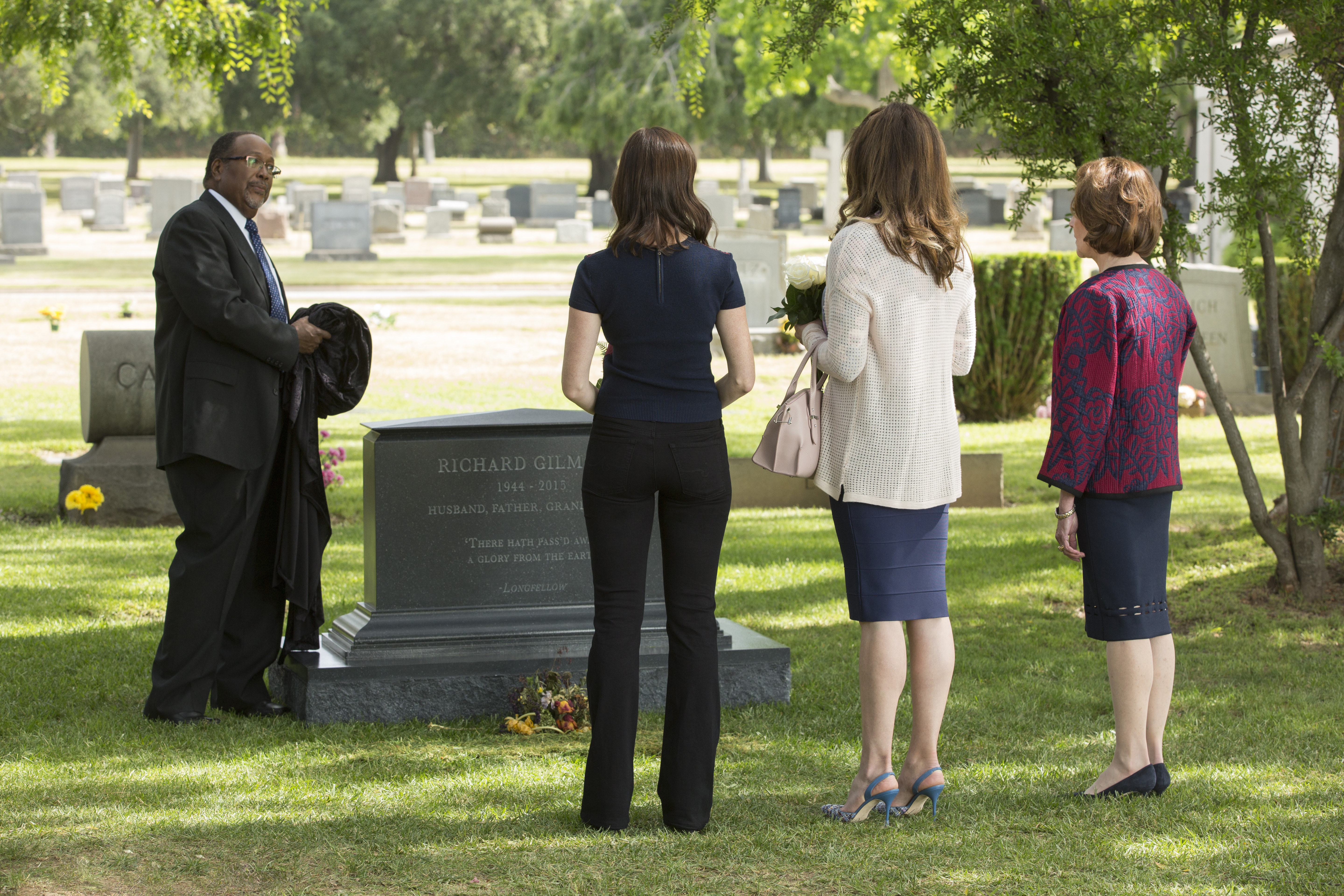 Robert Voets/Netflix
But back to "Fall". When Lorelai gets back from her hiking trip staying in a hotel with a trail pack and Luke unleashes on her, THAT was my old Gilmore Girls. THAT was worth watching the rough bits in the middle. THAT was Luke and Lorelai.
Kirk's wedding surprise was beautiful and special and, oh!, had that song playing, but it felt a bit theatrical, even for Stars Hollow. It kind of felt like they weren't entirely sure where to spend the Netflix money, so they chucked it at that scene (and the Life and Death Brigade). Acknowledging that fact, I still teared up. Some of us have been #TeamLuke since that moment in the first episode when he's all cleaned up for the bank meeting. 16 years later, they're FINALLY married. The small, intimate, and, yes, theatrical wedding was so perfect.
We can't leave without talking about Those. Final. Four. Words. Yes, as has been guessed many times over, Rory is pregnant.
Rory: Mom?
Lorelai: Yeah?
Rory: I'm pregnant.
She is the same age Lorelai was when the original series began, and she is just as rootless and unsettled and detached from the baby's father (We're assuming Logan, right?) as Lorelai was when she was pregnant, but their lives are very different. What's interesting is that, I'm imagining, ASP didn't think Gilmore Girls would still be on the air for Rory to be 32 when it concluded. If these were always the Final Four, what would she have been doing? Where would she be living? Who would have been the father? While it was a massive conclusion, I can't help but be convinced that ASP is leaving the door open for more Gilmore after A Year in the Life. Despite all my qualms with this series, I'd definitely be back for more.
I think it's a boy.
Gilmore Girls, the original series, is available now on Netflix or on DVD.