Renad Farid
Staff Writer
Mockingjay Part 1
in November, and casting for
Mockingjay Part 2
, we can tell 2014 is an exciting year for
The Hunger Games
fandom. But after Lily Rabe dropped out of playing Commander Lyme in 
Mockingjay Part 2
due to schedule conflicts, as she will be playing a role in Shakespeare's 
Much Ado About Nothing
, Lionsgate studios has confirmed that
Game of Thrones
star Gwendoline Christie will be replacing Rabe to do Commander Lyme, according to
Deadline.com.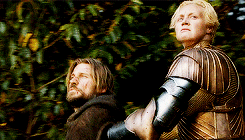 Courtesy of rubyredwisp.tumblr.com
Christie is not the only 
Game of Thrones
 star to be part of the blockbuster franchise final movie. Natalie Dormer, who portrays Margaery Tyrell in 
GoT,
 will also appear on
 THG: Mockingjay
 as Cressida, a film director from the Capitol that joined the rebellion along with her camera crew Castor and his Avox brother Pollux.
Courtesy of rubyredwisp.tumblr.com
Mockingjay Part 2
 comes out in cinemas in 2015, starring Jennifer Lawrence, Josh Hutcherson, Liam Hemsworth, Woody Harrelson, Donald Sutherland, Sam Claflin, Jena Malone, Philip Seymour Hoffman, and Julianne Moore as President Coin. Christie plays Brienne of Tarth on GoT which returns on Sunday on HBO. Do you think Gwendoline Christie would make a good Commander Lyme? Share your thoughts in the comments below!