After polling some children, some coworkers, and myself, I compiled a list of what kids love and hate getting in their Trick-or-Treat bags.
The votes are in, everything has been tallied, and here are the top 5 best, worst and ehhh of Halloween Candy: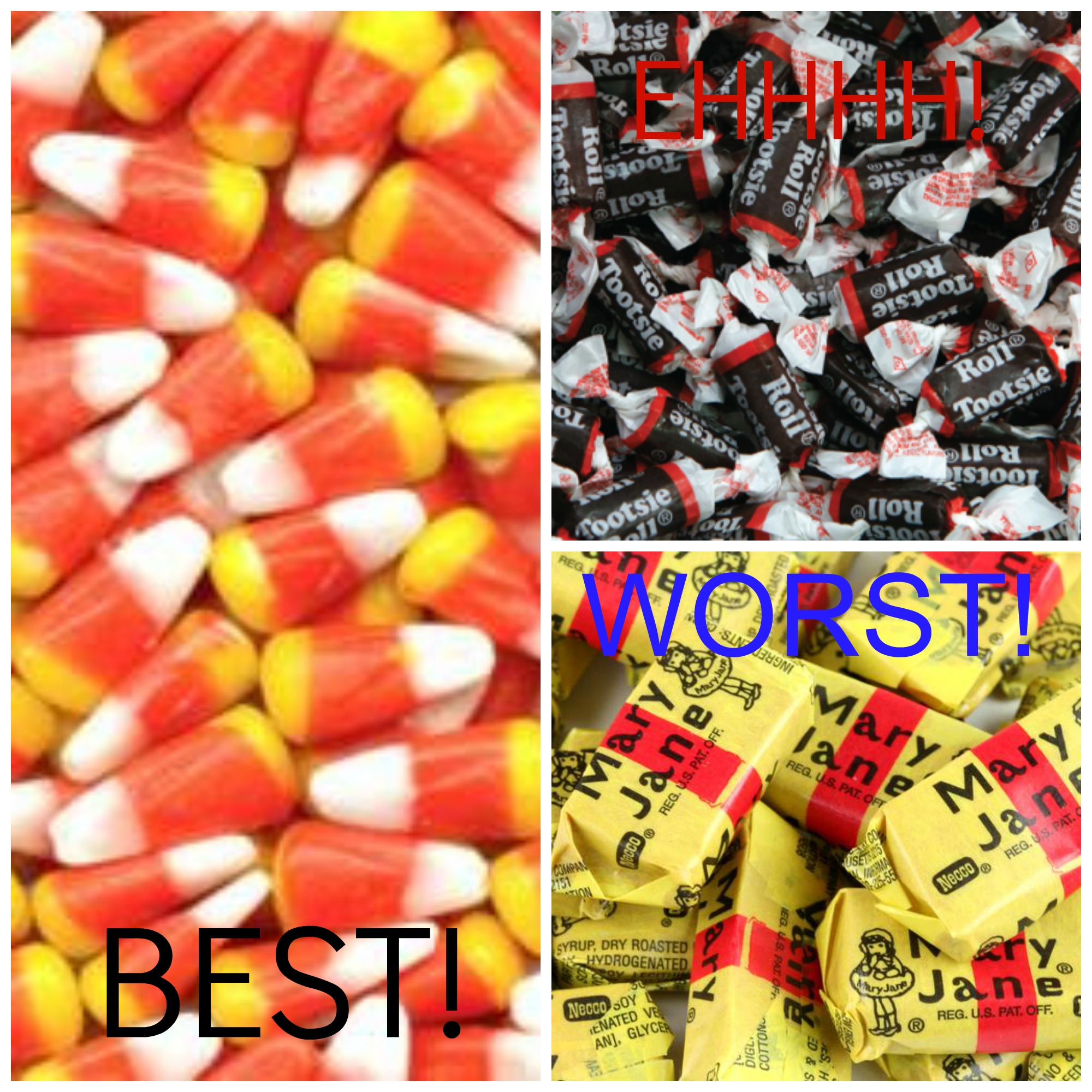 #5           BEST: Candy Corn – After a handful you feel like you're almost sick from the amount of sugar you've consumed. Candy corn is a keeper. Literally. It last forever. Does it even get stale? How do you still have it in December? Might as well just eat it anyways. Mmmhhhhmmmm sugar.
                EHHH: Tootsie Rolls – You don't hate them, but you wish you had gotten something else instead. Most fun thing to do with them is roll them until they look like poo and then eat it. Kids are weird.
                WORST: Mary Jane Candy – First off, the name is suspicious. Secondly, the candy looks like tan tar. Thirdly, it tastes like tar and you're stuck chewing it for the next 7 years.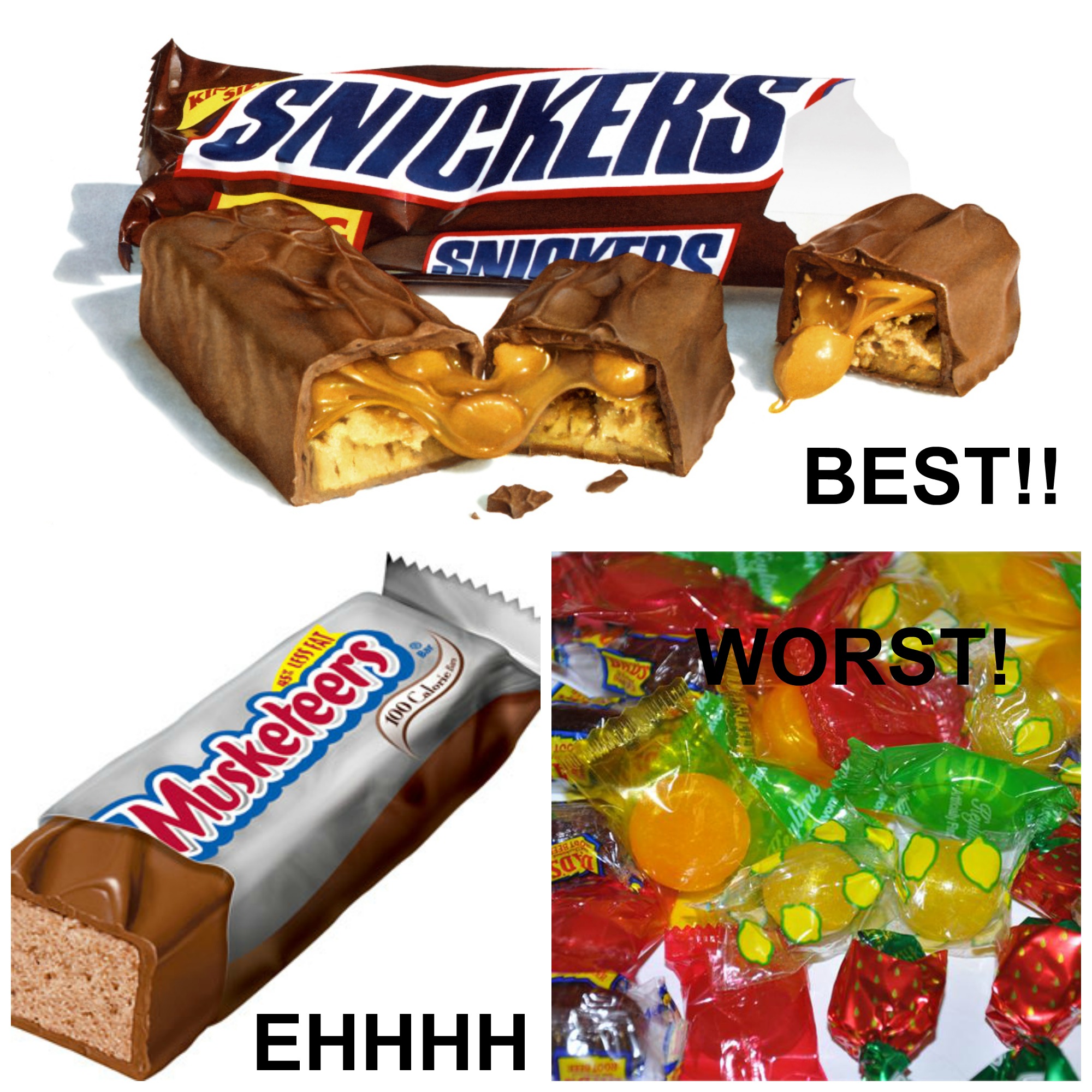 Property Of PopWrapped/Racheal Hansen
#4           BEST: Snickers – You can't go wrong with Snickers. Fun size is just perfect to stick the whole piece in your mouth. It's got so many good things: chocolate, nougat, caramel and peanuts.
                EHHH: 3 Musketeers – It's still chocolate so it's good, but at the same time it's lacking something. It's just airy chocolate covered in a thin layer of chocolate   there is no substance to it! That sugar rush won't last you the night!
                WORST: Hard Candy – You always know as soon as you open the door and some 100-year-old looking woman lets you pick a candy from her crystal dish. Your choices are butterscotch candies, those weird strawberry things, root beer barrels, and sugar free diabetic candy. Thanks neighbor, I won't feed these to my dog at all.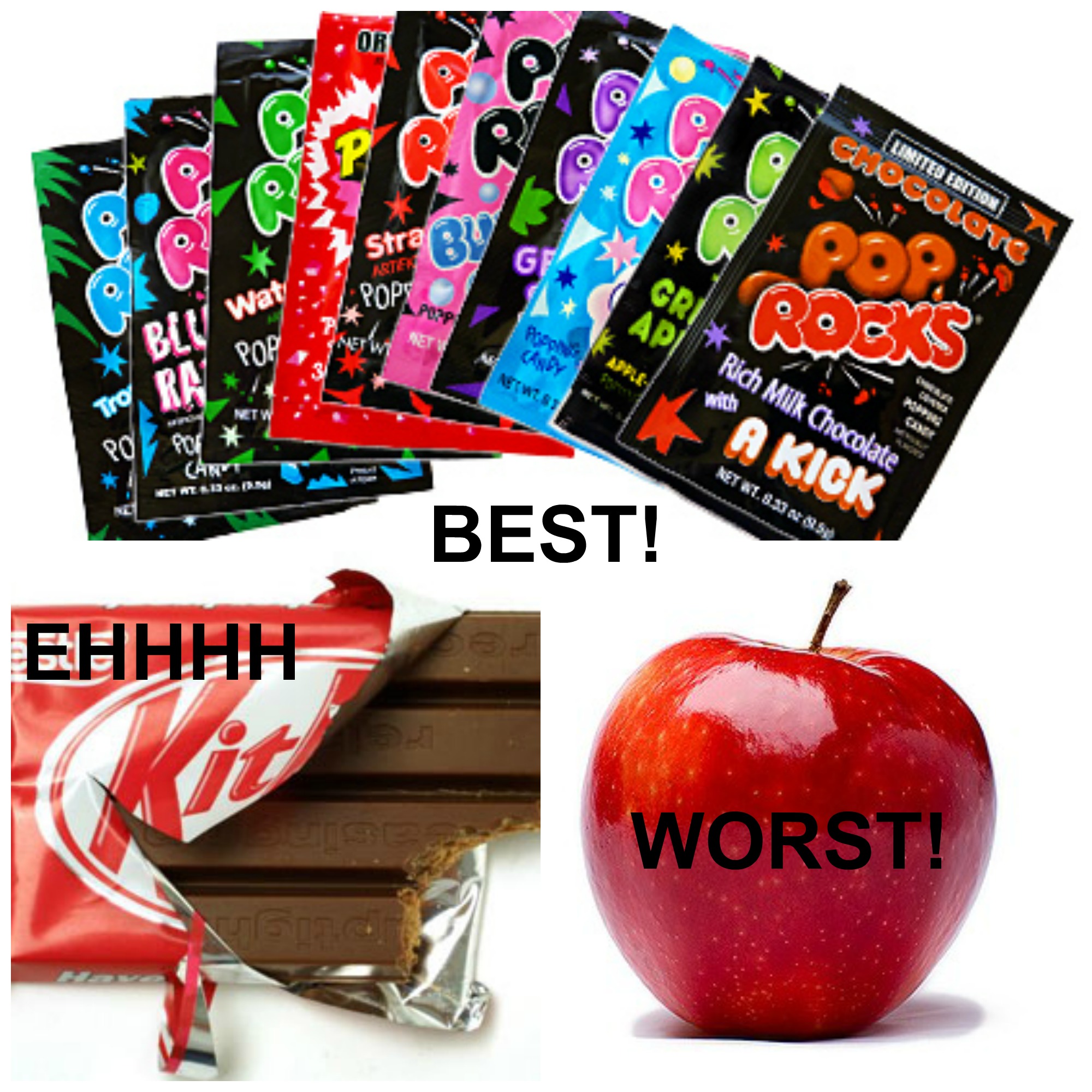 Property Of PopWrapped/Racheal Hansen
#3           BEST: Pop Rocks – Oh yeah, now we're talking. Get some soda in the mix and you've got a sugar high that'll last you to the end of the night.
                EHHH: KitKat – Is this really anyone's favorite candy? It's not bad, but it's not good either. It's chocolate so you'll eat it, but you may not enjoy it.
                WORST: Apple – Really? I mean really? Who gives fruit out? Are they trying to be ironic or just cruel?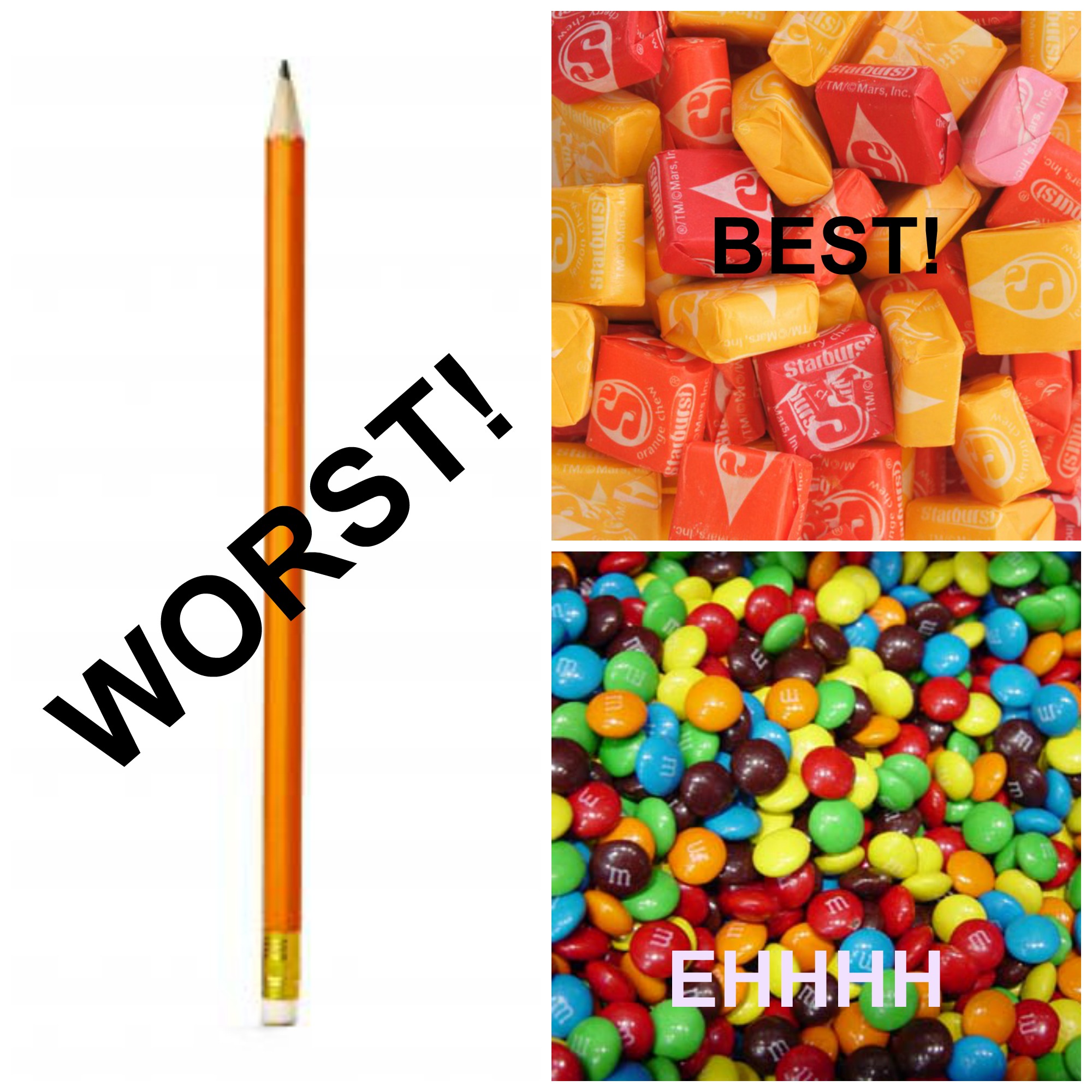 #2           BEST: Starburst – That little wrapper that has 2 precious Starburst in it is like gold. Not only are they delicious but Starburst are the currency of Halloween. You can trade Starburst to anyone for anything. It'll always be fair.
                EHHH: M&M's – These are boring, plain and simple. Like the KitKat, you might not enjoy eating them; they aren't as fun as other candies, but chocolate is chocolate.
                WORST: Pencils – I'm sorry, but I can't eat a pencil.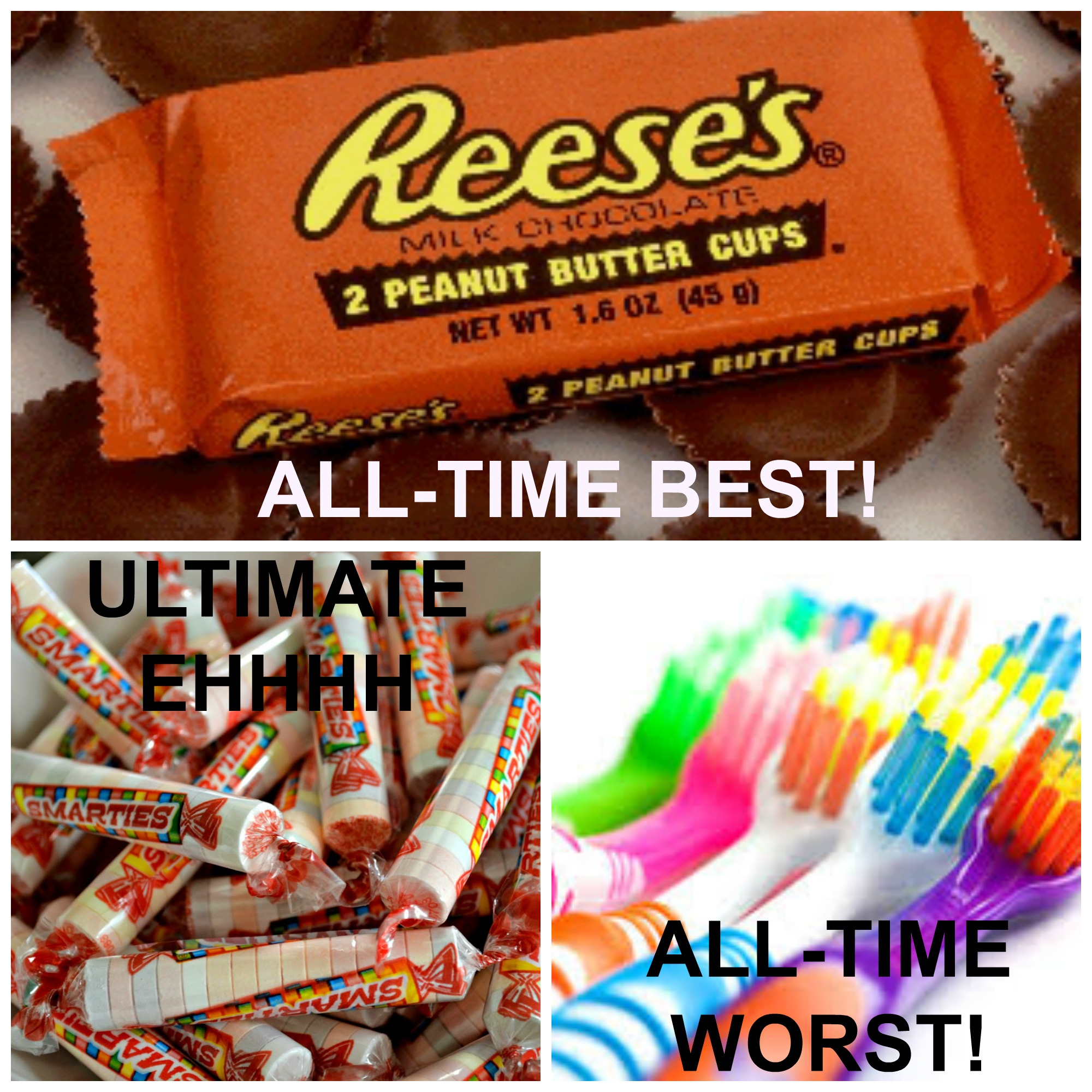 #1           BEST: Reese's Peanut Butter Cups – This is the best thing you will get all night. You are either going to eat these all immediately or you will horde all the peanut butter cups and save them for November when there is no candy left. Kids don't trade Reese's.
                EHHH: Smarties – You don't know what the flavor is and neither do I, but you'll eat them.
                WORST: Toothbrush – Cruelty in its truest form. What kind of person gives these out? A terrorist? A masochist? An evil evil person. Satan himself would give out toothbrushes.
Keep Up With PopWrapped On The Web!
Twitter 
SoundCloud
Facebook
Instagram
Tumblr
Pinterest
YouTube