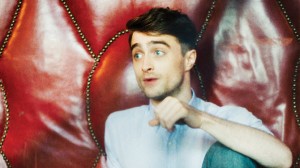 Courtesy of Variety.com
Carleen Slon
Staff Writer
@Carleen1991
Daniel Radcliffe has hung up his wizard robes for the possible chance to get in the director's chair. Harry Potter Alumni Daniel Radcliffe spoke with
Variety
about the possibility of being a director in the future.  "I would love to direct," Radcliffe says. "I do it in my head when I'm watching other directors direct.
'No, don't say that to them!'
I think I'm quite good with people. Part of being a director is knowing how different actors work in different ways. I'd enjoy it." The 25 year old has worked with and observed some of the best directors out there in the business since the
Harry Potter
 franchise which includes Alfonso Cuaron, Mike Newell, David Yates and Chris Columbus. Radcliffe stated, "The mistake I see even the really good directors make is they assume they are the only creative person on that set," he coninuted, "And actually, make-up artists are not just girls with brushes who put foundation on, and costume guys are not just there to stitch up accidents. They are all immensely creative people." Although we won't see Radcliffe make his directing debut for a while, he anticipates that his first movie as a director will be on a very small scale. So what you think? Leave us a comment below!
Keep Up With PopWrapped On The Web!