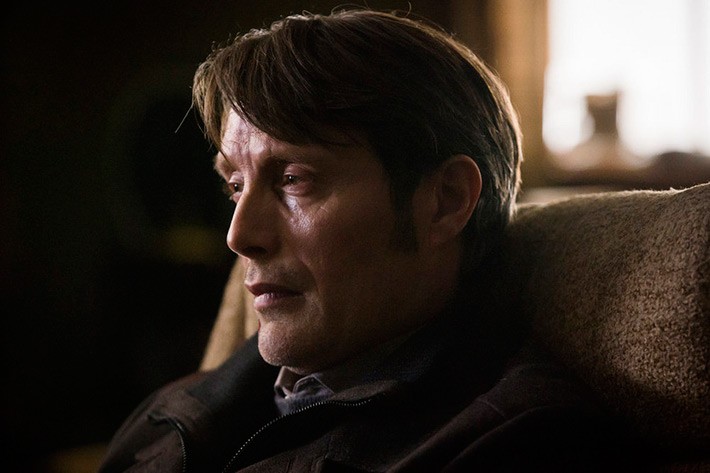 Credit: dorkshelf.com
I start off each of my Hannibal recaps by essentially singing praises of the show and the episode that just aired. This recap is no different than the rest.
"Digestivo" brought the current arc to a satisfying and heartbreaking conclusion, making it this season's best episode. This episode featured a death a long time coming, a break-up, and a surrender. So what went down in tonight's bloody and climatic episode? Read on to find out, and this time around, I'll be skipping through some of the episode's minor moments in order to get straight to the juicy bits.
The first seven episodes of the season were a means to wrap up the "Hannibal on the run" arc while ushering the way for the highly-anticipated Red Dragon arc, basically giving viewers two seasons under the disguise of one. The first half of "Digestivo" is spent with a smug Mason, who's clearly ecstatic at having apprehended both Hannibal and Will; he's so ecstatic that he puts off killing the two in favor of toying with his prey's instead, which ends up being a big mistake. One of the best moments of the episode took place while Mason wined and dined with his prisoners by his side. Mason is well and truly aware of the complex bond Hannibal and Will share, so he decides to metaphorically explain the current status of their relationship by telling them a story about a German cannibal that was in need of a friend; he finally makes a friend, but the cannibal succumbs to his needs and ends up devouring his new friend and his…penis. Mason emphasizes the word while giving Hannibal and Will an all-knowing and smug stare. Hannibal reacts with sheer amusement, clearly entertained by Mason's outrageous behavior while Will is still too out of it to fully react to Mason's words.
Now, let's shift focus to Mason's sinister plans. Mason decides he needs a new face and whose face does he plan on taking before devouring Hannibal? Why, Will Graham's of course! Thankfully Will's face remains intact as Hannibal arrives in the nick of time to save his beloved husband.
Let's rewind the sequence of events a tad bit. Hannibal was only able to free himself from Mason's chains with the help of the lovely Dr. Bloom. Alana made the episodes most daring move by freeing a man that promised to kill her when he next saw her. Freeing Hannibal changed nothing except giving Alana more time to live; his warning still stands, meaning the next time he sees her, he will indeed kill her. Hannibal's warnings always ring true and if the show is picked up for more, Alana's death is an event waiting to happen. Or perhaps, Alana will bite the bullet by the third season's end.  Alana's actions in the episode contradict her stance at the season's start, since all she wanted was revenge against Hannibal but when faced with the prospect, she readily betrays Mason and instead lets Hannibal go so he can save Will's life. Alana's character arc from season 1 to now is perhaps the most drastic out of all the present characters.
Alana and Margot endured their fair share of horror this episode especially when it's revealed that Mason used a pig (yes, a pig) as a surrogate to carry his and Margot's baby. Mason's sick and twisted nature is brought to light even further and Alana and Margot put an end to Mason once and for all. Will predicted earlier on that Alana would play a heavy hand in Mason's downfall and his prediction indeed came true.  Mason's death was truly satisfying and it was only fitting that Alana and Margot do the honors of ridding the world of Mr. Verger. I won't spoil you with details on exactly how Mason dies; it's something that needs to be seen and appreciated. While most of this is happening, Jack is noticeably missing in action because he's having problems of his own. The corrupted Italian police decide Jack won't be taking a flight back home and attempt to kill him. Luckily, Chiyoh and her handy rifle save the day and Jack's life in exchange for Jack saving Hannibal.
This episode marked the end of not only Mason Verger, but Will's "feelings" for Hannibal. Yes, Will cuts ties with Hannibal and one can actually pinpoint the moment Hannibal's heart breaks. This scene was my absolute favorite and it added an extra dimension to the relationship between these two. Will wakes up in his bed back in his home in Wolf Trap, where Hannibal carried him in bridal style. Laying on the bed is Hannibal's notebook which is filled with equations in an attempt to reverse time.  Oh, Hannibal, unfortunately, time can't be reversed and neither can your actions: my heart truly goes out to you.
"I don't want to think about you anymore," is just one of many heartwrenching things Will says to Hannibal when breaking things off. Will, in this moment, looks completely worn out and he expresses his exhaustion and anguish, delivering the ultimate rejection. It is hard being so out rightly rejected by the only person who cares about you and completely understands you. Hannibal tries to salvage their relationship with such outright desperation that I couldn't help but feel sorry for him. Will, in a relatively calm voice that held finality, tells Hannibal he won't be seeking him out any longer nor will he be missing him and that this is the end to whatever is between them and the relationship they hold. As sad as this moment was, it was nice to see Will finally make a decision for his sanity's sake.  Will's words produce a completely human emotion out of Hannibal who's trying to keep tears at bay and it's clear that this has hurt him even deeper than Will's betrayal at the end of the second season. Hannibal leaves after Will bids him one final goodbye.  Jack arrives quite some time later with reinforcement and Will tells Jack Hannibal left which turns out to be wrong. Hannibal surrenders himself readily while Will watches the scene unfold.
Will may have seemingly let Hannibal go, but Hannibal isn't ready to let Will go; not by a long shot. Hannibal gives himself over to Jack because Will wouldn't be chasing after him so why continue playing a game when your favorite playmate has decided to forfeit? Hannibal's bold move ensures that he'll be on Will's mind constantly. Before Will leaves his front porch, Hannibal directs a few parting words for Will, "I want you to know exactly where I am, and where you can always find me." Hannibal stares at Will with such a longing expression that you know it's only a matter of time before Will is back in Hannibal's orbit. Hannibal and Will are far from over. Hannibal is all subtle smiles as they take him away because he's won yet again. Hannibal gave up his freedom, the one thing most precious to him, just to spite Will. In the second season's finale, the mere possibility of his freedom being taken away from him sent Hannibal over the edge. He wounded Will, but knew Will would come after him. However, Will ending their relationship ended Hannibal's prospect of freedom; Hannibal can't seem to even entertain the idea of freedom unless it's intertwined with Will Graham. The mere thought of Will not missing him or not looking for him forced Hannibal to make a decision which would lead to Will coming to him sooner or later.
Next week's episode kicks off the Red Dragon arc and, as excited as I am to see Francis Dolarhyde, I'm even more excited to see what happens next between Hannibal and Will.
What were your thoughts on this week's mind-blowing, feels-inducing episode? Let us know in the comments below!