Tonight's episode finally ushered in the era of the highly awaited Red Dragon arc and introduced us to the great red dragon himself, Francis Dolarhyde who, in this episode, is referred to as the tooth fairy; a name we quickly discover he's not too fond of.  Last week's heartbreaking episode left off with Will cutting all ties with Hannibal which results in Hannibal turning himself in at long last. "The Great Red Dragon" picks up three years later and some things, or rather some characters, are significantly different now than from how they were in previous episodes.
Three years have passed and this episodes chooses to focus on how much things have changed or basically gone back to normal now that the fuss over "Hannibal the Cannibal" has somewhat died down. We're shifted back to Virginia where the FBI element, which remained a subtle presence throughout the season, is now much more prominent. The episode seems to transition back to the case of the week formatting, which was reminiscent of the 1st season.  The case presented to viewers this episode is that of The Tooth Fairy; a serial killer deadest on slaughtering families in the most brutal of ways. Said serial killers true identity is that of Francis Dolarhyde who is played by Richard Armitage (The Hobbit) with such vulnerability and raw emotion.
A good portion of this episode is dedicated to showcasing Dolarhyde's mounting obsession with William Blake's "Red Dragon" paintings. Dolarhyde has managed to form a connection of sorts with the works of art that trigger his violent behavior. Viewers spend a good chunk of time getting to know Dolarhyde and familiarizing themselves with his day to day routine. What we've learned so far: Dolarhyde likes to collect articles discussing his murders and scrapbook them and that he works out near constantly; Dolarhyde wants to perfect his physique so that it resembles the figure in "The Great Red Dragon and the Woman Clothed in Sun." Dolarhyde even has the painting tattooed on his back almost making it seem like he wants to become the painting itself.
His connection and fascination with art rivals Hannibal's. Dolarhyde is quite a brutal character, but there's an air of innocence to him, one that reminds me of Will. One wants to like Francis because of his overall fragility, but the man is indeed a killer; a killer who, judging by the trailers, is bound to become more unhinged with each passing moment. Nonetheless, I do like Dolarhyde and am interested to see where his character ends up.  He bare similarities to both Hannibal and Will making me wonder where he'll "stand" when it comes to these two old friends.
For the duration of the episode, Hannibal remains as cool as a cucumber and seems relatively pleased and entertained despite being in a mental facility. Hannibal escaped a prison and death sentence by merely pleading insanity. The scariest part about that is Hannibal is very much sane; he's perhaps the sanest character on the show. Hannibal has an amusing interaction with Chilton, who has made quite a lot of money off of Hannibal by writing a best-selling book about him. Chilton is over-the-moon about Hannibal's capture and spends about 99% of his time trolling Hannibal by teasing and taunting him about how he's no longer deemed interesting since the emergence of The Tooth Fairy. Hannibal isn't affected by Chilton's jabs and instead enjoys being treated like a prized prisoner; Hannibal, despite all he's done, is still allowed to prepare his own meals via plastic supplies and pre-approved ingredients which clearly doesn't include humans.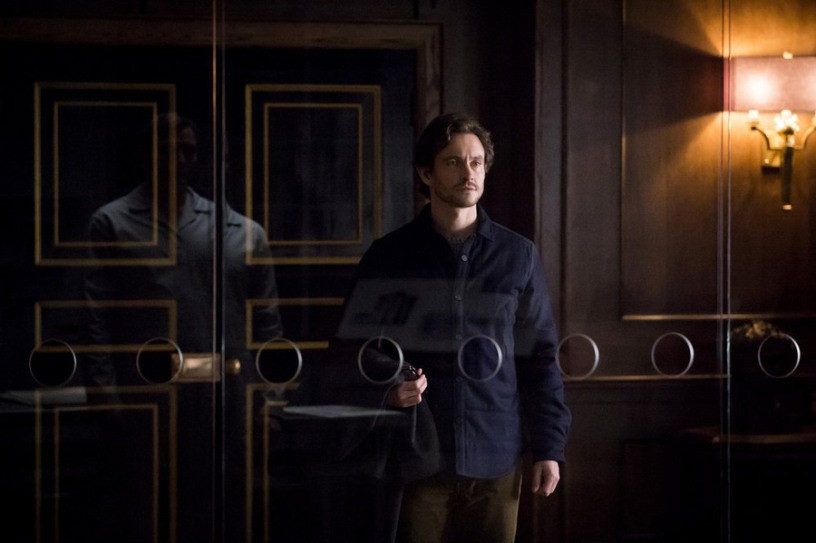 Courtesy of tvafterdark.com
While Hannibal enjoys confinement, Will is enjoying his freedom and new life with wife Molly and her son. Will is perhaps the character that's changed the most over the course of three years. He's now happier, he actually smiles, and he doesn't seem to be plagued by the nightmares, and the stag, that have been haunting him since the start of the show. One key thing about Will Graham remains the same: he still loves dogs more than anything. Will's pack of strays seems to have grown and seeing Will this happy absolutely shattered me because Will's happiness is not meant to last; this proves true enough when dear ol' uncle Jack, who seems to have completely forgotten the physical and emotional damage done to Will upon rejoining the FBI, comes knocking on Will's door, asking for his assistance on The Tooth Fairy case. Oh, Jack, why couldn't you let this precious cinnamon roll live out his life peacefully and relatively murder free.
Will doesn't put up much of a fight, probably due to Molly also supporting Jack's idea, and agrees to help Jack. We say a hearty and nostalgic "welcome back" to the ever familiar pendulum, as well as the forensics duo of Price and Zeller; I seriously missed these two characters and am glad to see Will back in his "this is my design" mode. We've been deprived of Price and Zeller long enough and it was refreshing to see them back on my TV screen. Even after visiting the crime scene and attempting to decipher Dolarhyde's thoughts, Will quickly realizes he can't get back to that "dark place" on his own thus leading to him stating the words that are the beginning of his downfall: "I need to see Hannibal." Oh Will, you were doing so well…but it was only a matter of time before you found yourself in Hannibal's orbit once more.
"The Great Red Dragon" was just as good as previous episodes and I'm excited yet anxious, mostly for Will's sake, to see where the rest of this season takes us.
What did you think of Francis Dolarhyde and the episode overall? Share your thoughts and predictions in the comments down below!