This past weekend, Universal held its fourth annual "A Celebration Of Harry Potter" event at the Universal Orlando Resort. Along with special guest appearances, panels, and other events, Universal also filled two soundstages for the Harry Potter Expo, which gave fans exclusive looks at props, graphics, costumes, and incredible interactive experiences. But the success of one booth inside the Expo depended upon the fans!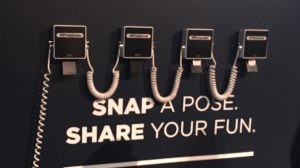 Using only Instagram photos (close to 3,000 of them) posted over the course of the three-day event, the Fan Mosaic booth printed photos to create a mural of a Harry Potter fan looking up at the Hogwarts Castle in Universal Studios Orlando. A representative from the Expo booth explained more about the process. "We're pulling live pictures from Instagram to make a pre-generated image through Luster" he said. "Then from there, we try to find images that match all the small cells to make one big image."
Even if your Harry Potter Instagram picture wasn't chosen to be used on the mosaic, fans could still go to the booth to pick up their printed photos as a keepsake. "Every person who uses the hashtag #HPCelebration will have their picture printed from Instagram if they're public on Instagram, and it's those pictures where we pull from to make the mosaic," he explained.
Check out some of the Harry Potter Instagram photos and the almost-completed mosaic below, taken at the end of Day 2!
Harry Potter Instagram Fan Mosaic