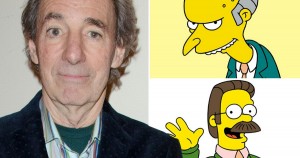 Courtesy of Fox
Well, that didn't last long, did it? That's not to say I am not absolutely ecstatic and relieved.  However, he's back now...
In May, it was revealed that legendary voice actor and comedian Harry Shearer was to leave The Simpsons after nearly three decades of brilliant work. The initial claim was that Shearer had bad blood with the producers of the show over a contract dispute, and instead of resolving it like he had in the past, he said his final farewells to the show and his two-dozen iconic characters.
Turns out, the pull of the world's greatest show is too powerful, and Harry Shearer is returning, having signed up for the 27th and 28th seasons, along with fellow cast members Dan Castellenta, Julie Kavner, Nancy Cartwright, Hank Azaria and Yeardley Smith, leaving the original six cast member structure intact.
This news is absolutely huge, as Shearer voiced dozens of characters, and showrunner Al Jean revealed that his characters wouldn't be killed off, but rather recast. No one could replace any of the six actors, so to see Shearer and the producers resolving his contract dispute is brilliant news, as the show can now continue as it always has.
The historic 27th season of The Simpsons resumes in September, thankfully with Harry Shearer back in the cast.