Teen Wolf and Arrow actor Colton Haynes could not wait to post his exciting life event to Instagram. He and his boyfriend, Jeff Leatham, celebrated their engagement at Las Ventanas al Paraiso in Cabo San Lucas, Mexico with a beautiful firework backdrop.
https://www.instagram.com/p/BRjCXv5jdH-/
"I SAID YES!!!" Haynes captioned the photo.
Leatham proposed with the help of Cher's "I Got You Babe" and finishing with Bruno Mars' "Marry You." Haynes was overjoyed, telling People he was "so blessed and happy."
https://www.instagram.com/p/BRjPXpZDQnt/
Haynes' rep shared a few more details with People, saying that "Jeff's marriage proposal to Colton was incredible, starting with a personalized video message from Cher singing their favorite song 'I Got You Babe', followed by video messages from their family members and close friends – including Melanie Griffith, Serena Williams, Ally Maki, and many more. After Colton said yes, the proposal continued with a fireworks display set to Bruno Mars' 'Marry You' as the couple danced in tears."
Leatham, a celebrity florist, paved a candlelit walkway with rose petals that led to a heart also made of rose petals. Haynes took a video of his walk down the creation, captioning it, "My love @jeffleatham."
Haynes shared his new engagement ring in a FaceTime call with his best friend, actress Ally Maki. Naturally, Maki took a screenshot and posted her own excitement on her Instagram.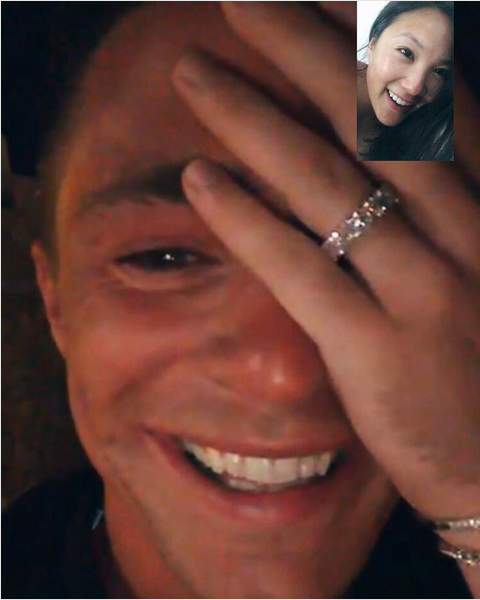 Ally Maki/ Instagram
It may be a little blurry, but we cannot take our eyes off of those diamonds!
"I can't put into words how truly happy I am right now. So full of love," Haynes, who publicly came out as gay in early 2016, shared on Friday.
"Surrounded by beauty inside and out life does not get better than this thank you @coltonlhaynes," Leatham also posted on Friday.
The couple have only been dating for about a month, but it is clear they have found happiness in one another.
Congratulations to Colton and Jeff!