I am the first person to step and stomp my foot and throw a fit when a buzz begins about remaking a classic 80s film. I generally dislike these reboots and take a firm stance against them (I am looking at YOU Footloose). But, as much as I cannot stand 80's movie remakes, when it comes to reworking those same films into musicals- I am the first in line to shove my money into the box office and get a front row seat. Why? Because instead of copying or retelling a story that has already been told – musicals take on classic movies and make it about celebrating moments in pop culture history and enjoying the story in a whole new way.
Heathers: The Musical may be the best example of that theory. Heathers, of course, being the 1989 Cult classic film staring Christian Slater and Wynona Ryder as J.D. and Veronica. Veronica is desperately done with her popular group of friends. She finds a possible way out in the arms of bad boy J.D. and a glass of durano to end the reign of Heather Chandler – the leader of Veronica's clique of mean girls.
The stage version of Heathers was created by writer-composers, Laurence O'Keefe (Legally Blonde) and Kevin Murphy (Reefer Madness) did an amazing job of bringing this cult classic to the stage and made sure to include a number Daniel Waters classic lines from the film into the production.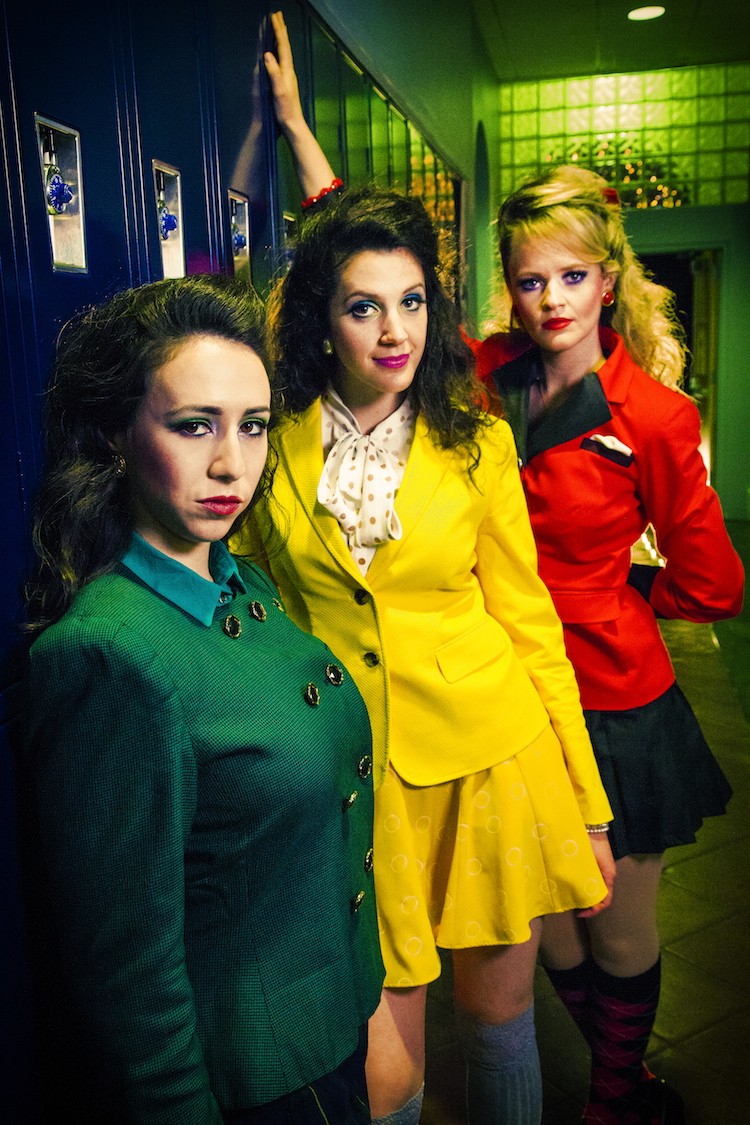 Courtesy of Ray of Light Theater, San Francisco
San Francisco's Ray of Light Theater's Bay Area premiere of Heathers: The Musical is the show's first regional production since its hit 2014 off-Broadway run and I can't imagine a better suited place and cast to bring it back to life.
"Since we came across H​eathers: The Musical,​we knew it had to come to San Francisco and that ROLT had to do it," said Jason Hoover, artistic director of Ray of Light Theatre. "This show celebrates the weirdness of high school and the awesomeness of the '80s, and we can't wait for audiences to fall in love with H​eathers ​as much as we have."
While the entire cast throws down some amazing and hilariously dark performances (Jocelyn Pickett's "Heather Chandler" is the classic high school bitch who you can't help but LOVE to hate) it is the dynamic duo of Jessica's Quarles's "Veronica Sawyer" and Jordon Bridges' "J.D." that were some of the highlights of the show for me.
The thing that puts Heathers: The Musical atop the list of must see shows is the heart of it. Beneath the raunchy sex, language, death by durano and songs like "I Love My Dead Gay Son" is the reminder of the heartbreak and angst that truly captures what it is like to be seventeen. At the heart of this crazy dark comedy is the reminder that we are all beautiful, we are all damaged, we are all freaks and that we all will survive it.
If you are in Northern California be sure to grab a slushie and some cornnuts and check out Heathers: The Musical which runs through June 13, 2015 at the San Francisco's oldest theater, the Victoria Theatre. For tickets and information visit rayoflighttheatre.com.
If you aren't in Northern California, check your local regional theater as productions of Heathers: The Musical are starting to pop up everywhere!