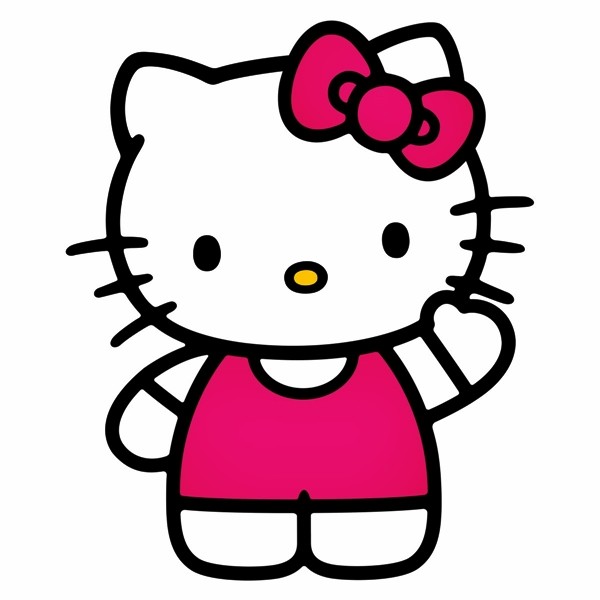 Courtesy of: Impressive Magazine
Hello Kitty is and has been a global sensation. Her expressionless face,
with the exception of her television series
 for example, has been featured on countless toys, stationary, backpacks, a
Judith Leiber clutch
,
men's underwear
, the
popular Hello Kitty Online MMORPG
, and
Avril Lavigne's latest hit
, just to name a few. For most of us, she's been around for quite some time, and she shows no sign of slowing down, even if she's turning 40. Hello Kitty will set foot into L.A. this fall with the
world's first large scale Hello Kitty museum retrospective
 that opens in mid-October at the Japanese American National Museum, followed by
the first Hello Kitty Con
two weeks later. The con will be held at the Museum of Contemporary Art. Anthropologist Christine R. Yano has spent years studying the worldwide phenomenon, and even wrote the book
"Pink Globalization: Hello Kitty's Trek Across the Pacific"
, says that Hello Kitty's unreadable expressions and clever merchandising, has helped Kitty become who she is today. "Hello Kitty works and is successful partly because of the blankness in her design. People see the possibility of a range of expressions. You can give her a guitar, you can put her on stage, you can portray her as is. That blankness gives her an appeal to so many types of people. She doesn't have this insipid cuteness. It's something clever and creative which contributes to a certain cool factor. For example, take Precious Moments [giftware]. That's cute. But there's nothing cool about Precious Moments. Hello Kitty has the potential to be so many other things." In addition, Sanrio spokespeople have explained that they didn't give her a mouth because they wanted people to
"project their feelings into the character"
, and that she
"speaks from the heart. She's Sanrio's ambassador to the world and isn't bound to any particular language."
Hello Kitty may be one popular character, but there we don't know much about her.
Yano gives the LA Times some info
:
Hello Kitty is not a cat.
For fans of Hello Kitty, including myself, this is quite the news. Yes, she looks like a cat, but she's not. Yano tells the LA Times that she was corrected very firmly at the Japanese American National Museum when she described Hello Kitty as a cat. "That's one correction Sanrio made for my script for the show. Hello Kitty is not a cat. She's a cartoon character. She is a little girl. She is a friend. But she is not a cat. She's never depicted on all fours. She walks and sits like a two-legged creature. She does have a pet cat of her own, however, and it's called Charmmy Kitty." That explains what Hello Kitty has a cat. She also has a hamster named Sugar.
Hello Kitty is British.
Hello Kitty, like many of the Sanrio characters,
have a full back story
. Her real name is Kitty White, born on November 1st in the suburbs of London, is a Scorpio, has a twin named Mimmy, and her favorite food is Mama's homemade Apple Pie. "She's a perpetual third-grader...A lot of people don't know the story and a lot don't care. But it's interesting because Hello Kitty emerged in the 1970's, when the Japanese and Japanese women were into Britain," says Yano. "They loved the idea of Britain. It represented the quintessential idealized childhood, almost like a white picket fence. So the biography was created exactly for the tastes of that time."
Hello Kitty has special significance to Asian Americans.
People from all over the world love the character, but she's special to Asians who grew up in the United States. "When Hello Kitty arrived in the U.S. in the mid-1970s, it was a commodity mainly in Asian enclaves: Chinatowns, Japantowns, etc.," explains Yano. "In talking to Japanese Americans who grew up in the 1970s, they say, 'That figure means so much to use because she was ours.' It's something they saw as an identity marker. This is why the exhibition is being held at the Japanese American National Museum. It's about reconnecting her to this community. It gives the whole thing a certain poignancy and power." As an Asian American, I agree 100%. I may not have lived anywhere near a Chinatown or Japantown, but Hello Kitty was and is still a very special character I adore
to the point where I have lots of Hello Kitty memorabilia
.
"Hello! Exploring the Supercute World of Hello Kitty"
opens October 11 at the Japanese American National Museum. The first ever
Hello Kitty Con
 will be a four day event starting October 30 at the Museum of Contemporary Art.
Keep Up With PopWrapped On The Web!
Twitter 
SoundCloud
Facebook
Instagram
Tumblr
Pinterest
YouTube