Susan Booth
Staff Writer
As Glee's 100th episode airs tonight, we find that our hearts still ache over the unfortunate passing of Glee fan favorite, Cory Monteith. His work will never be forgotten and he will always be remembered by his friends, family and fans as someone who not only strived to beat the odds, but always brought light and love to those around him. Cory, on behalf of the staff at Popwrapped, your friends, family and fans all over the world, this tribute is for you.
Cory Allan Michael Monteith was born on May 11th, 1982 in Calgary Alberta to interior decorator Anna Mcgregor and Joe Monteith. Joe was a military man who served in the Princess Patricia's Canadian Infantry. When Cory passed, he left behind his older brother Shaun and his parents. His parents divorced by the time he was 7-years-old, with he and his brother being raised by their single mother. Cory saw very little of his father after the divorce, due to his military service. Cory struggled with social issues while in school, leading to him use alcohol and marijuana by the time he was 13 as a coping mechanism.
Cory attended a total of 16 different schools before dropping out at the age of 16. It was at that point that he began stealing from his friends and family  in order to fund his addiction. An intervention was staged when he was 19 by his friends and family, which helped him get into a treatment center. At one point, Monteith stated that,  "I'm lucky on so many counts. I'm lucky to be alive." Before Cory finally got his big break, he worked at Walmart, drove a taxicab and did some roofing work as well. Cory had small roles on Smallville, Stargate Atlantis and Supernatural, as well as a recurring role on Kyle XY, just before he landed the role of Finn Hudson on Ryan Murphy's Glee.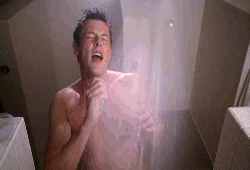 Courtesy of Fightermonteithgirlscout22
It was in 2009 when Cory first personified the character of Finn Hudson. When Glee began the casting process, it was Cory's agent who submitted a video of Cory using pencils to drum on tupperware containers in his audition piece. Cory had to send in a second video, which required him to sing, even without any prior training or experience. Cory performed a cover of REO Speedwagon's "Can't Fight This Feeling," which not not only won him the part, but ended up being the first song he would perform on the hit series. During his stint on Glee, Cory began dating co-star Lea Michele in 2012, and they remained together until his unexpected death the following year. There were also rumors that the pair had gotten engaged.
[embed]http://www.youtube.com/watch?v=4N-34LAuwrA[/embed]
On March 31st, 2013, Cory publicly announced that he was entering rehab for the second time, after having been sober for 10 years, after his Glee co-stars and series creator Ryan Murphy holding an emergency intervention.
It was on July 13, 2013 that the
Glee
fandom was hit with the devastating news that Monteith was found dead in his room at the
Fairmont Pacific Rim
hotel in
Vancouver
. Cory was scheduled to leave that day after spending a week in the hotel, but when Cory never checked out, the hotel staff chose to enter his room around noon where they discovered his lifeless body. [embed]http://www.youtube.com/watch?v=ScgadJaEOlw[/embed] The
Vancouver Police Department
said that the cause of death was not clear at that moment, but  they were able to rule out foul play. After many weeks, an autopsy was done by the B.C. Coroners Service on July 15. The autopsy report stated that Monteith had died from "
a mixed drug toxicity
" of
heroin
and
alcohol
, and ruled his death an accident. Fans discovered in a press release that Monteith also had
codeine
and
morphine
in his system when he passed, and that when his body was discovered, the hotel staff found a spoon with drug residue and a used
hypodermic needle
, along with two empty bottles of
champagne
.
Monteith was cremated and laid to rest  in Vancouver on July 17, followed by a private gathering with his immediate family and long time girlfriend, Lea Michele. It was on July 25, that  Michele and Glee creator Ryan Murphy held a celebration of life for Monteith in Los Angeles, that was attended by the cast, as well as the creators and crew members from the show.
Courtesy of Throughthe-cameralens/Tumblr
This tragedy forced the showrunners to postpone production of Glee's fifth season to August instead of  July, yet the season debuted no more than a week later than it's originally scheduled air-date. Season five's third episode, "The Quarterback," debuted on October 10, 2013, and served as a tribute to Monteith, which focused on the death of his character Finn Hudson. No explanation was ever given in the series regarding how Finn died, much to the chagrin of the fans. The show took a break as extra time was needed in order to decide how the series would continue, even after the announcement of season six being the last in the series. Every fan favorite Cory moment in Glee remains with everyone all around the world, now and forever.
Cory led an amazing life that will be remembered forever and his death will never be in vain in the eyes of his friends, loved ones and his fans. His legacy lives on with
Glee
and his charity Project Limelight, which highlighted his passion for theater  by giving children the chance to express themselves in a way they never could before, with a free theater program in Vancouver. We will never forget you Cory, and we hope that you have found the peace in death, that you could never find in life. Our hearts are with you as
Glee
continues to shine in your absence, though it will never be the same. Glee's 100th episode airs tonight at 8pm on Fox.
Courtesy of Naive-moulin
Keep Up With PopWrapped On The Web!
http://www.PopWrapped.com
http://www.Twitter.com/PopWrapped
http://www.SoundCloud.com/PopWrapped
http://www.Popwrapped.Tumblr.com
http://www.Facebook.com/PopWrapped
http://www.Instagram.com/PopWrapped
http://www.Pinterest.com/PopWrapped
http://www.YouTube.com/PopWrapped