We're only nine days into 2017, and we've already had two major memes take over. First, the Hollwood sign being changed to "Hollyweed" became an internet sensation. But now, we have the "Hidden Fences" meme. How did it become a meme and why is it so important? First, let's look at the origin of the title.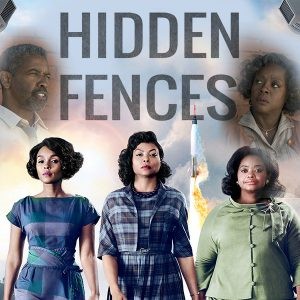 Twitter
Pharrell Williams was at the Golden Globes for his song on the Hidden Figures soundtrack. But Jenna Bush seemed to forget that Fences and Hidden Figures were two separate movies. Actually, one was about three extraordinary African-American women, and one was a play by August Wilson that won Pulitzers, but, still, that didn't stop Jenna from forgetting that they were separate films.
It could have been just a flub (and, if it was, then how come The Night Of and The Night Manager never got mixed up? Maybe because they're about mainly white people?), but it doesn't change the fact that the internet took the mishap and ran with it. Well, that and the fact that Michael Keaton said the same exact thing during the ceremony as well.
And so, a meme was born. All over the internet, people began crafting the perfect word play or fictional movie ideas based on the title Hidden Fences. And only about 90% of them included an invisible fence.
"Hidden Fences" - brilliant black women use math to launch Denzel Washington into space where he plays professional baseball with his son

— Baratunde (@baratunde) January 9, 2017
Coming to Atlanta #HiddenFences #GoldenGlobes pic.twitter.com/dC5I67QT2m

— Travon Free (@Travon) January 9, 2017
12 Years a Dreamgirl #HiddenFences

— USS Deadass Sea (@KevyD_PhD) January 9, 2017
And even I had to get in on the action. After all, a good meme makes the jokes relatively easy.
Hidden Fences is the thrilling sequel to The Boy in the Stripped Pajamas.

— rachel leishman (@RachelLeishman) January 9, 2017
HIDDEN FENCES (2017): The story of Jacob Tremblay & Sunny Pawar playing hide and go seek and Jacob gets stuck in his neighbors shed. 5 stars

— rachel leishman (@RachelLeishman) January 9, 2017
Because, to be fair, it wasn't all fun and games either. Many were upset by the fact that, even though Moonlight and Atlanta won, the black community in Hollywood was yet again forgotten by two white people who couldn't even remember two different movies.
The moral of the story is simple: Fences and Hidden Figures are two completely different stories but are equally as important as each other. Maybe next time don't have former President Bush's daughter making a huge mistake on the Golden Globes red carpet.