Tom Cruise could be
picking up his sword again for the Highlander reboot
if rumors are true! It was announced way back in 2008 that Summit Entertainment was set to reboot the classic film franchise
Highlander
, which achieved cult status in the 80's with Christopher Lambert as immortal Scotsman, Connor McLeod, engaged in a battle for supremacy with other immortals. The original film also starred Sean Connery as Ramirez, a fellow immortal and mentor to McLeod. Tom Cruise is a name being bantered around to fill the role of Ramirez in the reboot, however, a
Highlander 
insider denies they are officially in negotiations with Cruise but they do confirm that he is the studio's choice for a co-star. Tom Cruise wielded a samurai sword in the 2003 film
The Last Samurai 
and has shined in supporting roles in films like
Magnolia
and
Tropic Thunder
. Should this rumor come to fruition, it could prove to be some fantastic casting!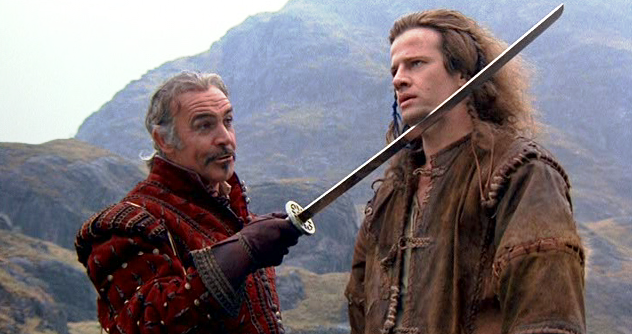 Courtesy of Summit Entertainment
Directed by Russell Mulcahy and set against the backdrop of various points in history,
Highlander
 featured a rocking soundtrack by Queen and spawned several movie sequels, two live-action television series, an animated series and an animated movie. The reboot is set to be directed by Cedric Nicolas-Troyan, the second-unit director on
Snow White and the Huntsman
. There is no word yet on who will reprise the role of Connor. Ryan Reynolds was originally tapped to play the lead in the reboot, but
left the project
last year after the original director, Juan Carlos Fresnadillo, left in November 2012.
Keep Up With PopWrapped On The Web!