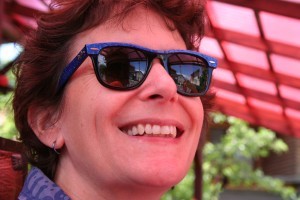 Sash M-Waite
Staff Writer
It's been a huge topic amongst Doctor Who fans: Why is there a lack of female input in the series? But Rachel Talalay has spoken out recently on why she thinks she was chosen as a director on the upcoming series starring Peter Capaldi.
It was announced earlier that she is set to direct two episodes of series eight, making her the
first female director
since 2010.
Speaking to Bitch Magazine, the director said:
I did joke around with Steven Moffat in our first meeting. Immediately there was press saying 'woman woman woman' and so I said, 'It's clear if I read the internet that you hired me because I'm a woman'.

And he said, 'Oh, you're a woman? Maybe I just looked at your resume and your reel and your credentials and hired you because of that'.

We both agree that that's what we hope I was hired on. I should stop there and say I'm incredibly fortunate to have the experience in effects that a lot of women don't get. So I was able to put together a reel of special effects and action that most women don't have.
But she does concede that it is tricky for women to get into special effects and heavy programming, saying:
A lot of women who want to do the shows that I get on, there's just an assumption that they don't know how to do that stuff and they don't have it on their resume. So the marketplace is more likely to give that opportunity to a man…. if the assumption is that you can't do it because you've never done it, who's going to give you the opportunity? That's an extra fight as a woman.
Talalay worked on the Nightmare on Elm Street films and Supernatural, making her a great choice for Moffat's darker Doctor Who. The series will air on BBC One in August.