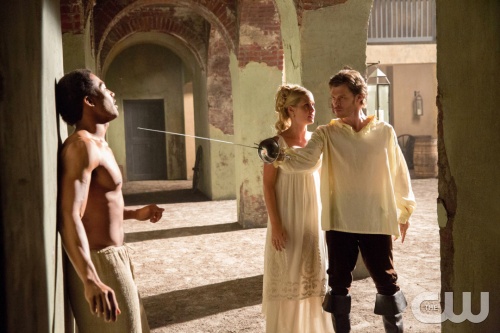 Photo courtesy of The CW
Staff Writer
Last week, the Mikaelson motto, "always and forever, family above all", was etched into our brains. But in the shocking ending, Klaus did what he does best – he put his brother to an eternal sleep, proving he may not have the same feelings. In this week's episode, we find the lone Mikaelson sister join her brothers and rekindle a past romance. We also get a closer look at the somewhat dysfunctional relationship between Marcel and Klaus and just how Marcel rose to the top.
While Elijah is off taking a nap induced by a white oak ash dagger, Klaus is off acting brotherly towards Marcel. Klaus learns how Marcel's parties work. Marcel's little vampire minions feed, heal, erase and send the victims away. Too many deaths will keep the tourists away, and Marcel won't have any of that.
A little Marcel minion reports that six of his nightwalkers were killed and we learn that Rebekah has finally joined her family after spending a summer with Mystic Falls' resident human, Matt. The youngest Mikaelson is in search for Elijah, but instead meets Hayley. The sass is real. "You have your brother's manners," Hayley points out. "And his temper too." How can you not love Rebekah?
Hayley goes on about how Elijah made all these promises then up and left (at least according to Klaus). The young werewolf definitely sounded disappointed. She put her trust in Elijah and he "abandoned" her like everyone else in her life. Then Rebekah reiterated what we all know, "Elijah doesn't break promises."
Then Rebekah calls for the "narcissistic, backstabbing wanker" and Klaus appears with perfect timing. The banter between these two is something to always look forward to. The two exchange some choice words with each other and Klaus reveals to Rebekah that Elijah may be taking a "long autumn nap" somewhere in their new residence.
We get our first flashback of the night showing the Mikaelson family partying with the Governor and living like royalty in the French Quarter. The Original family seemed very happy and content with their lives, but when Rebekah professed her love for the Governor's son and her passion to turn him, Klaus decided to throw him off a balcony. And that was that. "He wasn't good enough for you," Klaus says in the present. Is he being protective or selfish?
Fed up with Rebekah and eager to get on with his plan, Klaus goes off to play drinking buddies with Marcel. The search for Elijah continues as Rebekah enlists Hayley to help. After finding the family coffins, Rebekah reveals the indiscretions of her brother and his desire to keep them close and out of his way. But not without putting out the idea that Klaus will have a coffin ready for Hayley once the hybrid baby is born, "Welcome to the family, love."
Rebekah finds Sophie hoping that she would use a locater spell to locate Elijah. However, with Marcel's rules, Sophie doesn't want to die just yet. Just remember, Sophie dies, Hayley dies. Now Rebekah may be all threats and attitude, but she does give us a look into the relationship Marcel and Klaus had. She reveals that Klaus didn't just see Marcel as a friend; the hybrid loved him like a son. This flashback takes us back to when they first met. Amidst burying the Governor's son, we see a slave who is beaten. It turns out this boy was the product of an affair the Governor had with a woman that he owned. Klaus felt an immediate connection with this boy, saving him. He named him Marcellus.
Hayley decides to venture outside of her permanent residence, against Klaus' wishes, to obtain Wolfsbane. Looks like Rebekah got inside her head and Hayley is eager to get rid of the little wolf growing inside of her. But naïve little Hayley forgets that everyone follows Marcel's rules and no werewolves are allowed in the French Quarter.
As Rebekah looks over the town that was once her home, she remembers watching Marcel grow up. What began as a fencing lesson between the two became more. A young Marcel tells Rebekah that he will marry her one day. As the years go by, Marcel grows older and stronger, making his move on Rebekah. But leave it to Klaus to ruin the moment. The look on his face is pure evil.
As the flashback ends, Marcel appears in front of Rebekah and the bitter tension is hard to miss. "I thought you were dead," a nervous Rebekah blurts out. "You never looked back to find out." It sounds like Rebekah's heart wasn't the only one broken.
Marcel knows not to get involved with the Mikaelson drama remembering when Klaus told him to stay away from Rebekah. "They come and go for her, but I am the constant. She's my family." Again, is it Klaus being selfish or being a big brother looking out for his little sister?
Hayley is about to take the Wolfsbane, but Marcel's guys are on her tail. I expected to see Klaus come in and save the day after he heard the conversation Marcel had, but it is Rebekah that comes in to save the day. But Klaus is still pissed off and clearly Rebekah is fed up as well.
Rebekah attempts to stand up for Elijah and Hayley. She claims he's done nothing, but Klaus claims he's doing everything. His plan is finally revealed; Klaus is going out of his way to gain Marcel's trust, and compelling others to be his inside eyes and ears. He compels one of Marcel's future minions and then he goes after Marcel's heart by using Camille, the psychology-studying bartender we met in the first episode. Marcel's got his eye on Cami, but she isn't having any of it. Leave it to Klaus to use compulsion with the matters of the heart.
After putting Rebekah in her place, Klaus then questions Hayley. Without fear, Hayley reveals what she planned to do. And in this very moment, you know that Klaus is actually starting to care, despite the fact that he almost chokes her to death. Rebekah puts it best, "It's okay to care. It's okay to want something." Family above all.
But the moment is ruined as Klaus finally revealed that he gave Elijah to Marcel as a peace offering. It's all part of his plan, which although heartbreaking, it makes sense. How else is he supposed to gain Marcel's trust?
I love that Hayley is developing friendships with the Mikaelson family. Last week, we saw her bond with Elijah. Now, Rebekah isn't the only girl in the family that has to deal with Klaus, "Us girls have got to look out for each other." And that is exactly what Hayley does when she hands over the daggers that could put Rebekah back into her coffin.
Rebekah goes off to interrupt Marcel and Camille's date, threatening to kill Camille. Marcel is clearly smitten by the blonde bartender; he agrees to take the blonde Original to Elijah. That meeting is cut short when the young witch, Davina, doesn't approve of Rebekah's attitude.
Rebekah is knocked out, experiencing the great power that Davina possesses. As Rebekah sleeps, we learn that many years ago, Marcel chose the vampire life over her. In a parallel scene following her dream, we see Marcel watching over Rebekah as Klaus did in the past. Once again Marcel doesn't hesitate to reiterate that everything that used to belong to the Mikaelson's is now in his possession.
Hayley and Klaus have a moment where they both realize that they are very similar – both from broken families. Klaus opens up to Hayley and reveals his disappointment in Marcel. He was under the impression that Marcel would find the family that took care of him and stay alongside them, but instead he took everything that once belonged to the Mikaelson clan. In other news, I seriously cannot wait to see Klaus take care of this baby and the look on his face as he holds it in his arms…but I digress.
Rebekah returns home to let Klaus in on Marcel's secret weapon. Unbeknownst to Rebekah, Davina also used her powers to wipe out her memory of the location of Elijah. The power this witch possesses is enough to freak out the Mikaelson's, but they're willing to do "whatever it takes" to get back Elijah because their "home is worthless without family."
I just hope they find Elijah before the little witch and Marcel figure out how to kill an Original vampire.
Always and forever,
Adele
http://www.Twitter.com/PopWrapped
http://www.PopWrapped.Tumblr.com/
http://www.SoundCloud.com/PopWrapped
http://www.Facebook.com/PopWrapped
http://www.Instagram.com/PopWrapped
http://www.Pinterest.com/PopWrapped
http://www.YouTube.com/PopWrapped
http://www.PopWrapped.wordpress.com/
http://www.PopWrapped.com