As soon as House Of Cards made its debut on everyone's favorite online streaming service, Kevin Spacey's protrayal of ruthless politician Frank Underwood immediately got people hooked. The series is now returning with its fourth season and Netflix has just unveiled the first couple of posters and a teaser for it.
With politicians currently being in the spotlight and one headline coming after the other, it's starting to look a lot like the show. As it's time for Frank Underwood to actually run for President this time around as well, the promotion of House Of Cards' fourth season is just like a political campaign that we'd casually monitor. Therefore, it comes with plenty of promotional, brochure-like posters that go with the quote "Anything for America", alongside the trademark "FU '16″ or just "Underwood 2016″. Even the teaser looks exactly like a political television spot, promoting Frank Underwood's significant programme, "America Works". Give it a look for yourself below.
https://www.youtube.com/watch?v=Se44ed4KBMA
Alongside the promos and their right timing, Netflix has also gone and announced the release date of the House Of Cards' fourth season. As it turns out, we'll be given the chance to watch Frank Underwood's re-election in full on March 4. Given last season's unexpected twists, for once things aren't looking that good for our beloved villain-ish politician and we'll definitely be tuning in to find out how he's been handling things. Until then, there's even a campaign-related website for us to fool around.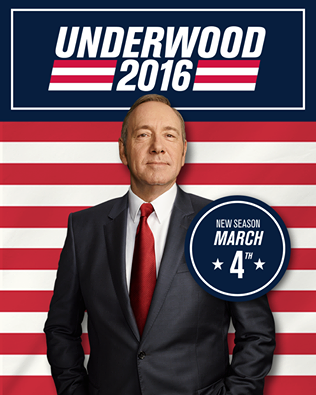 Courtesy of House Of Cards