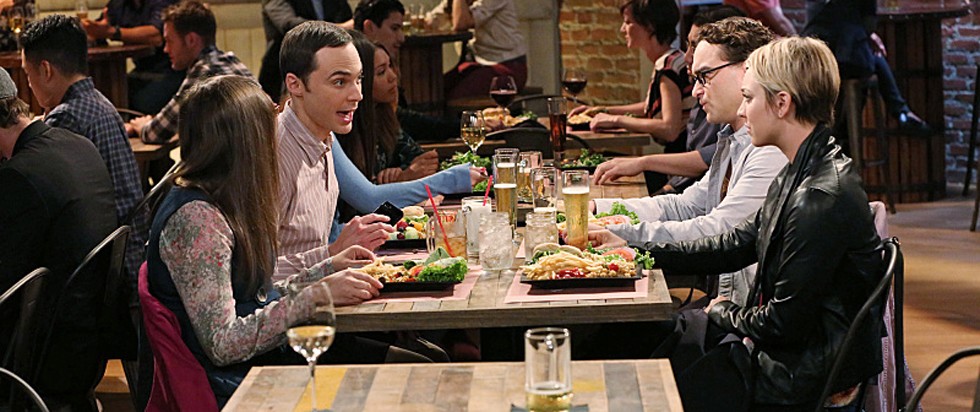 Courtesy of: CBS
Mondays just got a whole lot better now that 
The Big Bang Theory
 is on and it doesn't seem to be slowing down any time soon. Howard reveals that he was chosen to throw the first pitch at an Angels game, causing the gang to be excited. However, soon enough they question whether he really can throw the first pitch after several failed attempts at it in a video game. Bernadette then volunteers to teach him how to throw a baseball, and since she was a softball player in high school, Howard accepts. Meanwhile, Leonard, Penny, Amy, and Sheldon all decide to go on a double date where Sheldon reveals that he believes that him and Amy have the best relationship and Leonard and Penny have the worst. It is revealed over dinner that Sheldon and Amy took a quiz on an app to figure out where their relationship fit in a 1-10 scale. Leonard says that they should take the quiz, which Penny quickly shoots down. Over at a gym, Bernadette and Raj try to help Howard pitch a baseball, to no success. After several attempts, they give up and return home where Howard Skypes with one of his former astronaut friends from NASA to try to get some advise. However, he tells him that it's best to just not do it because nothing good comes from it. Howard, saddened by hearing this, is torn on whether or not he should do it anymore. Back at the restaurant, Leonard and Penny talk by the bar where Penny reveals that she is scared that they will score low on the quiz because they have nothing in common and their relationship is one that isn't known to work out. Leonard also reveals that he is scared as well. They return to their table where Amy apologizes for pushing the test on them and Leonard tells them that despite their differences, they can be a good couple. Sheldon still pushes them to take the test and Penny agrees but Leonard does not. Leonard then tells Penny that their both scared to get married but that it makes him want to 'hold your hand and do it with you.' At the Angels game, the gang is all together to cheer on Howard as he throws the first pitch. When he takes the mic, however, he tells everyone that he knows he's not good at sports but rather is good at science. Instead of Howard throwing the first pitch, he has a prototype of the Mars Rover deliver the ball instead. The crowd cheers with excitement, until he actually starts controlling the Mars Rover and it is revealed that it moves at a very slow pace. The crowd then looks on with confusion, then anger, and then start booing at him causing Howard to experience the one thing he was trying to avoid. So, what did you think everyone? Do you think Leonard and Penny are going to survive this season? What do you hope comes next for this crazy band of misfits? Sound off below! Until next week!
The Big Bang Theory 
airs on CBS on Mondays at 8/7c.
Keep Up With PopWrapped On The Web!
Twitter 
SoundCloud
Facebook
Instagram
Tumblr
Pinterest
YouTube