Woody Harrelson hosted
SNL
on November 15, and made it known that a lot has changed since the first time he hosted the show back in 1989! In his monologue, he claimed that Taylor Swift's new album,
1989
, doesn't seem to actually talk too much about events in the year 1989. So, he decided to write his own song to describe what life was like back in the late 80s (apparently a lot of drugs were involved).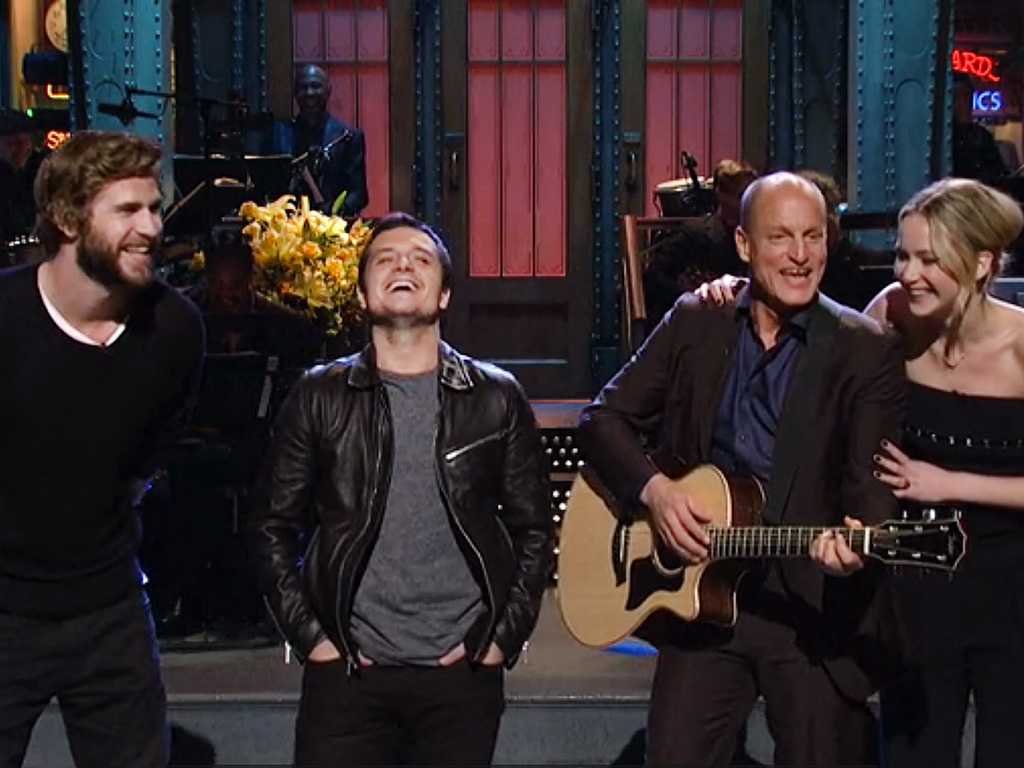 Courtesy of People.com
The music isn't the best and the lyrics are pretty scattered and comical, but the tone changed dramatically when Josh Hutcherson and Liam Hemsworth, his
Hunger Games
costars, join him on stage! Even though both of the young actors address the fact that neither of them were alive in the year 1989, they agree to help him out with the song. To the audience's surprise, Jennifer Lawrence joins her cast mates on stage as well, and Harrelson playfully mistakes her for Taylor Swift! After a few line flubs and jokes about drug use, the four of them pull it together to finish the skit. Despite Lawrence's inability to sing well (a fact that she has brought up in a few interviews this week), she offers Harrelson some advice about the song lyrics. Lawrence, Hutcherson, and Hemsworth all sing back-up for Harrelson as he finishes his very vague tune about life in 1989. Their raw laughter and teamwork in the scene are what bring the most comedy to the number. You can watch the
full monologue HERE
!
Keep Up With PopWrapped On The Web!