Often referred to as "the sexiest all-male acappella group in the universe", the members of Hunkappella are having a thoroughly good time performing and entertaining their ever-growing fan-base. With a busy 2016 ahead and their dreams of world domination not yet fulfilled, the six (very good looking!) men agreed to this EXCLUSIVE interview!
PW: You're all gifted and talented performers and musicians in your own right, so what exactly was it that brought you all together? What do you think you all bring to the group?
Ben Palacios: I'm the guy responsible for this madness. I guess you could call me the "Creative Director" of Hunkappella. When forming the group, I knew the guys were all awesome, but I had no idea we'd become so much better than the sum of our parts. Each guy brings to the equation their own brand of magic.
Joe Santoni: Something tells me it was our hunky destiny. We all have different backgrounds and excel in different styles of singing. I think the diversity in that aspect, really pairs well together.
Josh Wise: I've worked with Ben many time before, so I was excited to work with him again. I sing bass with my bro Joe Santoni. Ben is baritone, Mike and John are tenors, and Parker is vocal percussion.
Mike Viruet: I'm gonna say Ben's the man behind the magic! I'm not sure if I'm the only one who refers to him as "Head Hunk," but without Palacios, we wouldn't be the Hunkappella you know and love! I think I bring an element of Hair to the group! And enough energy to explode a baby kitten just by staring at it.
Hunkapella
PW: What ultimately makes you different from all the other artists and groups out there hoping to win over an audience and build a fan-base of support?
MV: We all have abs...and we sing…and have you seen my hip thrusting? We make the ground you stand on...soaking wet.
BP: That's the goal. Along with sounding our best and having a blast!
John Thomas: We really get along and relate on so many levels personally & musically—we definitely have fun. You can really see it in our videos that are out.
JW: We're finding that we have the best responses when we're being our goofy selves.
PW: How do you plan to expand your brand? I notice you're on YouTube and Twitter, but perhaps maybe Instagram and Facebook could help? Or are you more of a group that prefers to get out there and show people in person what you can do?
BP: We are on Instagram: @Hunkappella. Follow us! We love performing live AND making music videos, and we'll certainly continue to do both. We also have some big projects in the works that I can't talk about just yet… but you're sure to hear a lot about us in 2016!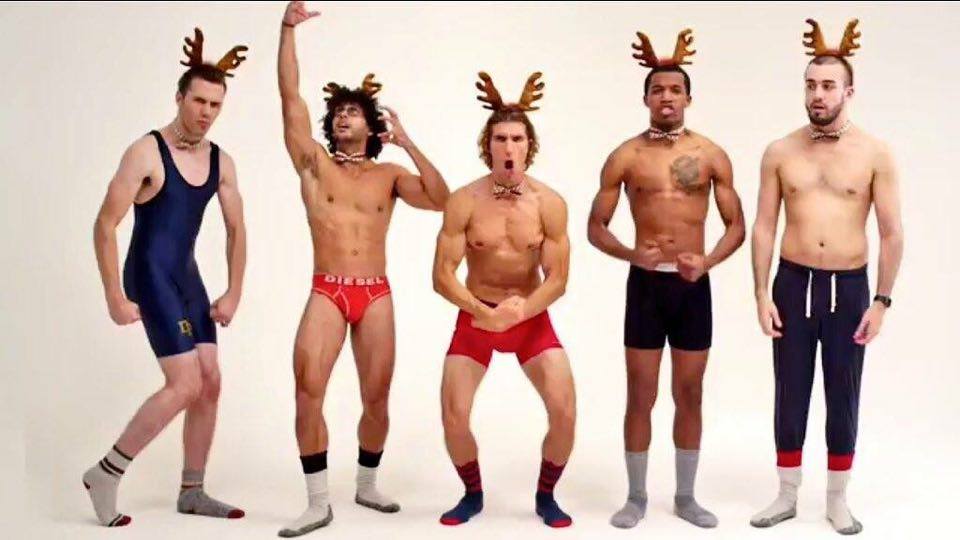 Hunkapella
PW: While many seem to admire and enjoy what you do, don't you think that, certainly with your shirtless appeal, you're selling yourself in the manner that many women get condemned and shamed for?
MV: What? I love it when women take their shirts off! Who condemns boob? #freethenipple
Parker Wright: You bring up a really good point though: It's usually the woman "putting on the show" while the men watch. We aim to flip that cultural norm on its head by giving the ladies a chance to see the men perform for once. No matter who you are, you should be able to do with your body what you want, without being condemned or shamed.
BP: And so far nobody's complained!
PW: Where do you want to see yourselves and your music go in the future? Would you like to explore and entertain Europe?
JW: We would love to develop a whole show and take it on the road! Europe, Asia, Antarctica, anywhere! Personally, I'd love to keep putting out videos—they're super fun to make.
JS: I would love to do more original work as well as full covers with different featured soloists in the group. I think that way our audience can get to know each one of us better.
JT: Music is universal and I would love to present our original ideas to the world.
MV: I'd like to perform on Mars… I hear the acoustics are epic! But a Hunky World Tour first would be pretty dope! What's your ultimate aim and ambition as a group?
JW: Our aim is to give jaw-dropping performances by jaw-dropping hunks, who are sometimes shirtless. Real tasteful-like. Like drinking tea in England. But shirtless.
MV: Honestly, I love performing for people who dig good tunes, comedy, and washboard abs! It would be so cool to tell people that my only job is to sing with my shirt off for thousands of people!
JT: The sky is the limit and Hunkappella can reach that, given the generosity of fans and those like yourselves allowing us to tell our story. So please, keep coming along for the ride. It will definitely be a fun one!
BP: You honestly want to know our ultimate aim? TOTAL WORLD DOMINATION.
Hunkapella wishes you a Happy & Hunky Holidays!
https://www.youtube.com/watch?v=Er5c_YHRb-8&h=500