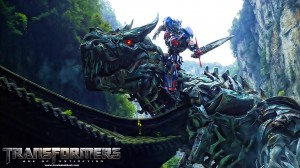 Rain Varela
Staff Writer
Transformers: Age of Extinction
is the fourth movie in the Transformers film franchise and the first with a whole new cast of human characters. This allows the film makers to make a new, fresh adaptation without compromising the continuity established by the first three films. We are introduced to Cade Yeager, played by Mark Wahlberg, a single father and a struggling quirky inventor who collects what people consider junk for his various creations. His daughter, the gorgeous Tessa Yeager, played by Nicola Peltz, is obviously a nod to Megan Fox. And to complete the trio, there is Shane Dyson, an Irish immigrant-race car driver who is secretly dating Tessa, played by Jack Reynor. The movie starts out with guns blazing, to give us a little bit of action and CGI before they establish who the main protagonists are. It is something we cannot avoid, after all we need to know who these new people are. It did get a little bit boring and overly long, but at least the actors were given small moments to shine before all the main special effects scenes kicked in. The story was interesting, it did present a certain sense of mystery and suspense, but sometimes it was kind of all over the place. For one thing the Autobots are still considered heroes by humanity, even by the President, but yet they are hunted down by an insidious faction within the government without anyone else knowing. In this day and age of government leaks and smart phone footage, that seems strange. Especially since the Autobots are perfectly capable of tapping into the internet or even just going to the mainstream media. The special effects are great, but that is no surprise in a movie this big. What they really improved upon though is the fight scenes between the Transformers. The biggest trouble with the first three films is that most of the time it was really hard to know who is fighting whom. In this movie you can actually tell them apart. Mark Wahlberg is obviously credible as an action star, and he is good as the over protective father. Nicola Peltz on the other hand was frigid, her character bordered on being one dimensional. Jack Reynor was no better, granted that his character just popped in and had no time to establish himself, there really was not that much to work with. On the villain side, Kelsey Grammer as shadowy CIA official Harold Attinger stole the show by being sufficiently menacing. Stanley Tucci, who plays Billionaire inventor Joshua Joyce, also had an amazing moment when he faced Optimus Prime during a pivotal scene in Chicago. Amidst the CGI, he was able to let his acting chops shine through-- not an easy feat. Also kudos to director Michael Bay for toning down his signature smoke and light silhouettes, and also for not over-hyping the comedic aspects of the movie to the point of being ridiculous.
Transformers: Age of Extinction
is a great popcorn film, a bit slow on some parts, and it is long, but it is well worth the ticket. Check out the trailer below.
Keep Up With PopWrapped On The Web!