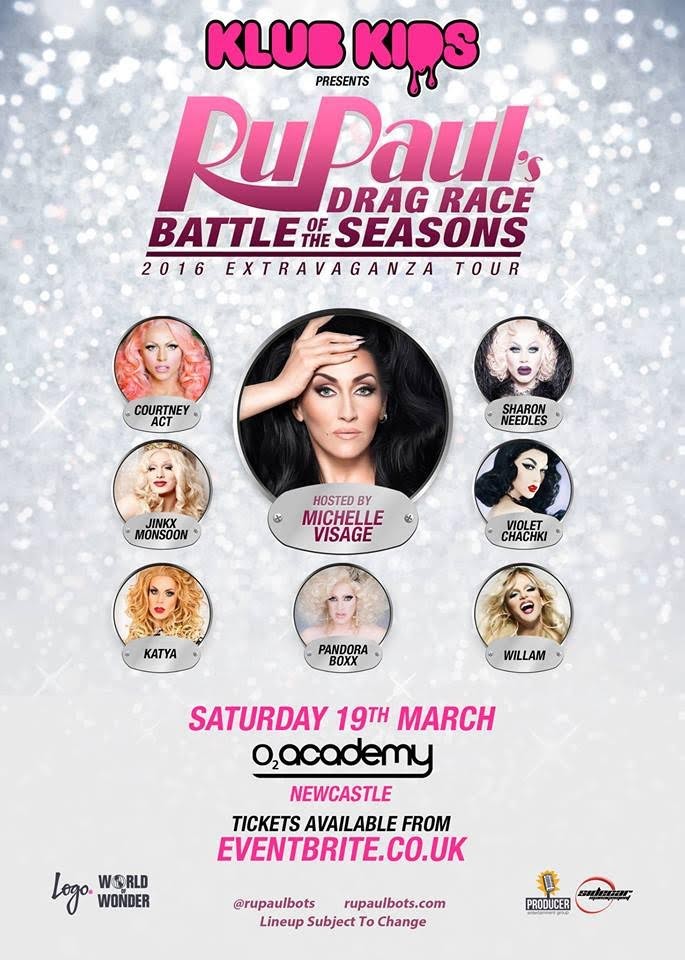 Courtesy of RuPaul's Drag Race
If you're a fan of the Drag Scene and you haven't watched RuPaul's Drag Race, you must have been hiding under a shiny stiletto. Basically, back in 2009 the reality show burst onto the small screen with not much fanfare if we're being honest. However gradually with more seasons and shade it soon became a cult viewing. Think America's Next Top Model meets Project Runway (Only with bitchy queens and real life stories to boot).
As each season grew bigger than Michelle Visage's cleavage, avid fans demanded more fabulous content. This naturally led to Drag conventions, Drag Cruises, Album releases, YouTube subscriptions and two seasons of RuPaul's Drag Race All Stars. Last year we also covered RuPaul herself jet-setting to London Town to pick her UK Drag Race ambassador.
A worldwide tour has branched out from the show, and now in it's fourth year it is scheduled for a pit stop in the North East of England. Hosted by Celebrity Big Brother finalist Michelle Visage, the acts have now been confirmed for a night of lip-syncing, shade throwing, and a few surprises thrown in for good measure.
Entertainment team, Klub Kids (@Klub_Kids) are bringing the army of Drag Queens to Newcastle's 02 Academy on Saturday 19th March. In attendance will be season winners Sharon Needles, Jinkx Monsoon, Violet Chachki and not forgetting fan favourites Katya, Courtney Act, Willam Belli and Pandora Boxx.
Tickets are currently available HERE.
We will have a full PopWrapped review coming your way after the extravagant event.
Events Writer: Benjamin Spence @BenSuspender
Guest Writer: David Robinson @DavyRobin4