We sat down with the creator of the epic Nickelodeon show Legends of the Hidden Temple, Scott Stone, along with the show's two stars, Kirk Fogg (The Guide) and Dee Bradley Baker (Announcer and Olmec) to talk Legends, their preferred teams, and why this should be resurrected from the jungle floors of Nickelodeon studios.
The new trailer for the TV movie Legends of the Hidden Temple dropped at Comic-Con, and the kids inside of us can barely contain themselves as we head back into the temple once more. It's set to premiere this fall, with all sorts of wonderful goodies for fans both old and new:
As expected, the conversation was hilarious and full of nostalgia - check it out!
PopWrapped: As someone who watched Legends of the Hidden Temple growing up, I'm so excited that there's a movie coming out!
Dee Bradley Baker: Oh, good! You'll be very happy.
PW: For someone like me, who did watch the show in the 90's, are there little Easter eggs for us?
Kirk Fogg: Yes, there are.
Scott Stone: There's Pokemon, too. [laughs] No, I'm kidding.
DBB: There is a lot of Easter happening here.
SS: We watched the show together and we were all chuckling. Like oh, my - [imitating Olmec] "The choice is yours, and yours alone."
KF: The rooms are filled with treasures and only Olmec knows the legends behind these treasures.
SS: The Green Monkey is the star.
PW: Let's talk about the Silver Monkey, and I don't know if I can get an answer to this but... tell me they're going to put a Silver Monkey together.
SS: At 1 p.m. today, the trailer comes out, and when you see the trailer you're going to get your answer. It's funny - the weird thing is that it's also horrible - how can it take them so long [to put the Silver Monkey together], and then it becomes such an important memory.
DBB: I love that everyone is asking this question. People want to relive it.
PW: When I was a kid, that was the #1 show that I wanted to be on, because there were a lot of shows on Nickelodeon that were very interactive.
KF: So, why did you want to be on the show?
PW: I wanted to put that Silver Monkey together!
DBB: [points to Silver Monkey prop nearby] We can take this one apart and you can put it back together.
KF: I think moreso than any other show, that was the kind of show people really imagined themselves being on. I think that's what captures the imagination. Everybody wants to be a little action-adventure person, and they think they have a chance at doing that. They had 9 and 10 year olds do it. They had 11 and 13 year olds do it; they had people think they had a shot at doing it.
SS: The reason why everyone felt like they could be on the show is because you didn't need to know anything to be on the show. You didn't need previous knowledge, no trivia; you come and listen, and feed back answers about the story, the legend. Other than that it's physical; you think on your feet and have a good memory.
KF: That's what was great - you didn't have to be super strong. It didn't work that way, you had to have a certain balance with the other person [on your team], you had to have your wits about you, and you had to have strength sometimes, but it wasn't all one or the other. It was kind of the original Survivor. Any kid could do it. It was this really cool story that anybody could be a part of that story and have a shot of making it through, putting the [Silver] Monkey together, and then getting out.
PW: Getting away from the guards as well, that was a big thing.
SS: It still is.
PW: Those guards were nightmare inducing at times, just popping out of corners and all that.
KF: I think it was because of the camera angle as well, kind of being above. It was like Paranormal Activity with that camera up on top.
SS: We had more cameras going in that show than any other show we've ever done.
KF: And we never really knew who the temple guards were. That was weird.
SS: [laughs] Yeah they just kind of showed up, and then left at the end of the day.
PW: At the time you created it and brought it to life, did you envision it being as big as it was? For myself and many others my age it was a defining show growing up - did you expect that to happen?
SS: I don't think anybody that tells you when they create a show, that it'll be a defining show. If you could predict that, we'd all just produce defining shows. It just isn't possible to predict. However, I do think that while we were producing it, we did feel like it was special for the same reason why this movie is special. It's not like anything else that WAS on Nick, and the movie isn't like anything else that IS on Nick. It's different, and that was the hardest part about selling it to Nick back in the day - there was no slime, there was no goofiness. It was serious and a little intense, a lot of drama and a lot of conflict, if you will. There were these crazy temple guards grabbing you. It was much more of an adventure and there was nothing on Nickelodeon that was adventure at that point, and there still hasn't been. If you look at Nickelodeon since then, until this movie, there have been a lot of sitcoms and a lot of comedy, but not a lot of adventure. If this works, I think for the same reason, it could be a defining movie because it's different.
PW: When the movie comes out, and we all love it, do think that they'll maybe open the show back up to this generation?
SS: If you send enough emails to Cyma Zarghami, the chairwoman of Nickelodeon, then there's a possibility they might do a TV series. Do it direct, I'll give your her email address and you can just send her the emails from all your friends. Tell them you want a TV show. Now let me ask you a question - would it be a game-show, or more like the movie?
PW: I think it would be cool to resurrect the game-show. I think it would be good to have something [like the show], because it's different than what's on television right now. Hopefully it would be as special to this generation of kids as it was to my generation.
SS: Imagine it with this technology today, 25 years later, what we could do with the show.
PW: We'll be sure to be emailing, and sending a lot of emails!
DBB: We can get you her cell phone! You can text her. If fans want to text her directly their support...
SS: You can show up at her house with a sign.
DBB: Google Maps, we can send that out and they can find exactly how to get in touch with her and lobby.
SS: And then you can be a temple guard!
KF: No, she wants to be ON the show. See, they can make it for older people, too. What if we did it with old and young? Have the older kids with an adult.
SS: Don't go there. There's a backstory I'll tell you later. [laughter]
KF: Okay, how about a dog and a kid?
DBB: Yeah, a puppy-dog version?
SS: I have an entire show about kids running around a hotel looking for their parents, and their parents don't show up until the last second, and then they say goodbye.
KF: Oh, well, perfect.
PW: For you two [Kirk Fogg and Dee Bradley Baker], what's it like coming back around to this, and getting back into your roles? I know this was one of your first roles, Mr. Baker.
DBB: Yeah, this was my first television series. It's very exciting to go back. The most exciting thing is just how excited people are about it. First of all, just to realize and remember how much it meant to people, like you, how enthusiastic kids were and how much everybody wanted to be in this story, and wanted experience it themselves. Then to see that now, that kind of excitement is most gratifying. You don't always remember things like that, but it's a great thing about a fan convention like this - you see how much these things mean to people and how exciting it is, and how much more fun and enjoyable it makes a person's daily life. It's great to see it coming back like this and how people are thrilled about it.
PW: What's it like to be the guide again, Kirk?
KF: To put on the uniform again? Like I've been telling everybody, it feels like not a day had gone by, and I don't know why. It was like "Yeah, let's go put this shirt on, and get out the rope and let's come on in." And seeing Dee again is great.
DBB: And let's give Olmec more to say! [laughs]
KF: I've always agreed with that! I always thought Olmec needed more things to say. Doesn't he need to say more in the show? Because I'm saying a lot!
DBB: That's right. I was standing back there inside the Olmec head while Kirk read all the questions, and I just read the legend at first.
KF: Yeah, and then you started reading the legends as well, and doing all the Steps of Knowledge.
SS: Yeah I think you were always reading the legend.
KF: It was a perfect thing.
SS: It's a good gig. I want Kirk's job: "Tell them about it, Olmec!" That's a great gig.
PW: Alright so then I got to ask...
KF: [joking] Don't ask. Don't do it. Why are you going to ask this now!? That puts a lot of pressure on us.
DBB: Please, please ask.
PW: What team do you want to be on? What team do you want to represent on Legends Of The Hidden Temple?
DBB: Purple Parrots.
KF: Oh, that's terrible.
DBB: Okay, maybe not. [pauses] No, definitely Purple Parrots.
SS: The Purple Parrots never won.
KF: There was a guy who did a study on who won the most. It wasn't the Purple Parrots.
SS: Green Monkey, for sure. No question about it. The Green Monkeys won a lot.
KF: Why Green Monkey? Too clean, too perfect.
DBB: My mom had a monkey... it was not clean.
KF: Forget about it! I'm going middle, Midwest, blue-collar, get dirty Silver Snakes. All the way. You'd see them come out of the lunch time, and they'd have pizza sauce on them, they were all a little bit dirty, their shirts were a little bit torn; I just liked the way they competed.
SS: And what about you?
PW: I am a Blue Barracuda.
SS: Blue is the most popular color in any show I've ever done. I'm doing a show for Nick now where there's three colors, and the one color is this greenish-yellow color, and I don't think they've won. Like, how is that possible? We've done 20 episodes and they have won... once? And we let them pick by random.
DBB: [in Olmec's voice] It was the curse!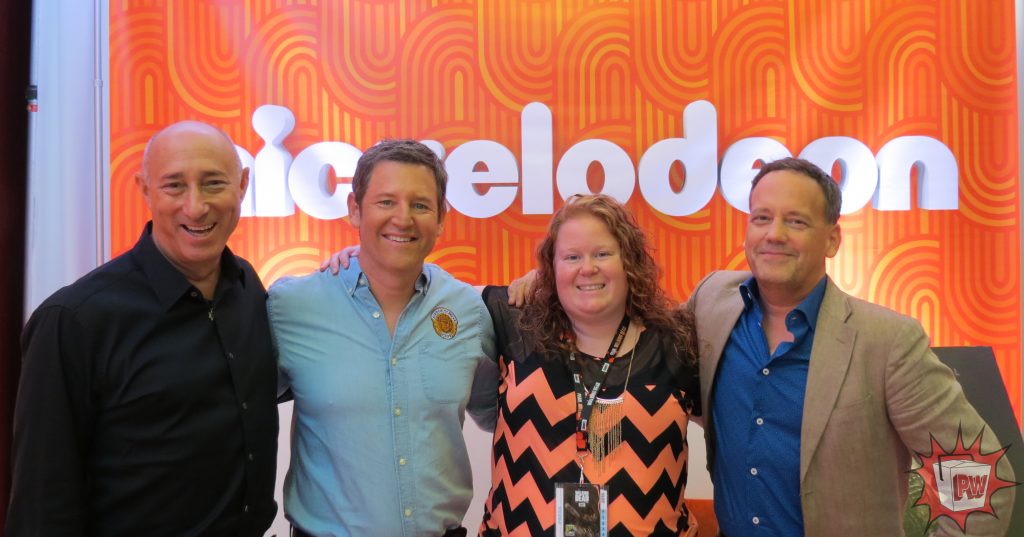 Shannon Beaty/PopWrapped
We cannot thank our gracious interviewees enough for letting us take a stroll down memory lane with them, talking about Legends of the Hidden Temple. As a personal note, I tried my best, but I did geek out a little bit while speaking with these wonderful gentlemen. I'll keep it under wraps until the TV movie is out, and then you can absolutely bet I'll be wearing my golden helmet, knee and elbow pads, as well as my Blue Barracuda shirt as I bask in the glory of the Hidden Temple. Until then, we'll patiently wait for the TV movie, and always look over our shoulders for those terrifying temple guards.