Lab Wars is a unique new science themed board game coming to Kickstarter this June. Players will build their labs and sabotage their competitors! Lab Wars was created by partners Dr. Caezar Al-Jassar and Dr. Kuly Heer. That's right, both of these designers have doctoral degrees. To get to know the creators and learn more about Lab Wars, PopWrapped had a chat with the partners about inspiration, science, and the game itself.
PopWrapped: Let's start with a few easy ones to get to know you better. What is your favorite board game (or card game)? Other than Lab Wars, of course.
Caezar Al-Jassar: For me it goes in cycles! Sometimes I love playing certain games, sometimes I get frustrated with them. Right now (whenever I have to chance to play!) I'm really enjoying Lost Cities, Zombicide, Dominion, and Star Realms.
Kuly Heer: I really enjoy playing Dominion and really basic card games with friends like Love Letter, Citadels, and Resistance. I really enjoy the element of deception and guesswork in these games. Being a psychologist I really enjoy the games that are more interactive and involve you having to pick up on people's non-verbal behavior.
PW: Which famous scientist do you idolize?
CAJ: Having been born in Iraq and emigrating to UK as a young child, I feel I have an affinity with Professor Jim Al-Khalili. He similarly emigrated to the UK as a young child from the same city as me. His books and appearances on TV are fantastic. I particularly enjoyed watching his TV series about how the Arabs contributed to scientific discovery. I also had the pleasure of watching a lecture by him where he said, "Science is a baton passed from one culture to the next" – that really resonated with me as it implied that science will always be there, whoever is leading the world at the time.
KH: I don't necessarily idolize any particular scientist, however I am inspired by women in science such as Rosalind Franklin whose work was instrumental in the determination of the structure of DNA. It's a shame that the Nobel prize could not have been awarded to her posthumously.
PW: Now for the more serious questions. Is this your first foray into board game design?
KH: Yes it is! But because of that we're even more determined to showcase that what we can produce can be just as good as the next board game.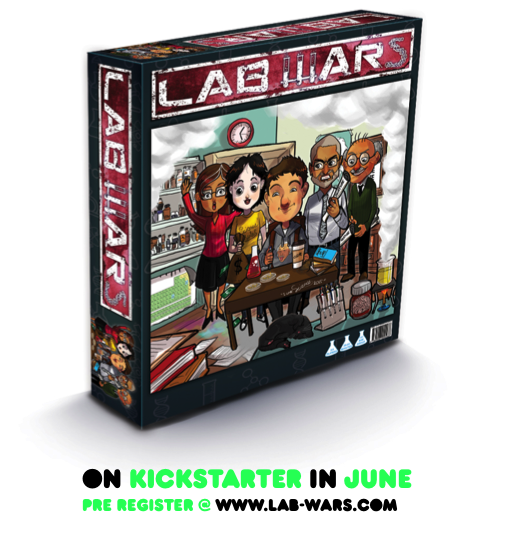 PW: Scientist are typically thought of as mild mannered nerds who always play by the rules. Tell us how that might not be the case and where you got inspiration for the game.
CAJ: Mild mannered nerds, that's a good description! Scientists are 99.9% of the time well behaved people. However, you do get the odd few who sabotage other scientists to get ahead. To quote the author who inspired Lab Wars, Michael Brooks, "There is no prize for second place in science." Michael Brooks' book gave us the inspiration to do the game, as we felt that this was one of the fun parts of academia few people knew about. We also knew about anecdotes and rumors we had heard from other scientists, as well as some good things that have happened to me during my research. But the thing is, being a scientist and being a board gamer I felt that there was nothing out there that reflected science in a board game. Sure, there are educational board games but then we thought lets take all those elements and make a science card game that can also be subliminally educational at the same time.
PW: Some games are based on common board game mechanisms, or directly adapted from a game with new aspects. What games or mechanism have influenced Lab Wars?
CAJ: Sure, and you're right, many board games are similar to others and based on similar mechanisms. I think it's okay to have a similar mechanism as some people love roll and move mechanisms, others may like deckbuilding (where you purchase cards to place in your own personal deck of cards to make certain moves). The game has influences from different games. Since it is a deck-building game, Dominion and Star Realms will feel somewhat similar, but the social deduction and action cards give it a unique feel.
PW: How is Lab Wars unique from those games?
CAJ: There are many deck-building games out there, but we felt like there could be things added on for more fun, with the same speed and adding in action cards for extra chaos. The first difference is the use of characters based on actual jobs. These characters which are part of your "research team" give bonuses on each turn, so you can combine them with your item cards, but they also sabotage other players. Essentially this is one of the major differences, so that if you manage to deduce which character your competitor is playing that competitor gains a sabotage card which dilutes their deck and decreases their final impact (victory) points. The action cards are also unique as these are free as bonuses, which allow one to gain an advantage or sabotage a competitor further. These are predominantly based on real life events. Finally, we really wanted to maximise the thrill of creating a killer combo. So, as well being able to play multiple cards all at once, if you can, each item card you play during the "Experiment" phase has a specialism. If you manage to play combinations of specialisms you get further bonuses. So you could have a deck predominantly of Virology or Biochemistry cards that give you loads of bonuses if played at once! Another difference that was popular with play-testers was the use of "flavor texts" on the cards. If you were unfamiliar with the item or sabotage cards you were using, the flavor texts will help you to understand how they are used in real life. These proved to be very popular with play-testers as it gave them the sense of actually being a scientist! We're confident that these differences and the unique theme will give players the feel of a whole new game!
PW: Do you have plans on designing any Lab Wars expansions in the future?
KH: Yes, so on the same Kickstarter campaign when we launch Lab Wars we are either as a stretch goal or as a purchasable expansion bringing out an expansion we've tentatively called the "Mayhem!" deck. This will consist of new (famous) scientific characters, new items and many more action cards. It will allow players to play "collaboratively" in a 2 versus 2 game but also increase the chaos of the game, if you so wish! We're also developing a top secret board game version of the card game but sssh, don't tell anyone!
PW: Much like lab work, board game design can be very competitive when seeking to get attention & funding from gamers. What is your biggest source of motivation to keep the project progressing forward?
CAJ: Yes, you're right, good comparison! I guess it's the extremely positive feedback we've been getting from our newsletter subscribers, Twitter followers, and play-testers. Nearly all have told us they love the art, theme and how the game plays. It's the drive of not wanting to let these fans down and making sure we deliver a fantastic product that they'll consistently want to play with their friends.
PW: For those who would like a chance to see and play the game. Are there any upcoming conventions or trade shows that you are planning to attend?
KH: Yes! Come and meet us! We have an event at London's newest board game cafe called "Lab Wars Day" on the February 21st. We're also booked in for Kitacon Karnival from the 2nd to 3rd of April in Birmingham. We're also in discussions to get a table to demo the game at the UK Games Expo, the UK's largest board game convention starting June 11th which happens to run during our planned Kickstarter campaign.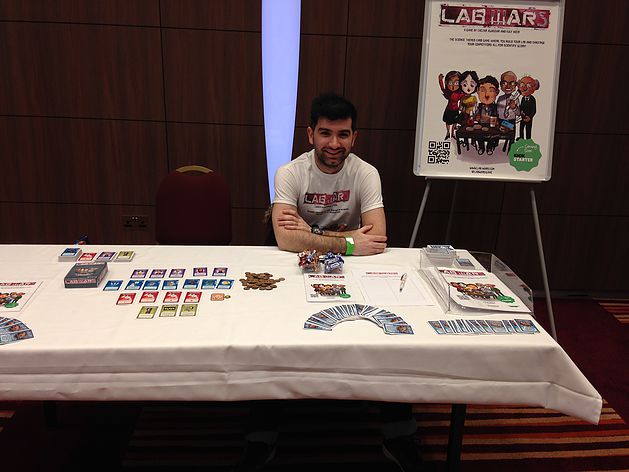 PW: What do you think is key for a successful board game?
CAJ: For me, both the theme and the mechanisms have to feel unique. I like feeling immersed in a game. For instance the beauty of Zombicide is that you really feel like zombies are coming after you. Or the mechanism of Lost Cities in that you are trying to build up your expeditions but also needing to be careful of what cards your opponent is playing. Being an extremely impatient person (bad, yes I know!), one thing that gripes me about some board games is the set up time.
PW: One last question. Can you describe Lab Wars in three words?
CAJ: Scientific Sabotage Fun!
To learn more about Lab Wars and receive updates, register for their newsletter on their website, Lab-Wars.com. You can also find them on social media on Twitter and Facebook! Look for the Lab Wars release on Kickstarter in June 2016!