Dani Strehle
Senior Manager
PopWrapped
feature, Thirsty Thursday! For our first edition, I need a tall glass of sexy to quench my thirst; so keep reading for this week's list of thirst-quenching men! First up on Thirsty Thursday is the excruciatingly beautiful Jensen Ackles. Jensen plays one half of the broody Winchester brothers on the CW's
Supernatural
, Dean.
Just look at those abs.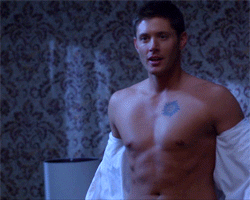 Courtesy of Spirkism
Those lips. Those eyes. Almost too much handle, no?
Courtesy of Ohmnamastebitch
I'm going to include this one because who hasn't had a sexy dream or two about this, right?
Courtesy of Jensenacklesshirtless
Next up on the list is the delicious Chris Hemsworth with his velvet voice and golden locks.
Courtesy of GQ
Oh I do so love a good back (side).
Courtesy of Biancasst
Because sexy brothers are the best type of brothers.
Courtesy of Perfecthollywoodboysdrirose
Next up is the sexy, masculine Gerard Butler. Butler exploded libidos everywhere as the fierce and mighty King Leonidus in 300. He also melted hearts as the sweet and sexy Irishmen, Jerry, in P.S. I Love You
Courtesy of Sexycelebsdaily
Oh Gerard- you can lock me in the dungeon of an opera house ANY time.
Olympus Has Fallen Movie Poster
I'm going to end this week's edition of Thirsty Thursday with my number one fella, Henry Cavill. Also known as "The Picture of Perfection."
Courtesy of Vigorousocean
Did I mention I have a thing for rippling, sinewy backs?
Courtesy of Cavillforever
Sooo you're telling me he's kind of nerdy AND really, really ridiculously good-looking? So, we could play some Mario Kart and then he'll throw me against the wall and ravage me? DEAL!
Courtesy of Iamnevertheone
Oh man. I think that's all I can handle for today, folks! Things are starting to get a little awkward. What did you think about our first edition of Thirsty Thursday? Do you want to see this be a regular thing? Make sure and place your poll vote and let us know! [yop_poll id="18"] [yop_poll id="19"]
Keep Up With PopWrapped On The Web!