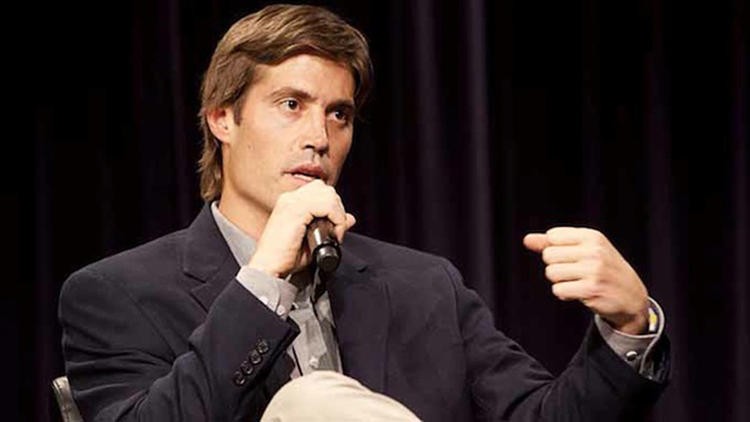 Photo by: Chicago Tribune
In the last couple weeks, times have been tumultuous. There's an Ebola outbreak in parts of Africa. Violent protests continue to erupt in Ferguson, Missouri. Several notable celebrities have passed away. Now, an American journalist has apparently been
beheaded
. Nearly 2 years ago (22 months to be exact), James Wright Foley was on assignment on Binesh, Syria when ISIS abducted him. Just a few days ago, the 40-year-old New Hampshire native was beheaded. This is the first time an American was publicly executed. At the end of the video , Steven Joel Soltoff, a
TIME Magazine
 journalist is shown; he's been missing since mid-2013. The Pentagon revealed that earlier this summer, the U.S. special forces attempted to rescue Foley and several other hostages. While their approximate whereabouts were known, they could not be located. It seems the journalist had been kept in Syria for the last 22 months, but he was moved around. Last week, the Foley family received an email threatening to kill the journalist.
Philip Balboni
, the CEO of the international news service, explained that the message did not give any details into ISIS's demands. However, in previous correspondence, the terrorist organization had requested $100 million dollars in ransom; this request was denied. Allegedly, a criminal investigation has now been launched, and an international manhunt is
under way
. Furthermore,
Didier François
, a French journalist (who was held with Foley) claims to know who this British man is, but the assassins name has not yet been released. Why he did not attempt to help Foley, François revealed, "If you make public the fact they are being held or that you were together, reprisals will follow against them. Their exact words were: 'They'll be punished'." With ISIS in the news, you may wonder what ISIS is. In 2006, al Qaeda, led by Abu Musab al-Zarqawi attempted 'to ignite a sectarian war against the majority Shia community'. They almost succeeded, however American forces killed al-Zarqawi. This resulted in the Sunni tribal leaders spreading peaceful, Sahwa (Awakening) Fronts. The U.S. military units left Iraq. As they did, the remaining jihadists formed together. They've been able to seize control because the Iraqi soldiers are not well-equipped with professional soldiers. These
insurgents
'has since been disavowed by al-Qaeda'. In the last year the jihad, led by Abu Bakr al-Baghdadi, has become a leader in fighting government forces in Syria and Iraq. In their terror attacks and fighting, ISIS does have a goal. Out of the brutal Civil War, ISIS and al-Baghdadi plan to
create
'an Islamic state across Sunni areas of Iraq and in Syria'. So far this includes several hundred square miles of land with complete disregard for international borders. To make their presence appear world-wide, the assassin chosen to behead Foley was a man who spoke fluent English; it is possible he was a British citizen or that he spent several years in
England
. As of late, the Islamic State group has created propaganda using international jihadis. Britons, Australians, Chechens, Chinese and Indonesians had all been featured. With the murder of Foley by a British ISIS jihadist, both England and the United States have spoken out against the atrocity . President Obama promised that the 'cancer' that is ISIS will be eradicated. He went on to
say
, "The United State of America will continue to do what we must do to protect our people. We will be vigilant and we will be relentless." Meanwhile, British Prime Minister, David Cameron, tweeted:
If true, the murder of James Foley is shocking and depraved. I will today chair meetings on the situation in Iraq/Syria. — David Cameron (@David_Cameron) August 20, 2014
Our thoughts and prayers go out to the Soltoff and Foley family as well as the other hostages. May he rest in peace. Stay tuned to PopWrapped for updates.
Keep Up With PopWrapped On The Web!
Twitter 
SoundCloud
Facebook
Instagram
Tumblr
Pinterest
YouTube