Everyone I knew was immediately jealous of me after I interviewed Ioan Gruffudd. And let's be real, they are right to be jealous. I would be jealous too. Not only was he eloquent regarding his role on UnREAL and his co-stars, he was gracious and kind and really an overall delight to talk to.
Ioan Gruffudd has been steadily working on film and television for the past twenty years, most notably as the titular character in the Horatio Hornblower movies, as Mr. Fantastic/Reed Richards on The Fantastic Four movies, and as Tony Blair on W. He is best known on the television spectrum from the cancelled-too-soon Ringer (still sad about that one!) and from another unfairly cancelled great show, Forever.
He has just come in to Lifetime's breakout hit UnREAL a few episodes ago playing John Booth, the billionaire owner of the network and new leading man to Constance Zimmer's Quinn.
We talked with him about the enigmatic John Booth, why he loves working with Emmy-nominee Constance Zimmer, and how sports help people come together.
PopWrapped: Had you watched the show before getting cast on it?
Ioan Gruffudd: No. I had heard of the show and everybody kept recommending it to me, but I hadn't seen it. And then I got the call to come and play John Booth for a few episodes, so I popped it on and then I proceeded to watch five episodes that very night. And then I think I finished it by the end of the day the next day. I became immediately hooked and of course I signed up straight away. I'm just so honored to be part of such a brilliant show.
PW: How does it feel to come on in the middle of the season? You are like the new kid at school. How was the experience?
IG: It's interesting, I don't think I've been on a show that I have loved and been a fan of before I'd come on to the show. So I was incredibly nervous and a bit sort of apprehensive. More than I have normally ever been doing a show, and I've been working on television and film for nearly twenty years. I think it was more because I loved it so much and I didn't want to mess up. I wanted to bring as much as I could to the part and to the role, because I loved the show so much and I loved everybody involved. What's incredible about this show is that everybody was so, so welcoming and made me feel part of a family straight away. It was just a wonderful experience. I absolutely count it as one of my favorite things so far in my career. It was incredibly special, even though it was a very short-lived experience. I just feel part of something unique and something that has a real message. And great writing, great acting and just superb entertainment.
PW: UnREAL is quite an unusual show for Hollywood because it is really female-led. Its main characters are women, the showrunners are women (Sarah Shapiro and Marti Noxon) and many women have directed it too. How was it for you as a man to work on a show where the female presence is so heavy compared to other shows, which are usually more male dominated?
IG: It was brilliant. Both Shiri and Constance, who I work with predominantly, were just terrific. They've really set the tone for the entire show. They come to work totally prepared. They know what they want to bring to their part, they know what they want to bring to the show. I could see how grateful and appreciative they were of this opportunity. And how passionate they were about these parts they play and the show itself. They really wanted to set the tone that every bit pertaining to the show was part of something very special, part of a family. Whenever the lead actors set that tone it just makes for an experience for everybody else involved. They totally make it about the work and about the show itself. And that comes first and everything else sort of falls into place because of that. I've had experiences in the past where, you know, egos get involved and it's predominantly about the people rather than the show as a whole. And these guys have set the standard of how to be a lead on a television show. It's just really breathtaking to watch.
PW: Tell us a little about John Booth, your character on UnREAL, we still don't know much about him.
IG: Absolutely. What's interesting is I think he's a bit of an enigma; he's a bit of a mystery at the moment. We haven't seen much of him. Because this show is predominantly Quinn and Rachel's show and their stories and all the characters involved on Everlasting. I think my character is going to prove to be more of a foil, really, to Quinn's story. We can see how Wasserman is getting under Rachel's skin and presenting a life within the industry with somebody who is very, very sane [LAUGHS]. And normal and that has everything going for him, and wants to make real and interesting television. And I think Booth is going to prove to be the same thing for Quinn. An opportunity to have something either inside the industry or outside the industry, but with him. And not a life that is definitely as difficult as the show is for her. So I think they're both just pretending something… they're enticing them away from this world. Which I think eventually… you know, the world that they're in, they love so much and too much. It always sucks them back in, I think.
PW: I found it very telling that he's a fan of Beth Ann and that he knew Costco sells coffins. He's a millionaire but also sort of an everyman.
IG: Yes, I think a lot of these billionaires are sort of slightly eccentric and quirky. They know this sort of things. They retain this sort of information for how they diversify their portfolio of wealth. I loved… I mean, that's a testament to the writing on the show. They think of those things, they're aware of those things. They paint a real key picture of the characters. A line like that, you have remembered it, and I have remembered it, and retained it. And just immediately shows "oh, this is somebody interesting, this is somebody that possibly thinks outside the box and that's why he's become so successful.
PW: UnREAL's characters are all morally ambiguous and come in many shades of grey. Is John also more than meets the eye?
IG: I think so. I mean, I don't want to give the game away. What's interesting is we may not see a different side to him necessarily on the surface. I think he's more sort of eccentric than he is hiding anything. And because of the nature of a television series like this, there's not really enough room or enough time to really explore what's essentially a guest part, somebody who's on the peripheries of it. You try as much as you can to flesh him out, but if not necessarily this season, then perhaps there might be a little project to come back at a later date.
PW: Where do you think John stands on the whole Chet/Quinn romance? Does he have a real chance with Quinn?
IG: I mean, you'll have to wait and see. I don't want to tease what's about to come up, but I think they've introduced this guy who's sort of a knight in shining armor, seems all perfect on all levels and then his eccentricity comes up on the last couple of episodes. Almost sort of mirrors Chet's love and desire for Quinn. It's really clever how they do it. Everything Chet is trying so hard to be, Booth is kind of the same, presenting her with the same opportunities. Albeit that he's a billionaire, but in terms of what he wants from her, it's kind of similar to what Chet wants. Again, it's a really clever little mirroring that they're doing, the writers. What Chet has and what Booth looks like he has. [LAUGHS] I'm sorry to be so ambiguous.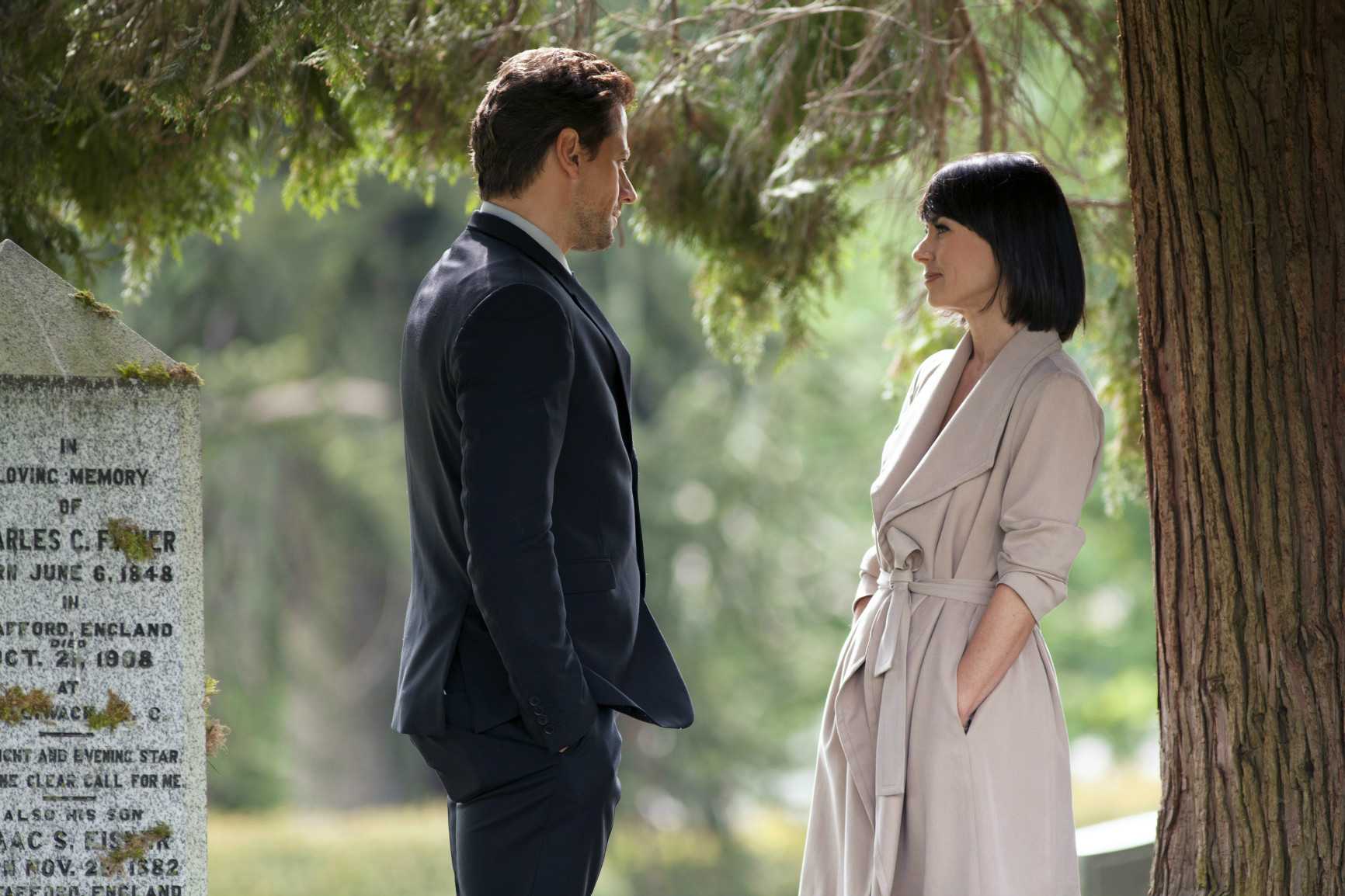 Photo by Bettina Strauss / Lifetime
PW: You share many scenes with Constance Zimmer, and she's incredible at portraying Quinn. What do you think makes her a good scene partner?
IG: When I heard that I'd be working predominantly with her that was kind of the real reason that I wanted to come to do the show. She's just a force of nature. It's amazing. What's wonderful about it, when you work with somebody of that level and that caliber of acting, it really raises your game as an actor. And what's extraordinary about our relationship is that we immediately hit it off. I think there's a mutual respect there. And we both really just wanted to make the scenes and present the characters as best as we could. And I think we really bounced off one another. It's like dancing with Baryshnikov or something [LAUGHS]. Do you know what I mean? When you see somebody who is that brilliant, when you're around somebody who is that brilliant it's kind of an enlightening experience, and it makes you just a better actor and a better player in that scene. So I absolutely love her. I loved every moment. It was such a thrill to be on a show that I loved so much and in the presence of a character that we all love and hate and all those things at the same time. Standing next to her and actually in the scene was kind of surreal as a fan of the show and a fan of hers. To be literally in the show with her in real time, it was kind of an out-of-body experience sometimes. I have watched the show, watching her and then realizing "Oh my God, I'm doing the scene with her. This is actually happening." It was just one of the greatest experiences I've had working with another actor. She's among the best of the best.
PW: Without giving anything away, what was your favorite scene to shoot in the show?
IG: I think our last scene, which is coming up in three or four episodes time, was pretty fantastic. Because it was such a privilege to watch somebody who I admire as an actor playing this character who really had to make a big shift, and a big turn. I think almost our last scene together in the series this season, I think that's possibly my favorite. We had so much fun shooting all the other stuff that we had. This is the first time we've seen Quinn sort of falling for somebody and being in love, sort of being giddy, and enjoying her time in the company of a man. So we're seeing her smile, we're seeing her sort of being a little girl, an innocent little girl. All those things were fun to play; on a very relaxed environment. The last scene we had together was quite tough on both of us. From an acting point of view and to work with somebody… you know, it was so impressive to see what she brought to it. I think overall that was one of my favorite scenes.
PW: You talked about this a little bit before, but I need to ask, do you know if you are coming back next season?
IG: I don't know. I mean, you'll see when you see how we end my presence in this season. And also the character, he runs the network, he's not physically there every day all day on set. Listen, if I were asked to come back I would come back in a heartbeat. It was one of the most pleasurable experiences I've ever had.
PW: You go back and forth between working on film and television, which is pretty different regarding the pace and the amount of time you might have to do a scene, do you have to get on a certain mindset to make that switch or does it come natural to you at this point of your career?
IG: That's interesting. You're right. You've hit the nail on the head. Television, the pace of it is kind of extraordinary, we're trying to make a mini movie every seven or eight days. Eight days if you're lucky. What I love about it, though, is you have to go with your initial instinct. There isn't really much time to explore different variations of doing a scene. You just have to show up and go with you initial instincts. And I love that. There's an interesting energy that happens when you have to do that, when you don't have time to think. Almost is kind of freeing in a way because you don't have time to think, you just have to do it. You know, just act on a sort of more visceral level, instinctive level. With film, it depends what kind of movie you're doing. I mean an independent movie is kind of the same thing. You're trying to paint these big, beautiful, detailed canvases on very, very little time. And it's very rare on this day and age to have any time to rehearse or get to know the other actors or do anything of that sort.
PW: Do you have any future projects that you might want to tell us about?
IG: In the future I've got one movie in the can, which is a horror movie. The working title of it was Home Invasion. I'm not sure what it's called now. It was a very quick, very micro budget horror film. That might have some life probably towards Halloween-time. And it's the story of a family being trapped in a house. A bit like what they do on Everlasting [LAUGHS]. And you see all these horrible things happen to this family as they struggle for survival. So that's something totally different.
PW: Thank you so much for taking the time to talk to us, we really appreciate it. Oh and, by the way, congratulations on Wales playing a really good Euro cup.
IG: Thank you! Yeah, it was amazing to watch. I was so proud of them. And it's really given an injection of positivity to Wales and to the UK, I think. Because it's such a crazy time, politically, over there. It was amazing for everybody to come together through sport. I think the whole Euro cup… the football wasn't great but all the fans really proved that sports do transcend racism, politics or anything. It was really, really quite beautiful.