If this episode had a rating, I'd say this is inappropriate for young children/viewers for the multiple brief moments of erotica and sexual tension here and there. The title is practically telling you to cover your eyes, especially if you're watching this with your parents.
Awkward.
You have been warned.
--
You can't kill a librarian with books. That simply doesn't make any sense. These people are basically the guardians of the books, and the books, in turn, love librarians. However, you can apparently kill one with an idea from a book.
In this episode of iZombie, "50 Shades of Grey Matter," the victim is a librarian named Grace LeGare. Aside from her regular duties, she's a part-time writer, mainly focusing on erotica. Yes, you heard right. The kind that stimulates a woman's mind.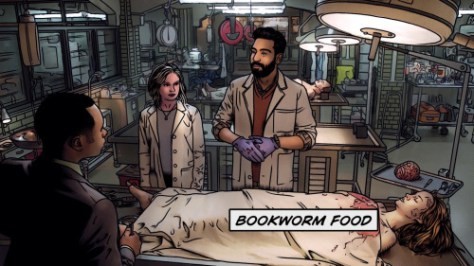 iZombieNation.com
With Liv taking a bite of horny librarian brains, it's easy to assume that she'll remain this way for the duration of the episode. Surprisingly, she isn't the only one; her bestie, Peyton, had been feeling the dry spell until she hooked up with one of iZombie's bad boys, Blaine. Liv's love interest didn't stray too far either, as she slept with Drake, one of Blaine's underlings.
Some of the most important questions have yet to be asked  'til now.
For starters, will Driv (Drake and Liv) set sail into the iZombie universe? 
If so, will it last through the impending storms?
We'll probably find out soon enough.
Also, don't forget the extremely strange video request Liv asked of yet another ship in the iZombie world: Rajor (Ravi and Major). I, for one, don't really want to see that.
Speaking of Major, he nearly got caught thanks to the careful eyes of Babineaux and Dale. Although he got away, he had to let go of Minor - the cutest doggie I've ever seen in my life and now my heart is breaking all over again. He's not the only one in sinking sand, though; Blaine's got himself a share of the couple's shenanigans.
And this is why you discuss potential love interests with your girl friends. Both girls are feeling a tad regretful with their choices, especially Peyton. Just get back with Ravi, okay?
Once again, allow me to reiterate: love is blind.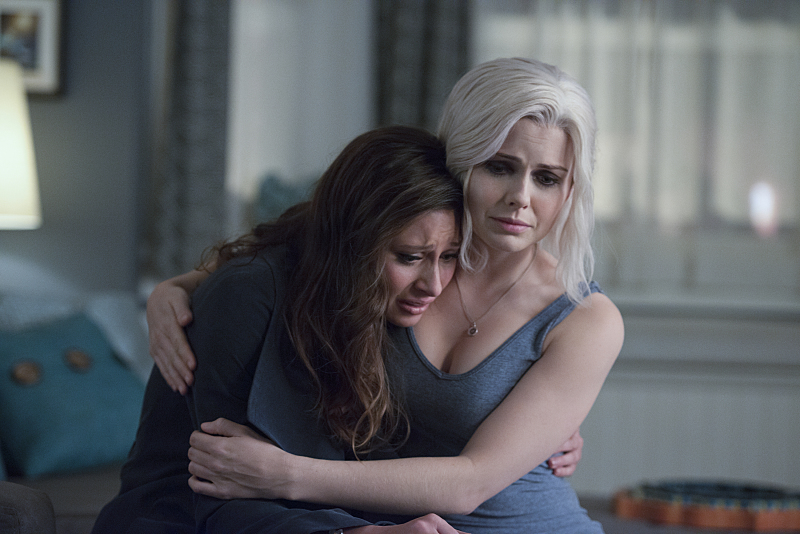 Diyah Pera/The CW
Detective Babineaux has a reputation of accusing the husband or wife--in this case, the husband--as the killer. He doesn't disappoint, as it turns out that he's correct once again.
Earlier, I mentioned that book ideas kill librarians and that's exactly what he did: he sprinkled a dash of Water Hemlock in his wife's salad. His excuse? He didn't want to be labeled as the "husband who couldn't give it to his wife", or rather, wouldn't. Additionally, he didn't want to lose his heroic legacy when the book came out. See what I did there? Okay, I need to stop. I can't be the only one who giggled like a child throughout the entire episode, right?
Anyway, what will happen on the next episode of iZombie? Stay tuned and find out, PopWrappers!