Stephanie Coats
Lead Events Editor
J.J. Abrams is riding the geek wave to success. Not only is he the director of
Star Trek
and the creator of
Lost
, but he is helming arguably the most highly anticipated movie of 2014,
Star Wars: Episode VII
. So when J.J. Abrams releases details on a new project, we expect it to be something in the geek/fantasy/adventure TV or feature film vein. But as it turns out
S
is a book. A literal hardback novel. Back in August, a mysterious trailer was posted teasing project "S" and everyone (myself included) assumed it had something to do with one of the director/creator's well-known projects. Now we've learned that
S
is a collaborative novel, written by Doug Dorst and conceived by Abrams. The plot centers on two college students who are searching for answers about (fictional) author V.M. Straka. Using Straka's book,
Ship of Theseus
, as a means of corresponding with one another, the two amateur detectives write notes, leave postcards and maps, and more about their quest within the book.
Photo courtesy of Emily Berl/NYT
A novel certainly doesn't seem like Abrams' realm of expertise so I wonder, did steering the Enterprise and the Millennium Falcon push him over the edge? Not at all, he says. "'S.' was born out of an idea of a love story and the notion of celebrating the book as an object," Abrams said in the
New York Times
. "In a digital age, it's a distinctly analog object. It felt romantic to me." Described as looking and feeling like a literary artifact, according to the
LA Times
,
S
contains the described copy of
Ship of Theseus
. The worn novel has all of the attributes of an old library book and we, as the reader, follow along with that story as well as students, Eric and Jen's, investigation into Straka.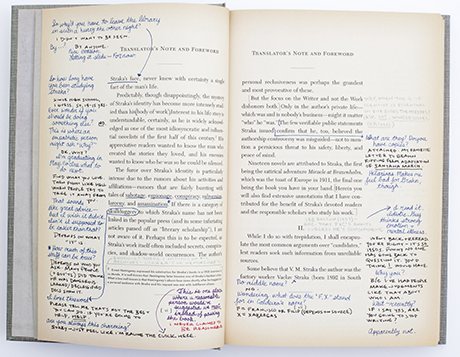 Photo courtesy of Alicia Canter/The Guardian
In short,
S
is a book that contains a book that is used as both the mode of storytelling for the reader (us) and the characters (Eric and Jen). Think
Inception
mixed with
The Lake House
and just a dash of
The English Patient
. See the book trailer
here
.
S
was released on Tuesday, October 29, and is available to purchase through all major retailers.
http://www.Twitter.com/PopWrapped
https://pop-wrapped.tumblr.com
http://www.SoundCloud.com/PopWrapped
http://www.Facebook.com/PopWrapped
http://www.Instagram.com/PopWrapped
http://www.Pinterest.com/PopWrapped
http://www.YouTube.com/PopWrapped
https://pop-wrapped.wordpress.com
http://www.PopWrapped.com