Harry Potter fans (fanatics, cultists, etc.)! News has sprouted of the legendary (and fan-adored) author and historian, J.K. Rowling,
adding a new installment
to the much acclaimed site
Expecto Patronum
, is a spell used to disarm and somewhat destroy (but, not really) Dementors. What are Dementors? They are "non-being creatures" that are proven to suck all the happiness of the victim's soul until they're left lifeless, almost in a vegetative state. They're known as one of the "foulest creatures to inhabit the world."  Really, if you're not a fan of the book series, you need to see the films,
Harry Potter and the Prisoner of Azkaban
to be exact, and watch how terrifying these "non-beings" are. The Patronus charm doesn't kill them, however, but it wares them off. The spell acts as a defense. To conjure it, well, the wizard needs to focus on their happiest memory, which will act as a force field against the nasty creatures. It's as though you're fighting the darkness with light. In the series, the readers, or watchers of the film, have seen how the characters in the story have developed their own Patronus charm and the animal that has arisen from the spell. Ronald Weasley, Harry Potter's best friend, has his Patronus in the shape of a Jack Russel Terrier. Jack Russel's are known for their agility and flyball abilities. Ron was the (goal) Keeper of his Quidditch team. Hermione Granger, another fan favorite, has a Patronus charm in the shape of an Otter. The otter is a highly intelligent creature that is part of the weasel family. Funny how things work out, huh? On September 7
th
, 2014, a fan tweeted J.K. Rowling: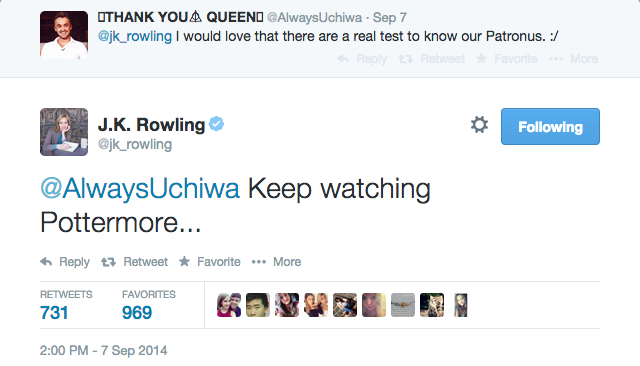 Courtesy of Twitter
Since then, the fandom has been going nuts with the outcome of a Patronus exam coming to light on
PopWrapped
, we'll each be quizzing ourselves as soon as it launches!
Keep up with PopWrapped on the web!
Twitter SoundCloud Facebook Instagram Tumblr Pinterest YouTube