J.K. Rowling is more than just a billionaire-author who has a created a franchise that has enamored the world.
She is also a woman who deeply cares about the people who have worked under the brand that she has founded. Whether or not she is a stockholder or a consultant or merely just the one granting the license to use the name, Rowling will always be fond of those who are employed under the Harry Potter trademark.
So when tragedy struck Orlando gay nightclub, Pulse last June 12, in what is described as the worst mass shooting in U.S. history. Rowling paid tribute to one of the victims who worked at the Wizarding World Of Harry Potter theme park.
"Luis Vielma worked on the Harry Potter ride at Universal," she tweeted out, accompanying it with a picture of Vielma wearing his uniform for the ride. "He was 22 years old. I can't stop crying."
https://twitter.com/jk_rowling/status/742224187369107456
She even went further and had flowers sent to the funeral with a loving message for Vielma's bereaved loved ones.
"To Luis, who died for love, you will never be forgotten. J.K. Rowling," her letter reads.
Those who attended the funeral at a Catholic church in Sanford, Florida took pictures of the flowers and the message, then posted it on social media.
https://twitter.com/Narlstrom/status/743987839038263296
But it's not just J.K. Rowling paying tribute to the young man whose life was cut short. At the Wizarding World of Harry Potter, guests and his former fellow staff members, gathered on Monday in front of the replica of Hogwarts school and raised their wands in salute, echoing an action that was done in the Harry Potter films when students and faculty paid tribute to the fallen Headmaster, Dumbledore.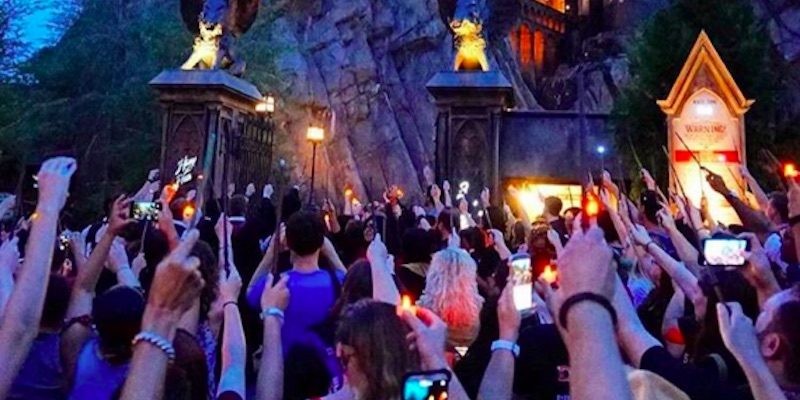 Elite Daily
"Tonight, we raise our wands to one of the greatest and best Gryffindors the world has ever known," one of Vielma's friends posted in the YouTube video of the event "Tonight, we raise our wands to Luis Vielma. He was brave, and he was one of the kindest souls you will ever meet in your life."