The homophobic fan is Frank Fraticelli from Georgia, who took the time to tweet the writer that his opinion on the series changed after
the author revealed Dumbledore was gay
in a question-and-answer session in 2007 around the time of
Harry Potter and the Deathly Hallows
.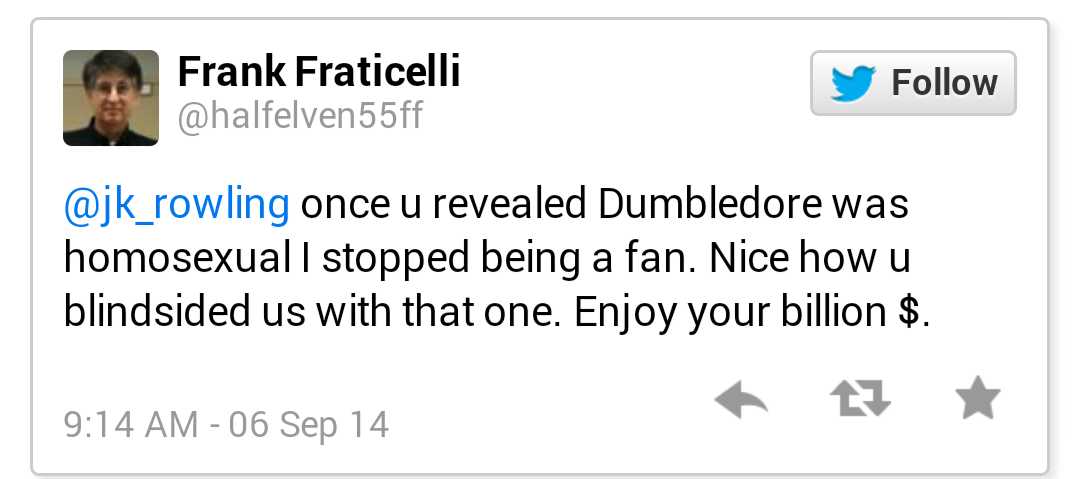 Twitter
His tweets were removed (thank God for screen shots!). Why Fraticelli tweeted his out-of-nowhere opinion now is unclear, but when J.K. Rowling took to twitter to respond back to him, there were hundreds of retweets of her responses. https://twitter.com/jk_rowling/status/508242944995102720 Souter, Badash reports, is a conservative, 
antigay
 Scottish businessman, best known lately for his sizable donations to the campaign pushing for Scotland's independence from the United Kingdom. This is not the first time that Rowling has responded to critics or stated her opinion on a controversial topic. Her comment about Souter is both a "shots-fired" response to the fan, and a reference calling attention to the fact she has been campaigning to keep Scotland part of the United Kingdom. "What would have changed if we knew?" asked Fraticelli in another since-removed tweet. "I believe many Christians would not have bought it. The networks may have shied away from it." To that, Rowling simply replied by paraphrasing the legendary master wizard himself: https://twitter.com/jk_rowling/status/508245095918088192 https://twitter.com/jk_rowling/status/508245337996554240 While many fans agree that the "Dumbledore is gay" reveal came out of nowhere and blindsided them, most felt positive about it. Several fan forums stated it was nice to see some LGBT representation in the super successful fantasy series; although many wished it was more upfront. I speculate the unreliable narrator Harry Potter is to blame. However, J.K Rowling's swift and snarky response to this Dumbledore-hater will probably win her more fans in the long run. Fans love it when authors mount a defense about their characters. Haters gonna hate!
Keep Up With PopWrapped On The Web!
Twitter 
SoundCloud
Facebook
Instagram
Tumblr
Pinterest
YouTube