It seems there is just no stopping the Smith family.
Will Smith is currently playing Deadshot in the new DC film Suicide Squad, and now it looks like his son will be doing the same, but in Static Shock.
That's according to actor Tyler James Williams, of The Walking Dead and Everybody Hates Chris fame.
During his interview with Flicks and City at Comic Con, Williams was asked his opinion on whether he would love to join the superhero universe, to which he responded with an affirmative answer and discussed more about racial diversity within the superhero genre.
"There aren't many black, comic superheroes...." he explained until he was interrupted by a member of the audience, who pointed out his rumored SpiderMan role, to which Tyler slyly commented, " I don't know what you're talking about."
This led to his comment regarding Jaden Smith: "It's great to see Static Shock is happening with Jaden.'"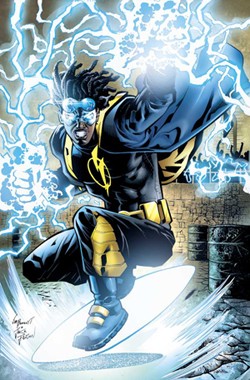 Credit: DC Comics
Static Stock is based on a comic by Dwayne McDuffie, Robert L. Washington III, and John Paul Leon about a character named Virgil Ovid Hawkins, an African American superhero who gains  electromagnetic powers after being involved in a gang war in which Virgil gets doused with an experimental chemical.
After the disaster that was After Earth, here's hoping that Jaden Smith can prove to audiences that he can hold a movie on his own without his father's presence.