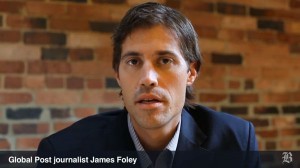 Courtesy of Facebook/Free James Foley
Please be warned, this story is very graphic.
Roughly 22 months ago, an American freelance journalist by the name of James Wright Foley, was abducted while in Syria and today, gruesome footage was released that appeared to show his death at the hands of an ISIS militant. The images are very disturbing, and shows Foley reading a message that seems coerced:
"I call on my friends, family and loved ones to rise up against my real killers, the U.S. government. For what will happen to me is only a result of their complacency and criminality," 
 "My message to my beloved parents: Save me some dignity, and don't accept some minor compensation for my death from the same people who effectively hit the last nail in my coffin with their recent aerial campaign in Iraq. I call on my brother John, who is a member of the U.S. Air Force: Think about what you are doing. Think about the lives you destroy, including those of your own family … I wish I could have the hope of freedom and seeing my family once again, but that ship has sailed. I guess all in all, I wish I wasn't American."
Following Foley's speech, the militant, speaking English with a slight British accent, proceeds to threaten President Obama and America before beheading Foley with a knife. A statement from Foley's family on his "Free James" Facebook page says:
"Please be patient until we all have more information, and keep the Foleys in your thoughts and prayers."
Foley was only 40 years old. PopWrapped is keeping the Foleys in our prayers.