What do my wondrous eyes see?! Why it's the devilishly handsome James Franco on set today. Where? In the small town of Dunnville, Ontario, just west of Toronto. What does he do? Meet fans! He's in town filming a Stephen King miniseries 11.22.63. The series is about a time traveler that goes back to prevent the JFK assassination.
Back in time? Yeah, I'd like to do that. So I could hop in my car and drive an hour and a half west to feast my eyes on some Franco. He's THE nicest guy to his fans. Don't believe me? HA! Just look at the group fan pic taken earlier. HOT DAMN! Who wishes they were the girl in the front smiling with ease and no sign of profuse sweating or trembling knees anywhere in sight? I would have been the girl off to the side standing in a puddle. Yeah, like it wouldn't happen to you.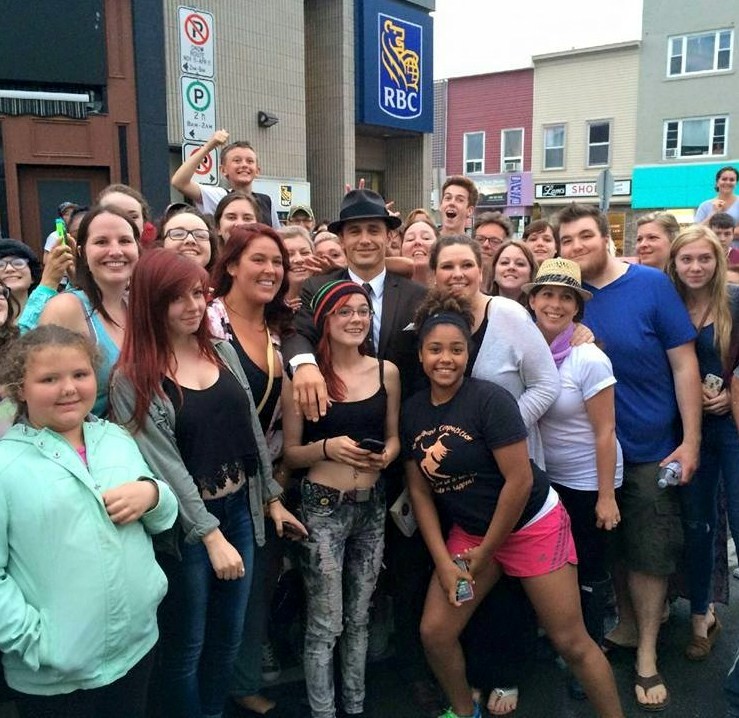 Laura Barnett
If you're in the Toronto area over the next couple weeks, you're in luck! Filming for the miniseries has been confirmed to be occurring in the cities of Cambridge and Guelph up until at least June 24, so keep your phones charged.