Did you see Avengers:  Age of Ultron this summer?  It's alright if you said no because it's available to own now on digital platforms and if you prefer DVD/BluRay it'll be ready for you October 2nd!  Marvel has begun releasing some fun footage pregaming the film's DVD release with a gag reel and such.  A new feature was released last week which is all about the motion capture of Ultron.  The clip features James Spader who did the voice and motion work for the film's villain interacting with the cast in his special suit.  Take a look.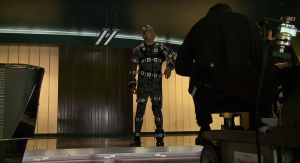 marvel
James Spader has spoken about his motion work saying, "I showed up at the studio and they put me in a suit and they had me go through a range of motion, very specific motions and movements and so on, which they captured with all these sort of sensors on me and reference cameras all around me."  He certainly has no strings as he brings the human like AI to life on set of the film.
Watch the video for yourself!  It's always a pleasure to see James Spader at work.