Last week on Jane the Virgin, we find that Michael has moved on, Liliana is heartbroken and Jane has steamy dreams about Professor Sexy (Professor Chavez). Rafael's mom is a drug lord and he and Petra seem to be gravitating toward each other through all of their joint drama. I do sincerely like Petra, but I cannot reconcile myself to the idea of them together. Jane and Raf belong together. Period. 
Jane is trying to keep the lines drawn between herself and Xo. Xo clearly wants details about Jane's sexy dream and asks if that lipstick she put on is called "lusty virgin." That's almost like "dirty trollop" from Gilmore Girls!
Xo is getting some headshots for an upcoming job she got. Rogelio pulled out all the stops and brought a full glam squad, complete with wardrobe. 
Jane needs to find a sitter for Mateo, and Rogelio volunteers her services. She's not thrilled with the prospect, but her hands are rather tied. 
Jane's creepy friend Wesley continues to persecute Rafael and The Marbella. and we find that he's been floating the hotel from his own trust to keep the lights on. Petra tells him it's bigger than that, and he knows it.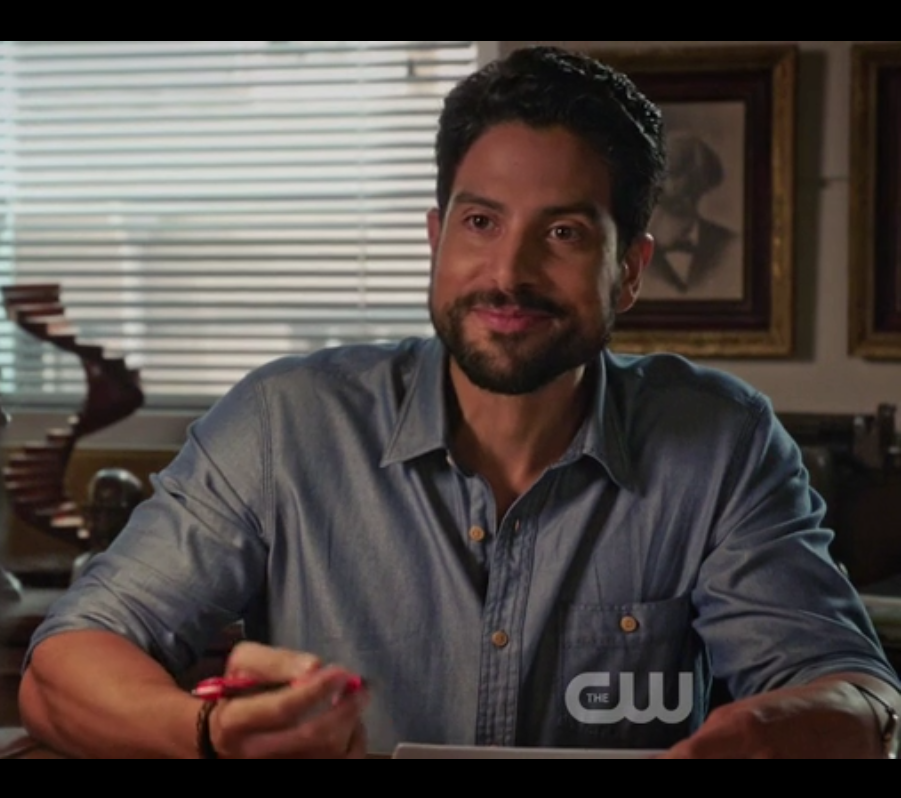 The CW
Professor Chavez is having a chat with Jane about her male character, and she gets the fiercest set of come fuck me eyes I've ever seen. She REALLY wants him to clear that desk off and have his way with her, just like he did in her dream. I can't blame you, Jane. You've got all these studs panting in your wake and you're wasting all their virile stamina to hold on to your V card! Life is too short, girl!
Michael and his partner are working the case and trying to find some information about Mutter, and they discover than Rose (Sin Rostro) is her stepdaughter!
Jane is doing a reading of her thesis in front of her classmates, family and Professor Sexy. She clearly has the audience right where she wants them when she slips and calls her character Jonathan... the first name of Professor Sexy. WHOOPS!!!!!
 Abuela and Xo are trying to talk Jane down, when she has a weird exchange with Professor Chavez and she wonders if... maybe he's into it after all?
Xo and Jane are babyproofing Rogelio's apartment when Xo stumbles upon the engagement ring that Liliana gave to Rogelio to give to Xiomara. When Rogelio comes in finds that they've discovered it, he tells them that he was waiting for a special occasion, and then gives it to Jane... his only family heirloom. Xo is noticeably disappointed. 
Getting a glimpse into Petra and Rafael's past shows that Raf was not only the player at the beginning of their relationship. She played him, as well. 
Luisa is talking with Michael and his partner about how messed up this whole situation is, when they realize she knows who Rose's chauffeur is. They need her to get in touch with him, stat.
Jane goes to meet with Professor Sexy and suss out the situation. She thinks he's going to ask her out, when he asks if that man he saw at the reading was, her dad... and was he also a famous telenovala star!? His mom reallllllly loves Rogelio, and wonders if she could maybe set it up so that she could meet him. He wants Jane to come along, too, of course. Mkay, not exactly what she was going for, but, you know, it's something, I guess?
Rafael goes to shmooze a woman from his past back into the good graces of The Marbella. But we find out that her beef is not with Rafael, but with Petra. Five years ago, Petra went all power-tripping trophy wife on her at Starbucks and got her fired from her job. In fact, the-barista-come-artist, Izzy, made an incredibly life-like sculpture of Petra. To say it is unflattering would be a gross understatement.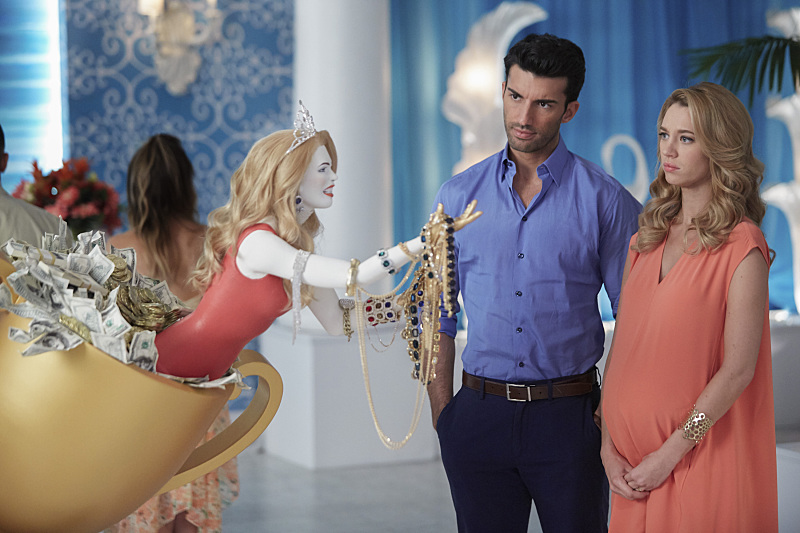 The CW
Jane is freaking out about leaving Mateo with Rogelio, but she finally does; but she worries about him the whole time.
Jane thinks that Rogelio is messing around on Twitter while watching Mateo, but we find that those are just pre-scheduled tweets. Before she called, he had been showing Mateo the diamond he had bought for Xo. While he is distracted by their conversation, Mateo grabs the diamond and swallows it. Jane rushes to the hospital and lectures Rogelio. She ultimately says that she is mad at herself because she knew she shouldn't have left the baby with him, effectively breaking his heart.
Jane feels really bad about what she said to him, but decides not to cancel the set visit with Professor Sexy and his mom. He hits all the signs that Xo told her to look for in a person that was trying to pick her up. Perhaps there will be a bit of a future here, after all...
Raf and Petra share a really sweet moment and I feel like I'm kind of just waiting for them to fall back together. I'm also finding myself not all the way hating that idea... I don't even know who I am anymore.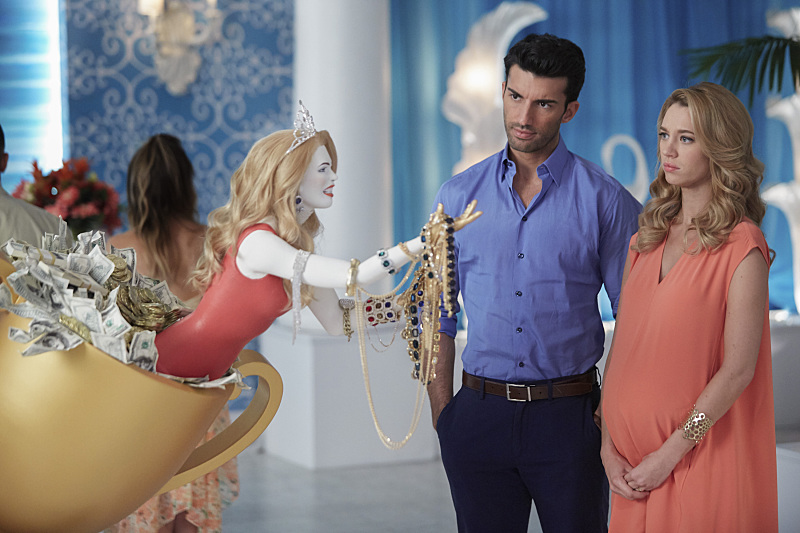 The CW
Professor Sexy is walking Jane to her car and she ALL THE WAY misinterpreted the signs, just like the rest of us. Yeesh. She kissed his sweater-covered arm lol. Oh man. Her face after it happened has me under my covers right now cackling and trying not to wake my children. That was the most awkward thing I've ever seen.
 Jane is gathered around the table with Xo and Abuela hashing out what had just happened. Xo tells her that everyone has misread signals before and that it's not that big of a deal. Jane isn't convinced, though, and decides that she needs to confront it head on and talk to him. He tells her that they'll try and keep things normal, but he's not sure if they can. 
Petra and Raf offer to host Izzy's wedding for free so that her friends will come and have a blast and come back. They desperately need good press right now.
Xo gets a last minute call that Diego has a spot for her to sing that night, so she goes to Rogelio's and cancels her party... the party at which he intended to propose marriage to her. They get into a spat and the mood is basically ruined. 
Xo is giving a lovely performance when she looks up to see Rogelio looking on at her proudly. It was the reinforcement she needed.
Michael's partner shows up at Luisa's apartment and they start making out. Partner lady tells Luisa that she can't get started with her knowing that Luisa still loves Rose. 
Raf and Petra start kissing and, though it's all she wants, she pulls away. Rafael asks why they can't, and Petra asks if he's over Jane. He immediately looks away and it's clear that, in fact, he is not. 
Jane and Rogelio are having a truly adorable moment, and they might be my favorite pair on the whole series. 
Rogelio finally finds Xo and pops the question in a disgustingly adorable way. Seriously, I never knew he was capable of such unselfish sentiment. I love that he continues to surprise.
Xo kind of breaks Rogelio's heart when she tells him that she doesn't want to have anymore kids. She asks if that is a deal breaker, and he tells her that he doesn't know. He has to think about it.
Xo and Jane are snuggling up and Jane reveals that she may actually be feeling a little... horny. Yep! It happens to everyone, love. Even virgins. That's how they become, you know, not virgins. 
Jane is seriously reconsidering her virgin status and, after a sleepless night, decides that she will be trying to find a different advisor after all. When she tells Professor Chavez her plan, he is most agreeable; probably because he follows that up with an invitation to dinner. You know, now that she's not his advisee anymore. Yessssssssss! 
If she's going to try and move on once and for all from Raf and Michael, she could do a WHOLE lot worse than Professor Sexy. I hope she gets up on it, for real.
Until next week!