Annnnd we're back! We are creeping closer and closer to Jane and Michael's wedding, and I find myself continuing to fret over the prospect of this union actually happening. Oh, and Petra maybe left her babies and the country? More on that later... let's dive in now to Chapter Thirty-Nine.
Oh puke. We see the moment Jane and Michael met and apparently, their first kiss also coincided with his first meeting of Xo... passed out... on the porch... drunk.
Yeah. 
That was for Jane's 21st birthday, and because things got super out of hand there, Jane won't be letting Xo and Lina plan her bachelorette party. Her idea of a classy, low-key affair will not fly with her ladies, though. I predict strippers in our future.
Jane's kind of, somewhat step-sisters are with Rogelio at the Marbella, and they hate Michael and love Rafael, so they have no interest in attending her wedding. They're vapid, annoying parasites, but their stock just went up in my book.
Jane and Michael both end up saddled with one of Jane's parents for their respective celebrations.
Jane is working as a TA at school and is asked to give a speech in front of perspective students. While she is getting ready to field questions from her generally captive audience. there is a knock at the door. When Jane opens it, a stripper, dressed at Don Quixote, starts peeling off his armor in front of the students and faculty. 
Jane is sufficiently mortified, and is decidedly not amused when she sees Xo outside, waiting with a pimped out party limo. That's why there was a no surprise rule implemented, after all.
Jane takes her blindfold off in the limo and is freaking out that they've ignored her carefully laid out plans, but they finally talk her into letting loose and taking some shots.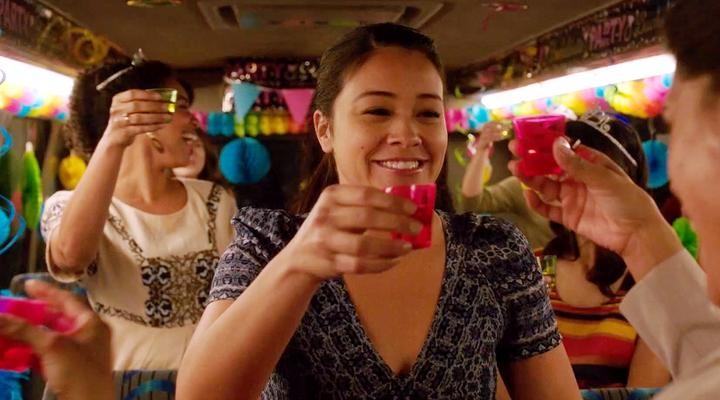 The CW
Michael and his friends arrive at Rogelio's to a five-course meal which is laid out on an elaborately decorated formal table covered in purple. 
Petra is definitely planning to flee at this point. She's lied to Rafael and died her hair brown. Uh-oh. 
Jane is totally wasted, but she can't help but worry over Xo's inability to pace herself. She's as far gone as any of them. 
Jane goes to retrieve her phone from Xo's purse and finds that she has a message from Professor Blake. He delivers good news, but in her drunken  state, Xo records and sends him a message in which she tells Jane that she almost had to the send the stripper to his house to pull the pole out of his ass, he's such a tight-ass. 
Jane is understandably distraught. 
Jane has gathered her ladies together to figure out a way to delete the message. They decide to enlist the twins' help, but they won't do it without extorting Jane for a few things. She agrees to their conditions and they're on their way. 
In the meantime, Rafael is having drinks with his brother while PIs search his boat. It gets weird when brother's friend mentions some sort of deal they want Raf to buy into. Raf tells him that he's not in a position to make investments, but talks brother into staying despite it getting a little weird.
Michael's bachelor party is turning out to be even worse than Jane's, now Rogelio has them in a steam room. Michael's friends are not impressed, and Rogelio walks up on Michael telling them that, OF COURSE he doesn't want Rogelio there, but he doesn't want to tell him that and hurt his feelings. But that's exactly what happened
.
Michael admits that he never meant to invite Rogelio, and after a sweet little conversation, they come to a mutual understanding. 
Michael and his friends decide to stick around and get massages with Rogelio after all. I mean, men like to be pampered too, right? So says Rogelio, anyway. 
The twins somewhat complete the plan, but instead of just borrowing the cell phone and deleting the message, they steal it and his wallet. Jane snatches the mobile and deletes the voicemail, but the professor has an app that allows him to find his missing device and it starts screeching in Jane's hands. They ditch the cell and the wallet and dash into the limo before he sees them. 
Xo went to collect the phones, and Michael sends a car to collect her, enamoring Jane even more. They decide to stick around for an after party at the Marbella, which is going very well until Xo shows up and Lina catches her making out with the guy she likes. Jane tells Xo that this is why she didn't want her at her party, because she would act like a drunk sorority girl. She is such a control freak because she grew up with Xo, who is completely out of control. 
I mean, she has a point. 
Jane goes to find Lina and they have a moment that only two people who have been friends for most of their lives can have.
Xo gets home and crawls into bed with Abuela, but she is not sympathetic to Xo's plight. It's the middle of the night, and Xo stinks of alcohol. It's time for sleep, and nothing else. 
Jane and Michael have a nauseatingly adorable moment, and just, whatever. 
Xo shows up to apologize to Jane, but it's the exact same apology that she's given her for years, and Jane will have none of it. She slams the door in  Xo's face and tells her to grow up. 
Ouch. 
We flash to Petra who, apparently hasn't actually left, because she's back in the Marbella NOPE WAIT. The brunette wasn't Petra, it was her long lost twin! Oh snap.
Ahhhhh, that's where you're going to leave us!? And with no glimpse of the wedding or more info about Rafael's insider trading?
UGH. 
That's what I get for watching a telenovela, am I right?
Until next week, Jane the Virgin fans!