Last week's episode of Jane the Virgin ended with Michael being cleared for all "normal" activities by his doctor, causing him and Jane to rush out of the office in a fury ready to pop some cherries. That's all anyone really remembers from that episode, right? Or is it just me? Anyway, moving on...
So we start with a flashback of the newlywed virgins moving into their house, and flash quickly to Michael getting cleared for sex. Naturally, they run back to their new home, ready to get it on, but find their own cock blocks awaiting them.
They were trying so hard to distract themselves from not being able to have sex that they've scheduled every minute of the remaining two weeks of abstinence they thought they had left.
Xo is auditioning for The Voice and they ask her a question she isn't prepared to answer: "If you weren't a singer, what would you be?" She is clearly stumped.
Jane is interviewing her grandma and Abuela reveals some details about her long-lost sister Cecelia who, incidentally, looks exactly like Jane.
Turns out Cecelia is the one that told Jane's grandpa's family about Alba not being a virgin, effectively ruining Alba's wedding day, and they haven't spoken in years. Which of course means that Cecelia is now a character in Jane's story.
Michael comes home to find Jane writing and shuts that shit down right away. Jane is officially NOT a virgin any longer!
Jane is having some trouble coming to terms with her lack of virginity. This is hard for me to relate to, having lost my own virginity at the age of 16, but it really was a part of her identity. Something she protected fiercely for many years. I bet it is hard to wrap one's mind around finally losing it.
OH SHIT. Remember how Jane was writing on her laptop when Michael got home and quickly swept her to bed? Apparently they accidentally kicked her laptop into record-mode and their entire first sexual encounter was recorded and Jane accidentally sent it to her professor. Which makes for literally the most awkward meeting in the history of the world when they must face each other the next day. Jane tells her prof it was her first time, and her professor finds that it all makes sense now, because Jane's stories have always been missing authentic sex scenes.
Jane admits to Lina that she faked her very first orgasm and Lina is appalled. Faking orgasms is only used to get some strange out of your house in the middle of the night, not for your husband and the man you're supposed to have sex with for the rest of your life.
Jane wants to come clean, and Lina tells her that she is not to do that, ever.
Louisa and Rose are back together again and they are the textbook definition of an unhealthy relationship, but Louisa is weak and cannot resist her.
They're in a freaking submarine and Rose wants Louisa to make a choice once and for all, but she's still help up on the whole, "my lover killed my father" thing. Valid feelings, honestly.
Xo tells Jane she feels as though she is ready to give up her dream of singing and Jane immediately calls Rogelio and tells him he needs to find a boost for Xo, and his wheels are turning.
Michael comes home and is ready for round two but Jane admits to him that she faked it and that maybe they should try something different. Michael is a bit taken aback but when she explains what happened, he asks if she faked it when they did the other stuff, to which she replies "definitely not." Michael tells her they'll try that first then, but 18 minutes in and Jane looks uncomfortable rather than lusty. Something in that brain of hers is preventing her from reaching orgasm, and that is life's cruelest joke.
Rogelio is able to score Xo a gig to try and boost her confidence.
Jane is working on her novel when she gets another vision from her long-lost Aunt Cecelia who gives her some advice about sex that makes reluctant sense to Jane's reluctant sexuality.
The CW wants to adapt The Passions of Santos, but they want Rob Lowe to star, not Rogelio and Ro is not on board with this option, clearly.
Jane grabs some lube to help spice things up with Michael a bit, but the tingling turns to burning and extinguishes the mood quickly.
Poor Jane and Michael, they cannot catch a break. Jane may be permanently scarred from the lube, and Michael asks her not to divulge their issues so they may work it out themselves. But Jane can't really do that, she needs help working through it.
She is telling Xo about losing her virginity and she's trying to keep it under wraps, but she is clearly dying to get Xo's opinion on the matter.
Jane finds Xo's list of "attractive careers" and is super wigged out by it.
Rogelio decides to cash in a favor from Gloria and Emilio Estefan to try and sway the CW to their side and get Rob Lowe thrown out so that he may star in his own show.
Jane gets a visit from nun Cecelia instead and she tells Jane that it's more about the connection of souls, rather than sexual pleasure-- a point which Jane tries to explain to Michael, but Michael is a man, and not being able to bring his wife to orgasm is something he is not dealing with well. You know, his delicate male pride being on the line and what have you.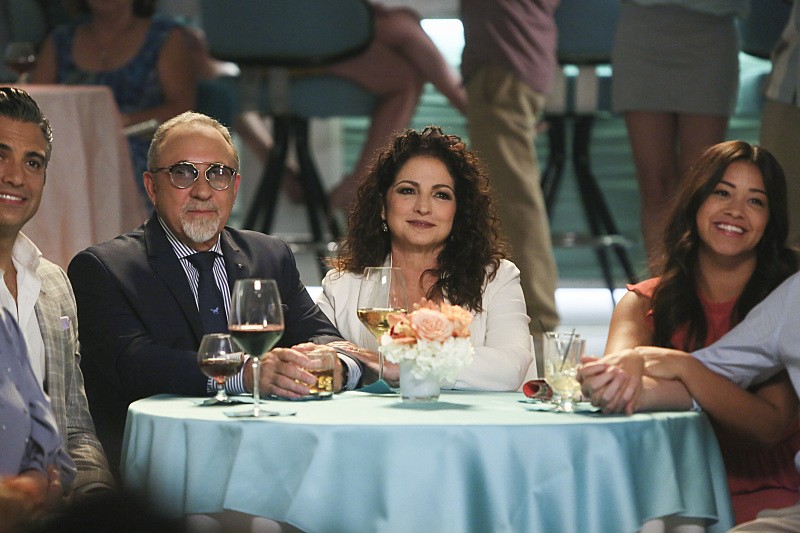 Patrick Wymore/The CW
Rogelio gets Gloria and Emilio Estefan to show up at Xo's show and it causes her to kind of clam up. But she manages to give a beautiful performance and when Gloria and Emilio ask Xo what her plans are as a singer, Xo admits that she's really ready to explore other options but Jane is not having any of that. She yells at Gloria Estefan who says that they have many ventures, and Jane doesn't want to hear that because it means Xo may give up on her dream. Pretty sure she's projecting here.
Lina tells Michael that Jane has let on about their problems, and Michael is pissed. He just goes home with no more than a text as explanation for his wife.
THIS is why I don't like Michael. He's basically just a man-child, you know? If there's a problem, freaking face it. Don't slink off like a little boy afraid of confrontation.
Xo finds Jane crying in the corner, and realizes that Jane's problems aren't just about Xo, but Jane's own issues at home. Jane denies it at first, but then she starts to break down. She tells Xo that she feels like she lost something... like a part of her identity. I TOLD YOU SO.
Xo tries to talk Jane off the ledge when she admits that it hasn't been great. She tells Jane that it can take time to find your groove and learn what your partner needs and likes in bed. Jane is a perfectionist and needs to stop being so hard on herself.
Lina texts Jane and tells her she thinks she offended Michael and Jane realizes that Michael bolted because he was pissed. She goes home and hears what she believes to be porn from their bedroom, but goes in to find Michael analyzing their accidental sex tape to try and figure out where he went wrong and what he could do to make sure it's good for both of them from now on. Okay, FINE. I take back what I said about the man child thing.
Jane finally finds her orgasm!
Louisa is back in Miami at the Marbella and is telling Rafael and Michael what happened when she reveals that Rafael's mom was on Rose's kill list. Raf is dubious, his mom isn't dead! But Michael calls his cop friends and tells them to check on her right away and they find her taking her last breath, holding a book to give to Raf.
Damn damn damn. This was an action packed episode if I ever saw one!
I honestly don't know how to feel about Jane losing her virginity. It's been such an ingrained theme in the series thus far that it's hard to redirect those feelings to a different idea of how the show is going. So, if Jane the Virgin isn't a virgin anymore ... is the show still called Jane the Virgin?
Until next week!