After a standing ovation at her first show in Vancouver earlier this week and receiving positive reviews in the NY Times, more great news for Janet Jackson fans has emerged.
Check out the album cover for the singer's upcoming album entitled, "Unbreakable," which was released today (September 3rd) via her official website.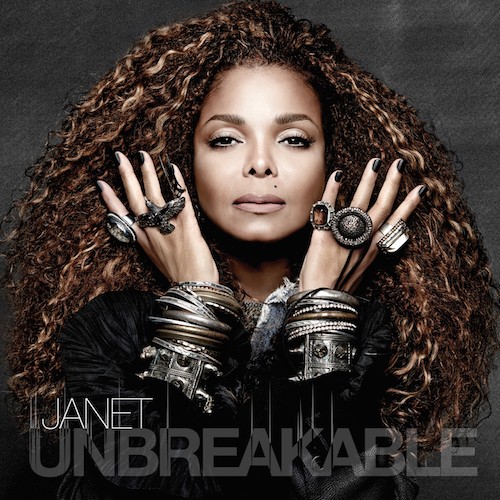 Courtesy of janetjackson.com
This will be the singer's first studio album in almost seven years, since the release of Discipline back in 2008. The album is scheduled to be released October 2nd and is already available to pre-order on iTunes. The track listing has also been released:
"Unbreakable"

"Burnitup!" (Feat. Missy Elliott)

"Dammn Baby"

"The Great Forever"

"Shoulda Known Better"

"After You Fall"

"Broken Hearts Heal"

"Night"

"No Sleeep" (Feat. J Cole)

"Dream Maker/ Euphoria"

"2 B Loved"

"Take Me Away"

"Promise"

"Lessons Learned"

"Black Eagle"

"Well Traveled"

"Gon B Alright"
Jackson described her album and her world wide tour as a very "personal" expression, according to her website. The iconic singer will be continuing her collaborations with producers and writers Jimmy Jam and Terry Lewis, who have worked with Jackson since her Control album. The duo spoke, via a statement, about the album on the singer's website:
It is truly a joyous occasion to have Janet's record in hand and on the schedule. This amazing body of work reflects not only the timeless brilliance of Janet's artistry, but a much awaited reunion between Ms. Jackson and the talented duo of Jam & Lewis. Working with Team Janet is a pleasure every day, and BMG is honoured to be welcomed into this loving family.
Unbreakable will be the first time Jackson opens up about her late brother, Michael. She will also addressing various themes including (her) "views on where we stand today as individuals and as the inter-related elements of a planet."
Jackson's new album can be pre-ordered via iTunes.