Universal Orlando hosted the 4th annual "A Celebration of Harry Potter" event this past weekend, causing a Malfoy family reunion between actors Tom Felton and Jason Isaacs. At the press conference on Friday, January 27, the on screen father-son duo was asked how they put their own spin on their characters in the films.
At first, Felton didn't really think he had consciously done anything to personalize Draco Malfoy, but he stopped himself when he remembered what he had learned from his grandfather. "My gramps did teach me a couple of things," Felton said. "He taught me how to sneer, which was like smelling something but with one nostril, and it looks like your disgusted by them if you look at someone with that. So I'm pretty sure I used that somewhere early on in there -- that and spitting your words. So really pushing out the word 'Potter.' That's something that I remember thinking 'Well, that sounds good. That sounds neat.' And annoyingly, people still ask me to the bloody day to say it ... I'm kidding."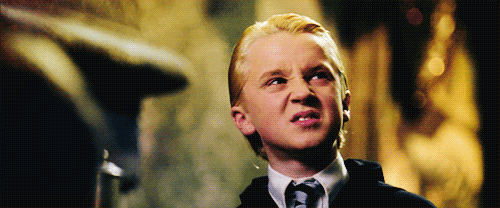 Tumblr
Jason Isaacs told a very different story. "I was terrified because of just being bland and forgotten around all these incredible actors that come from the royal family of British actors, really, so I did everything schematic I could do," he said. He even requested the wardrobe and props for Lucius to help make him more memorable. "I asked for the wig, that wasn't part of the costume, and the robes. They wanted me in a suit with regular hair. I tried to come up with a voice because Alan Rickman was in the first one. Alan Rickman's the greatest screen villain certainly of our age, and I knew he was in it, and I knew how magnificent he was, so I had to come up with the voice I thought that sounded like fingernails on a blackboard. I wanted a voice that irritated you within one syllable ... I mean, I asked for the cane, I wanted props, wig, funny voice -- anything I could do to try and make any impact in the few minutes on the screen because I was surrounded by the greatest actors."
Felton then went on to reflect on what it was like to become Draco Malfoy and how it affected him at school. On screen, Draco was a bully, but, in real life, Felton was more of the victim. "It's hard to imagine," he said. "But when I was actually at school filming, Harry Potter wasn't cool. It certainly wasn't cool to be reading it in your lunch break, and it was even less cool to have your hair died blond and to be in the films. It wasn't really something that -- I remember, in America, they could never get the idea that I was bullied for being in the films. It's like 'Oh, they were just jealous because it was so cool,' but no, it was not that way at all. So it took me a few years to realize how cool it is to be in the films. I almost wanted to be back at school. I wanted to be back with friends. I wanted to go on the ski trips with all the cool kids, but I wasn't really allowed to do that because I was in these films."
He went on to say that now, fifteen years later, it's "absurd" how magical it is to be a part of the Harry Potter world that brings so many people joy, and Jason Isaacs couldn't agree more. Watch the full interview clip from "A Celebration of Harry Potter" with his remarks below!