According to a recent report by Yahoo! News, popular actor Jason Momoa has come under fire after he posted several photos of his young children rocking out with the Red Hot Chili Peppers.  As a result of one photo, several followers of the star's Instagram account began to attack Momoa's character and parenting.
Momoa, known for his roles as Khal Drogo in Game of Thrones and as the  title character in DC Comics' next big blockbuster Aquaman, brought his daughter, Lola, and his son, Nakoa-Wolf, to a Red Hot Chili Peppers gig where the family had a private meet-and-greet with the band. Momoa himself, a huge RHCP fan, said he was "stoked" because he has "sick love" for the band.
The stream of photos posted to Instagram began innocently enough, with a photo of his kids with the set list for that night's show.
Later, Momoa also shared photos of his children jamming with band members, standing on stage, and taking in the concert from afar.
A post shared by Jason Momoa (@prideofgypsies) on
The photo which sparked the controversy however, features Momoa's daughter posing with Flea, RHCP's eccentric bassist, who appears to be nude behind his guitar.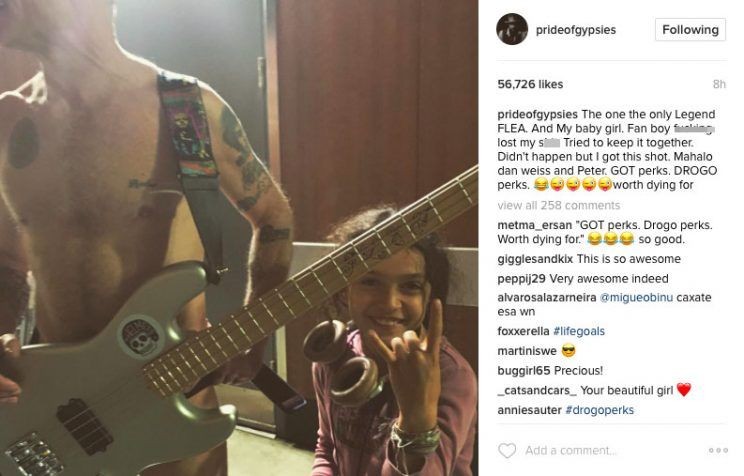 Instagram
What many of this individuals most likely fail to realize is that Flea often performs nude or near-nude on stage, occasionally wearing tight briefs or even a sock over his penis depending on the mood of the show. Not to mention, the young girl's father stood only a foot away, took the photo himself, and has a physique comparable to The Hulk.
While most of Momoa's followers reacted with praise and excitement, several other Instagram users vilified the father of two regardless. Some negative comments visible on the stream include:
aritula Lol the guitar guy looks naked. He not naked is he ? F*** I hope not . That would be messed up. But you seem like a loving dad im sure he's not.
_because_im_batman__The f***? That guy is naked in front of your daughter but meh f*** it right
teniquemathieu I don't care how cool he is @prideofgypsies i hope he has on something. And if you took the pic to elicit responses then that makes me wonder how desperate you are to risk iffy posed pictures with your child for likes. unfollow… not that it matters but you lost a fan.
The string of negative comments doesn't seem to affect Momoa in the least, as he has yet to fire back or comment on the incident. Whether that's because he's still riding the excitement from the show, or he simply doesn't care is still up for debate.
Many of the responses seem to indicate a belief that Momoa is a bad father, but the 37 year old actor once discussed his parenting style in an interview with Yahoo! Celebrity. 
"We don't have a TV or Internet," Momoa said. "I grew up without having one, and then my wife did too. There is a lot of stuff to do at the house — I built a climbing gym and skate ramp. It's not that we don't love movies or TV shows. Generally, I see them when I am away, or my wife may watch something on the computer. But I want my children to play with their imagination as long as possible, so I don't think we're missing out on anything."
What do you think about Momoa's photos? Cool dad just giving his kids a once-in-a-lifetime experience, or horrible parent? Is Flea really even nude in the photo in question? Let us know in the comments below.