Here's something that maybe a shock to Friends fans.
According to Matt Leblanc's very own father, the actor and Jennifer Aniston had a sort of fling during the filming of the show back when Jennifer was married to Brad Pitt.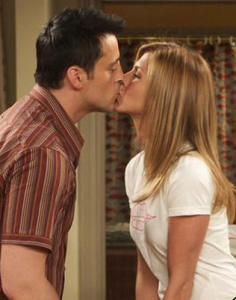 Courtesy of Hollywood Life
Paul Leblanc gave an interview with Star Magazine in which he spoke about his relationship with his estrange son and gave quite a shocker about Matt and Jennifer's off-screen "romance."
"He had fun, that's for sure. " he told the magazine, "He even had a relationship with one of the girls … Jen. They would make out in the dressing rooms. He told me about it — it was when she was married to Brad Pitt."
This should be taking with a grain of salt though guys as LeBlanc and his dad have not spoken in three years after a having a major falling out which has probably led to his dad spilling the beans and talking to tabloid magazine, Star.
However, Friends fans will remember the hot chemistry between the two when their characters developed a relationship in during the end of Season 9 to the start of 10. 
Hmmm. no word from Matt LeBlanc himself but only time will tell if this true or not.
What do you guys think?