Jennifer Lopez will grace the Las Vegas stage starting on January the 20th, and she has revealed the name of her show and the poster!  
She did it in a very creative way on Instagram, sharing it in pieces but, on her account homepage, it can be seen as one full photo. Lopez has titled her Vegas residency "All I Have," which seems like a nod to her hit with L L Cool J from the early 2000s.  
BTW, that's one of my favorite Jennifer Lopez songs.
The poster reveal is amazing!  She looks stunning, as always.  I can't wait to see her setlist and the first few Instagram vids fans will share from opening night.  She will rock the strip!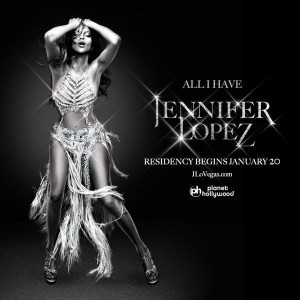 Credit: thatgrapejuice.net
And if you can't get enough, Lopez also has a show premiering on NBC, Shades of Blue, sometime in 2015.  What's your favorite J-LO song?  Vote below!
[socialpoll id="2296178"]