From the new movies Mission: Impossible- Rogue Nation and Marvel's Avengers: Age of Ultron, Jeremy Renner traveled to Chicago last weekend for 'Wizard World' Comic Convention. Acting as a gentleman to his nervous fans, a crazy uncle to his younger fans, and as a professional goofball
,
in general, Renner graciously answered a plethora of questions at his Q&A panel.
Starting out as a typical Marvel employee, Renner reiterated that he can't even reveal if he'll live or die in the next Avengers although he hopes they'll keep him around for a while.
He talked about how, when he was young, acting was a form of therapy for him. It helped him safely let out his emotions.
When a child asked a question about a rumor he read online, Renner replied, "Stay off the internet! That thing's dangerous!" and continued to reference this throughout the show, yelling "Momma! Don't let him on the internet!"
A young Ultron cosplayer approached the microphone and announced that his name was Ben and that he had a question. Shaking from the giggles, Jeremy Renner held his hand over his mouth waiting for the question. Ben then proceeded to drag the microphone from the top of his forehead to his bottom lip, pulling his lip down to his chin. "I love these kids, man. That's fantastic," Renner stated.
As Hawkeye, Renner said he has to stretch his suit out before takes otherwise it may rip in unsightly places. He then demonstrated some of his stretches. Asked if Hawkeye or Green Arrow would win in a fight, Renner seriously and instantly replied, "Godzilla."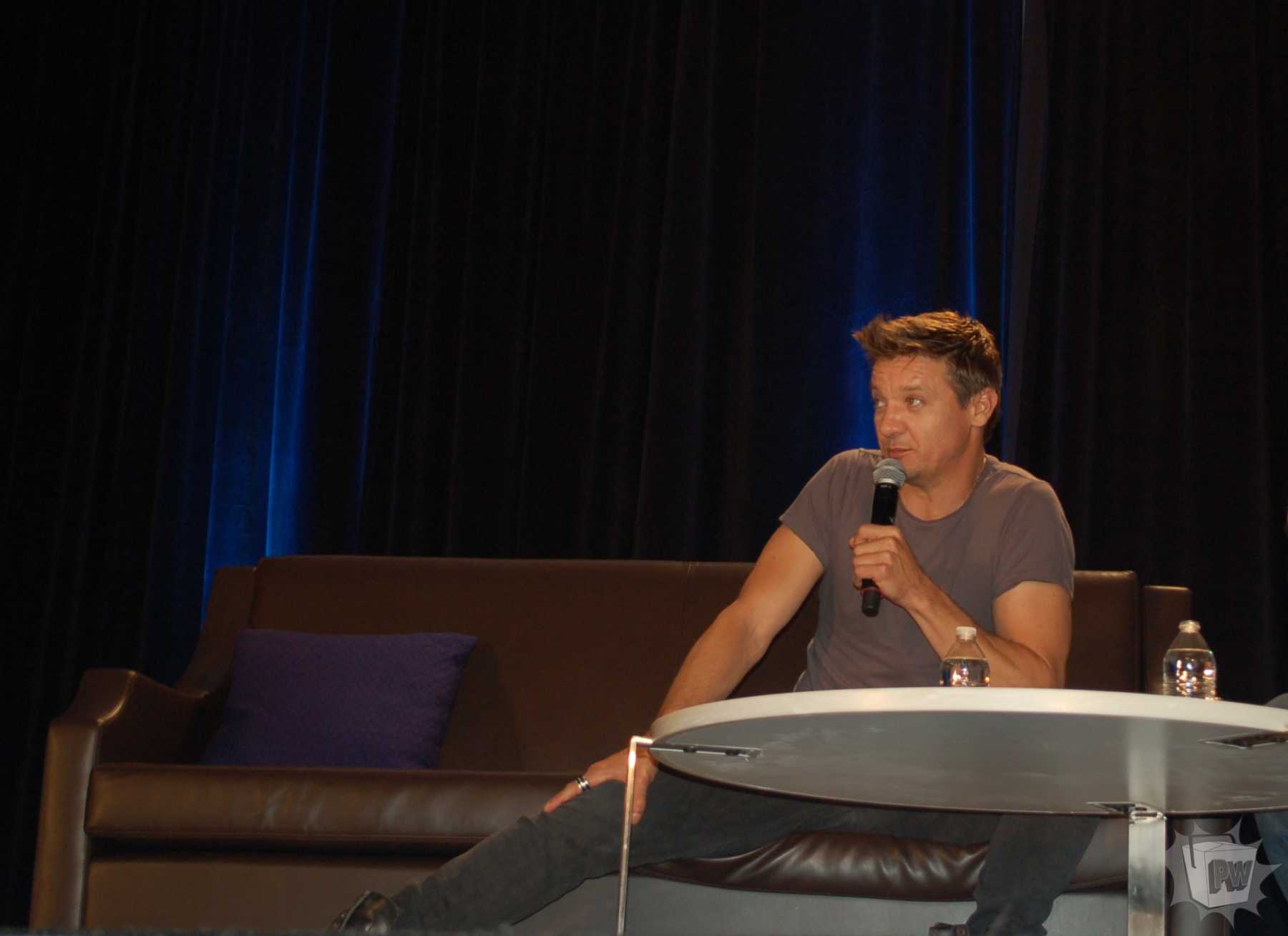 Courtesy Ariel Bradford, Ursula Bradford, and Edwin Bradford
Renner demonstrating his pre-filming stretches
Asked, besides Hawkeye, who is his favorite Avenger, Renner replied, "Me. (laughs) No... I think there's more to discover... but, yeah. Me."
In The Avengers, Black Widow whispers something into Hawkeye's ear before Loki and Thor leave Earth. Although he would not reveal what was actually said, he confirmed that it was not "Hail Hydra". He also says that Scarlett Johansson is "Mother Hen, wrangl[ing] all of us 14-year-old boys" on set and that Chris Evans and Robert Downey Jr. are probably the most immature.
The upcoming Captain America: Civil War pits the Avengers against each other and it's been seen that Hawkeye sides with Cap instead of Iron Man. When asked why, Renner replied, "I don't know! They wrote me in on that side!" He then hinted that he may change sides or do something unexpected.
One issue that many fans have had an issue with is in the Marvel Cinematic Universe, Hawkeye's hearing doesn't seem to be impaired as it is in the comic books. Jeremy Renner was unaware of this
issue
and talks about it in this video.
Jeremy Renner responds to Clint Barton's hearing disability:
When stumped with a question, Renner paused and said, "Where's that Ultron kid?" then hit himself repeatedly in the face with the microphone. Jeremy Renner: charmer, goofball, Avenger.