In its third year, JFL42 is Toronto's biggest comedy festival whose headliners, like Seth Meyers, Lena Dunham, Amy Schumer, Nick Offerman, and more are making international ones! In the next week, I'll be reporting back about some of my all-time favourite stand-ups, personalities, sketch and improv teams and sharing thoughts about new ones too!
I watched three comics stand in a public version of my parents' basement Thursday night, where everyone could hear everyone's movements and chairs surrounded them in an L-shape. The intersecting wooden panels and harsh stage lights hanging from them contributed effectively to this at Toronto's
Bad Dog Theatre
, and as stand-up Graham Kay astutely put it in reference to the juncture of his career, it felt similar to watching a show lit by "three motorcycles". Luckily, the acts professionally prevailed over the seemingly makeshift venue with really good comedy. Local well-known standups, Sara Hennessey and Graham Kay, familiar with Toronto's 'homegrown' style of doing things, seamlessly riffed off the weird location in the show they headlined together. And, Emily Heller, a stand-up and writer based in Los Angeles, probably just figured that we haven't figured out stages up here along with "the 7
th
grade" which, she helpfully explained to the naïve Canadian audience, is the grade when students are "around" 12 years old. Although I'd only previously seen Sara Hennessey on MTV's
Video on Trial
, seeing her perform is a multi-faceted experience. Whereas most stand-ups will share stories, Hennessey shares feelings. So many feelings. She switches fluidly from voices to actions to dances to side comments to audibly regretting everything she just said, all with undeniable charm. The audience seems initially hesitant to commit to the sheer quantity of emotions flying from her anecdotes, but draws closer to find out. And, it works! Hennessey revealed to JFL42 the way her brain worked in elementary school, on her birthday and during her lux vacation this Summer. Graham Kay is the kind of person you would want to rant with about stuff you hate. The knowingness with which he delivers his comedy and opinion is commendable. Although his act seemed to lack some fluidity, I found the content of the bits themselves to be quite unique. Kay has some really funny points of view on saving money and nude beaches, and I would have liked to see him play them up with less safety and more rage, which clearly fuels his general dislike of quotidian life occurrences.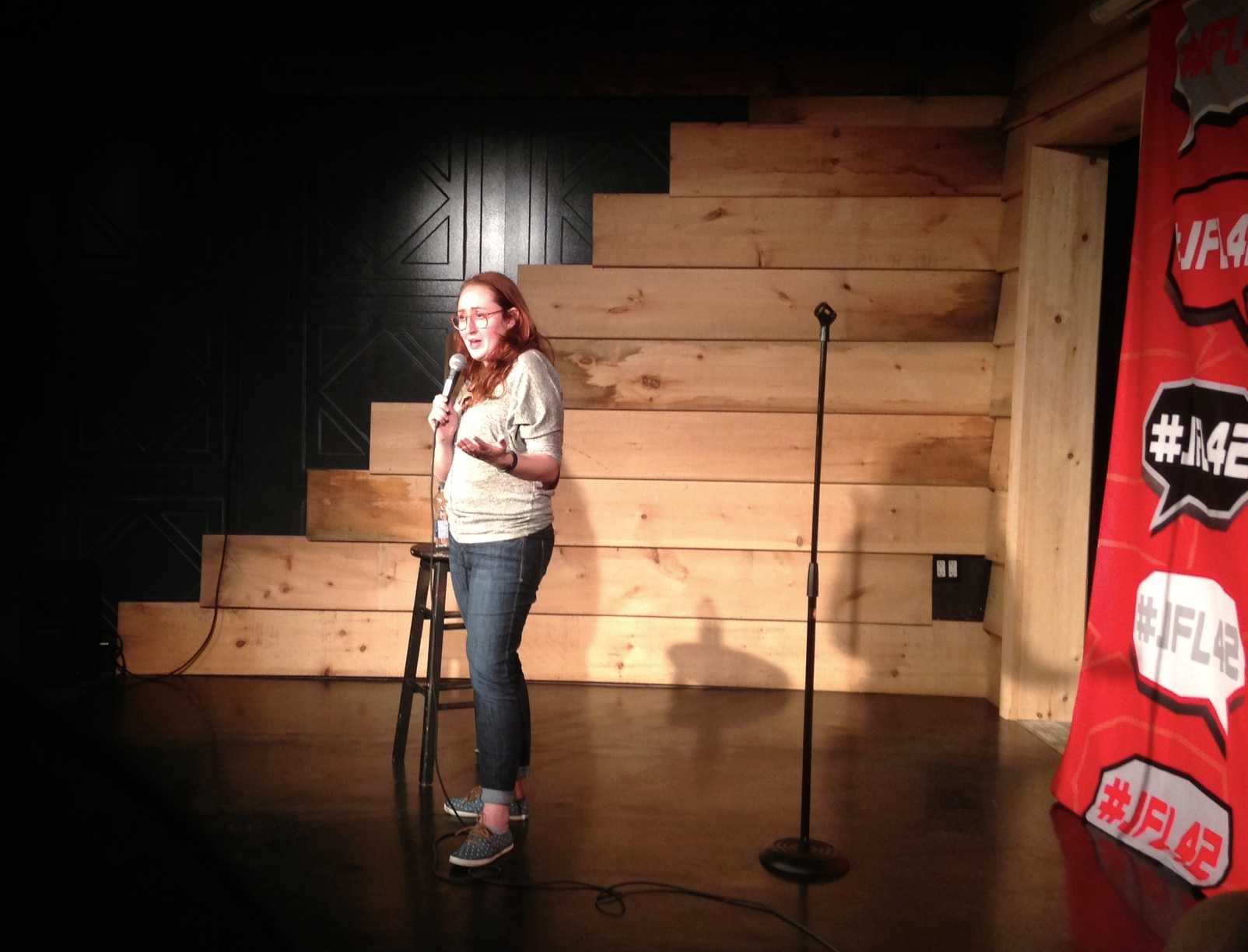 Courtesy of Celeste Yim
I have yet to find a medium through which the results of Emily Heller's brain do not make me feel exceptional feelings of admiration. From hosting one of my all-time favourite web-series,
The Future
, to
tweeting
up a bizarre and feminist storm, she has been one of my top 30 under 30 (year-old) comedians for a while. And now, she's one of my top 5 under 5 (feet) stand-ups! She's hilarious. She's smart. She's unapologetic. She's tiny!!! The triumph Heller holds about being a person who, as she puts it, "isn't hot" but
is,
now, eagerly listened to by audiences full of people seems to encapsulate the voices of zany, uncomfortable, creative young girls everywhere. She shared about being a weird girl growing up in San Francisco, fighting archetypal struggles like wanting boyfriends and being picked on by "hot" girls. And, instead of dwelling on self-deprecation, Heller takes revenge on insecurity and discomfort. She recruits the audience to celebrate with her the dismissal of those by quick-witted, sanguine tales of online dating and impressions of her Mom. Heller is indisputably great at what she does and her talent should really be considered a victory for female (and male) comedians
and
 to people who feel weird growing up (everyone).
Keep Up With PopWrapped On The Web!
Twitter  SoundCloud Facebook Instagram Tumblr Pinterest YouTube