Netflix has unveiled the trailer and release date for its upcoming documentary starring Jim Carrey. Jim & Andy: The Great Beyond — Featuring a Very Special, Contractually Obligated Mention of Tony Clifton has created quite a buzz since it premiered at the Venice Film Festival last month. Compiled from over 100 hours of behind-the-scenes footage taken during the filming of Andy Kaufman biopic Man on the Moon, director Chris Smith captured the story of how Carrey became Andy Kaufman for the 1999 film.
Kaufman's girlfriend, Lynn Margulies, and longtime comedy partner Bob Zmuda filmed on-set footage during the filming of Man on the Moon for use in an electronic press kit for the movie. But as seen in the trailer for the doc, Universal Studios shut that idea down when executives became concerned that people would think that Carrey was an "asshole."
Blurring The Lines Between Fantasy And Reality
Carrey described the two-year process of becoming Kaufman at a screening recently at the Museum of Modern Art, "I wondered at times myself whether Andy's possession of me was going to be something I could endure for the length of time it takes to make a movie." He had become so ensnared within the role that costars Danny DeVito, Courtney Love, and Paul Giamatti referred to him as Andy or Tony (Clifton, Kaufman's alter-ego). At the Venice Film Festival, Carrey stated that the process left him feeling "psychotic."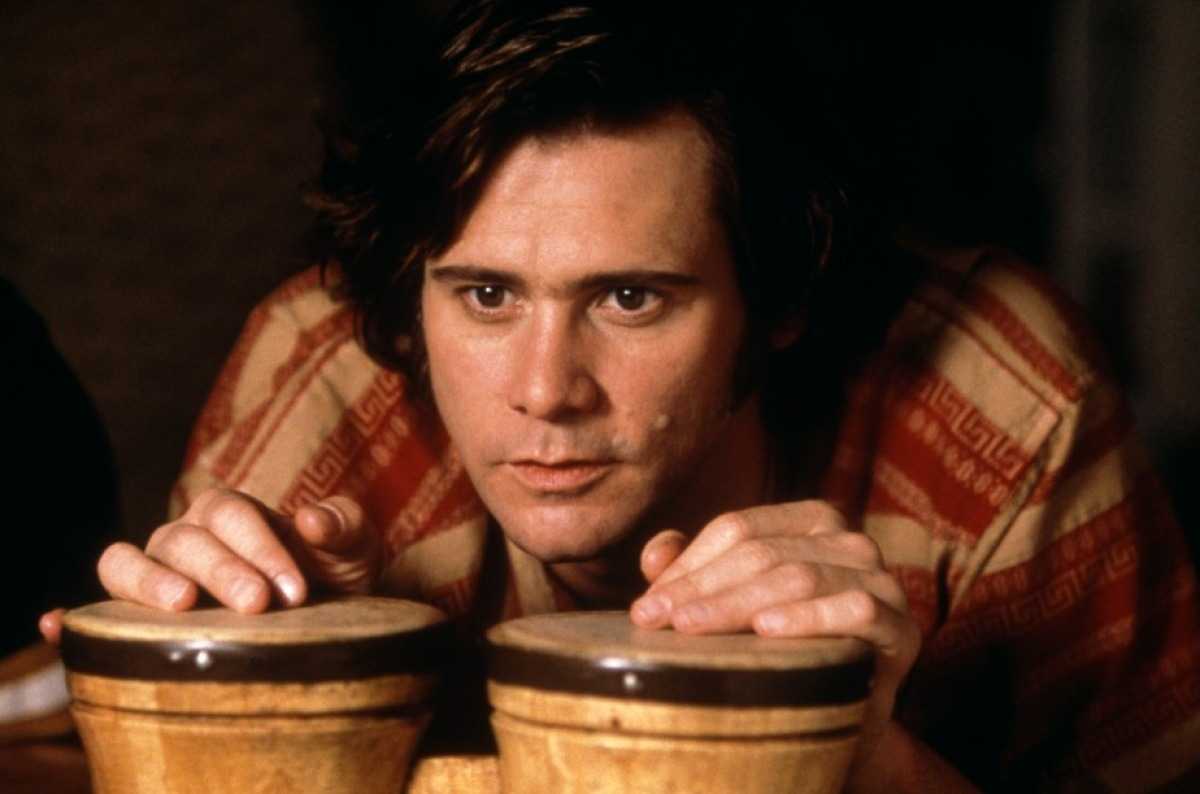 Andy Kaufman was touted as one of the most enigmatic and bewildering comedians of his time, often denouncing the "comedian" title in the traditional sense, considering himself more of a performance artist. His ability to blur the lines between reality and his act was something that confused, entertained, delighted, and even angered audiences. But that was the point. Kaufman was unusual; he was unique. No one else was alienating audiences by wrestling women or escalating feuds on Late Night with David Letterman. Even the authenticity of his death from cancer in 1984 was questioned and became the subject of many conspiracy theories. No one was quite like him.
When it was decided that Man on the Moon would be developed, director Milos Forman landed on Jim Carrey to portray Kaufman. That decision was only too fitting, but no one working on the film was prepared for what was to take place. Carrey is one of the brightest character actors, and his career was on fire during the 90s. It was with this film, however, that he revealed his breadth as a method actor.
In the new documentary, Carrey stated that he believes none of his roles were accidental. Events and ideals in Carrey's life gave his characters life on-screen. Even in a seemingly nonsensical role as the beloved Ace Ventura, Carrey was conscious of his intent on portraying a character honestly, no matter how over-the-top the premise seemed.
"Ace Ventura happened because I wanted to destroy Hollywood, not be a part of it. I did it to make fun of the leading man, to make fun of the guy with the answers, the Sherlock Holmes meets Clint Eastwood kind of actor. To me, there always has to be a subversive aspect. You don't have to go far, you just have to go to an honest place. Honesty is subversive. In the city of masks, I hear it said that most of us are wearing one, and when somebody is authentic, it becomes very difficult for everyone to wear their masks. They start to really look at masks."
Jim Carrey's Role In Man on the Moon Brought An Awakening
Jim Carrey was the subject of much worry lately after an encounter with E! News reporter Catt Sadler at the Harper's Bazaar Icons party when he went into an existential monologue. The truth is that, if you really listen to what he said, it kind of makes sense. Carrey's journey in life and in his career has brought about so much change for the actor, and losing himself in order to find happiness was a necessary part of his growth.
Carrey mused, "I feel like my personality was something that I thought was everything to me at the beginning of this incredible journey I'm on. Doing characters for the films, especially with Andy, the realization starts to hit you after awhile that even you are playing the character as a character. This experience as well kind of draws some realizations especially that there's a character that is playing me my whole life."
He added, "I think that's the truth of everybody. There's an energy that has been given a label and a bunch of ideas about their heritage and about their nationality and all those things that are supposed to be anchors to a boat that doesn't exist. The fact is you don't exist. You're nothing but ideas. We take all those ideas and cobble them together and make sort of a personality charm bracelet, an ID bracelet we wear in life. But that's not who we are, because we're nothing. And it's such a fucking relief."
Jim & Andy: The Great Beyond — Featuring a Very Special, Contractually Obligated Mention of Tony Clifton will be available on Netflix on November 17.