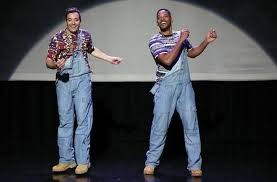 Courtesy of NBC
Lara Meier
Staff Writer
NBC's Late Night
, hosted
The
Tonight Show
for the first time last night. It was a midnight-premiere called
"The Tonight Show Starring Jimmy Fallon"
and "
drew a sturdy 7.1/20 in overnight metered-market results.
" Conan O'Brien got the same metered-market rating (7.1/17), when he began his career as a host with 9.17 million viewers. Also, Jimmy Fallon's opponents, Jimmy Kimmel and David Letterman, were far behind concerning ratings last night; both individually had a total of 2.0/5 in metered-market. Jay Leno's first appearance as the host of the show only got NBC a total f 6.67 million viewers. His last show, however, had more viewers than Fallon last night with a 9.2/22 rating; it was the best show after President Obama made an appearance in 2009. Last night's
Tonight Show
was as funny as Fallon's
Late Night Shows
, although his typical monologue had a twist to it. He started the evening off introducing himself and his new time slot to the audience, followed by his monologue about the Olympics, Putin and such topics. The highlight was given by a few stars, such as Robert DeNiro, Lindsey Lohan, Sarah Jessica Parker, Lady Gaga and others.
Will Smith, his first guest, was not simply introduced by Jimmy Fallon, but they rapped and danced together. In addition, U2 performed on "Top of the Rock," which was another highlight of the night. His interviews in general weren't too different to his old ones, but if it ain't broke, don't fix it! What did you think of his debut? Let us know in the comments!
Keep Up With PopWrapped On The Web!
http://www.PopWrapped.com
http://www.Twitter.com/PopWrapped
http://www.SoundCloud.com/PopWrapped
http://www.Popwrapped.Tumblr.com
http://www.Facebook.com/PopWrapped
http://www.Instagram.com/PopWrapped
http://www.Pinterest.com/PopWrapped
http://www.YouTube.com/PopWrapped